It's time to deck the halls! Grab your guests attention as soon as they step foot through the door into your hallway, with Christmas decorations. Battery Christmas lights are ideal for the hallway as they tend to be lightweight items, easy to put up & take down and have a fuss free power source.
Here a few quick ways to make the most of what space you've got when dressing up your hallway and staircase.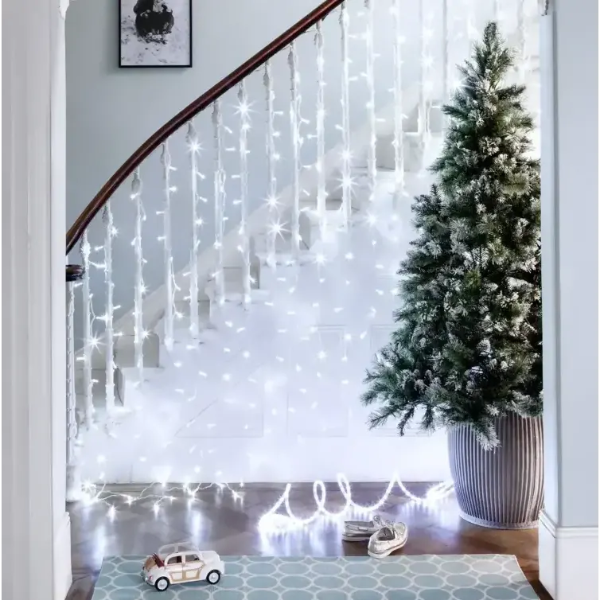 How to maximise your space
To keep your decorations seamless pick out battery Christmas lights that can lay flat against your vertical surfaces. Opting to suspending decorations to make the most of ceiling and wall spaces is key. To make a bold statement, hang a LED curtain light down the length of the stairs banister or along the length of a wall. It's an easy decoration to install and doesn't take up any room. If you prefer a subtle glisten of light you could hang micro or fairy lights up with a garland to frame the top of your doorways.
Handy tip: struggling to rearrange the furniture and other large items for space, then make them apart of the decor. Try wrapping them in a string of fairy lights for a magical glow. Fairy lights can spruce up almost any of everyday objects!
The hallway is bound to get noticed; it's the main entrance that leads you to all the rooms of the house. Giving you full license to get extravagant with the decorations and adding lots of twinkle.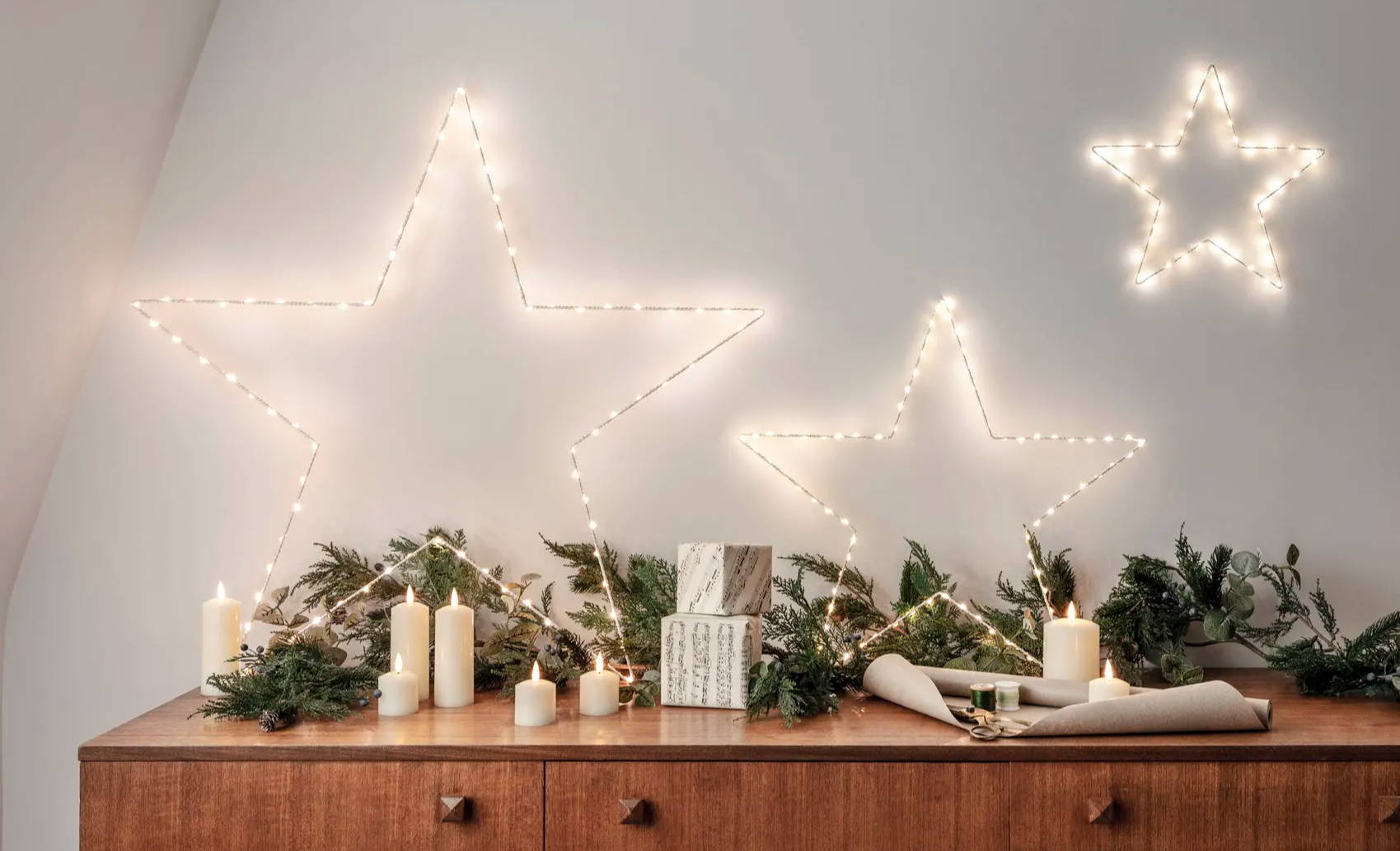 To add flow to your hallway create multiple centrepieces throughout. From on windowsill right through to the stairwell. This will help direct your guests gaze as they walk through. Adding a mixed variety of battery lights to give an extra twinkle; we love to add mini trees, LED candles and classic wreaths and garlands. They're super easy to display and avoid lead cables trailing towards sockets. If they do come with a battery box you can discreetly tuck it away for a seamless finish.
Adding multiple sources of light, other than relying on the ceiling light, will make a world of difference. It'll soften the harsh shadows created from the overhead lighting transforming the display. Themed lights such as snow globes and advent calendars make great centrepieces; as they add finer details to the room to pull in focus. The warm glow from a few well placed LED pillar candles can effortlessly dress up the console table or having the candles trail up one side of the staircase will look beautiful.
Console tables are normally pushed to the side and forgotten, but they hold lots of potential. Make it a focal point by simply introducing a bit of winter foliage. The addition of a Christmas wreath or garland is an easy way to spruce up the ornaments you already have on display. Accessorising with some pillar LED candles and micro lights entwined into wreaths is an effective way to achieve a magical festive sparkle.
Handy tip: You can also suspend the wreath from a draw handle or under the table to make good use of the empty space between the table legs.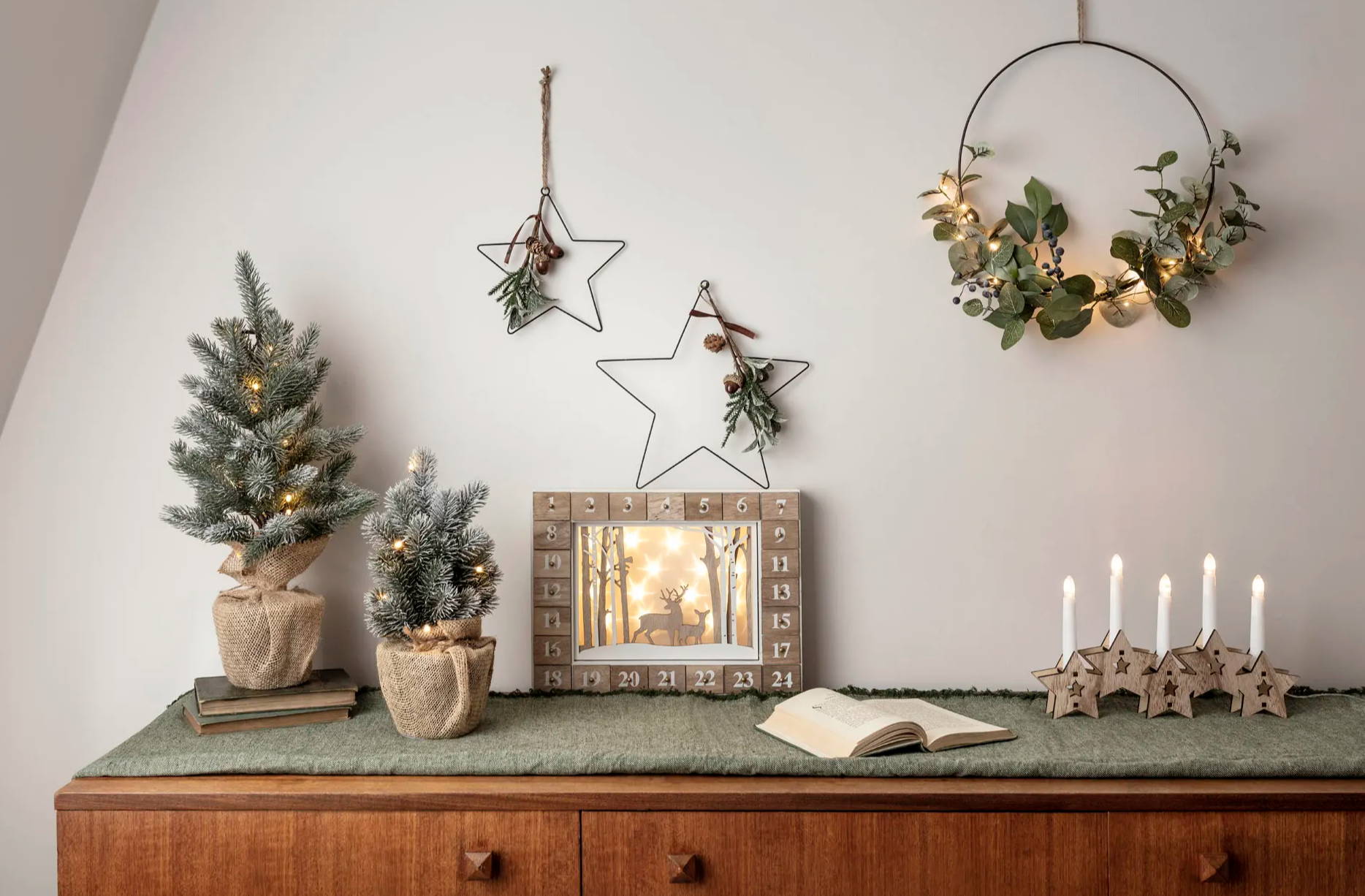 When decorating the staircase utilise the ascending heights. Eye level is the ideal position to get decor noticed. So keeping that in mind, we recommend placing the battery lights on a diagonal to match the steady incline. The Bannister is the best spot to showcase a lush Christmas garland. For a subtle light source use micro lights. They're a super quick way to glisten to your winter foliage.
For a bolder warm cosy glow, position a Christmas lantern to stand smartly at the top or bottom of the staircase with a flickering LED flame can look amazing. Achieving a vintage classic Christmas atmosphere. If your stairway is an L shape, you should have a unused corner space that's perfect for displaying a cluster of lanterns for more visual impact. Or opt for a slender Christmas tree to snuggly fit in the corner.