When dressing your home for Christmas, window lights are an easy way to add some seasonal sparkle to your home. This year, use our styling guide to make your windows extra special and create a little Christmas magic! Keep your home cosy on the inside whilst also radiating a warm welcome home.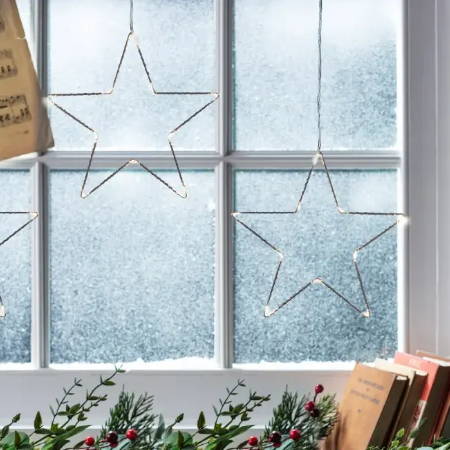 Our top tip when decorating windows is to add Christmas window lights and decorations at different levels. Start with a window curtain light secured up high to fill out the space. Then add a garland to the base of the windowsill, this adds another layer with some festive foliage. We love to entwine micro lights into Christmas wreaths and garlands for a delicate sparkle, all our micro lights come with a handy 6 hour timer. With this handy feature, your lights are sure to shine automatically each evening.
Finally, to complete the window, we love to add mini Christmas trees and elegant silhouettes into the window to radiate a glow. The perfect place for an illuminated advent calendar is placed on a windowsill, it fills the space effortlessly whilst also creating a lovely focal point in the room. The different levels will assist in creating a perfect window setting for the festive season.
Christmas curtain lights are our top pick for adding seasonal sparkle to your home this Christmas as they create the perfect winter welcome in your home. If you have light coloured decor, white LEDs compliment this perfectly, introducing an elegant frosted feel without any of the cold. If you're opting for a cosy winter home, a warm white curtain is the perfect choice to add to cosy decor, they're sure to shine all season long.
Curtain lights are perfect for rooms where you may not have the space but still want to add Christmas decorations. Simply attach them along staircases for a dramatic drop into your hallway. Even in the smallest spaces they introduce a warm glow.
Along with the staircase, curtain lights are great draped in windows. This creates a cosy glow on the inside whilst also radiating out of your home for a warm welcome. Whether it be delicate micro lights or a snowflake effect, they'll finish off your Christmas decor perfectly.
Icicle lights are great for lining your roof with sparkle over the festive season. Designed to look just like a real icicle drop, the delicate fairy lights shine through a wintry sparkle creating your very own Christmas grotto outside of your home. When decorating your home it's often tricky to know where to start with so much choice. Icicle lights are perfect as they are so easy to display and result in a lovely lighting display.
Gutter hooks are the perfect accessory when lining your roof, simply spread them evenly along for roof line and secure into place. To complete the look, a light up reindeer perched underneath the lights creates a full winter wonderland effect with such ease!