Introduce a cosy touch into your home with decorative Indoor Lanterns. This winter's must-haves are the perfect fix for those empty spots around the house that need a little extra something. Here is a guide to this years trends and our top lantern styling tips.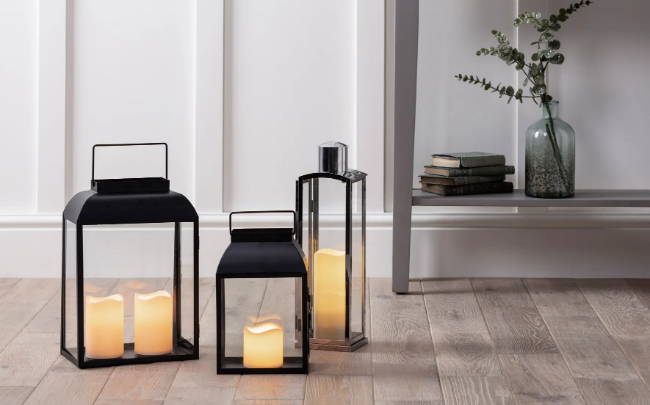 Indoor lanterns are a great way to decorate large open areas or the odd small spaces in the home. They introduce different levels of height and add a new source of ambient lighting to help tie your interior together. Our wide range of lanterns come in multiple designs and sizes to suit all spaces and styles.
A top trend following through from 2019 is the Nordic retreat. This striped back approach maximises your space and involves warm neutral colours. The minimal lantern pairs up nicely with it's dark and delicate frame. Adding dark accents into the room helps to subtly break up the space. You can make your lantern super cosy by adding an LED Candle inside for a lovely amber flicker or Micro Fairy Lights for a magical twinkle.
If simplicity isn't your style, and bold colours and prints sound more like you, then opt for a pyramid style lantern. This classic multi-tiered lantern shape comes in plenty of styles, from vintage to moroccan, making it easy to find the right one for you! The triangular top and striking design makes for the ultimate statement piece!
We recommend having in mind a few spots around the home for your lantern to be displayed. It makes it easier to decide which size might look best for the room. Smaller lanterns are the most versatile since they can fit alongside almost anything. They make a great shelf filler or table centrepieces placed alongside existing interior. However, if you have a high ceiling or an open plan kitchen/living room it's small stature may get lost in the big open space. In this case, opt for a medium or large sized lantern.
When styling bigger lanterns remember they work best to frame the room. So try out placing them on the floor, near to the wall or beside large pieces of furniture - such as a bookshelf, fireplace or sofa end. We love to style a mixture of lanterns all together in a group of 3-4 for the ultimate cosy look. A great way to position a group of lanterns is to line them up in ascending heights like steps or in a triangular formation with the smallest at the front. This ensures they can all be seen but feel free to mix it up and bend the rules - get creative!