With bright colours and extravagant stages, making a bold statement comes hand in hand with an Asian wedding. Having supplied countless Asian wedding planners over the years, we've seen everything from the subtle LED candles to spectacular displays of wedding lights! We'll show you how to illuminate the outside of your house, decorate your Mehndi stage and style your Mandap sensation.
Lighting the outside of your home is a must for most weddings, to create a real wow factor and wonderful welcome to your guests we'd suggest curtain lights all night long! With vibrant colours and a number of connectable ranges these are still the most popular light of choice for house exteriors. We love to see a single colour used, draping from roof to ground level which covers everything from the windows to the doors. For a more understated look icicle lights are perfect for draping from gutters and window frames. With Shaadi wedding lights staying up on houses for long periods of time and illuminated nearly all day, LED lights are eco-friendly & minimal cost to illuminate. We'd recommend connectable lights as it means that you can cover a large space with a seamless aesthetic, this also cuts down on the amount of plugs required. You can easily achieve a glittering house display and even mix colours together if you're feeling creative.
Mehndi and wedding stage decoration is no easy feat, being such a centrepiece to the main event the pressure it on to get it looking beautiful. No stage would be complete without sparkling backdrop lights, in this case the more lights the better. Choosing the right materials really enhances a wedding stage, silk and satin backdrop curtains give an elegant appearance, and work perfectly layered over lights for a magical look. We'd recommend curtain lights all day long for the backdrop of stages to really make them sparkle. For a more subtle feel use cotton backdrops, but you can expect your wedding lights to appear much fainter as the bulb intensity is reduced behind thicker fabrics. Silky materials disperse the light better giving a much more opulent feel.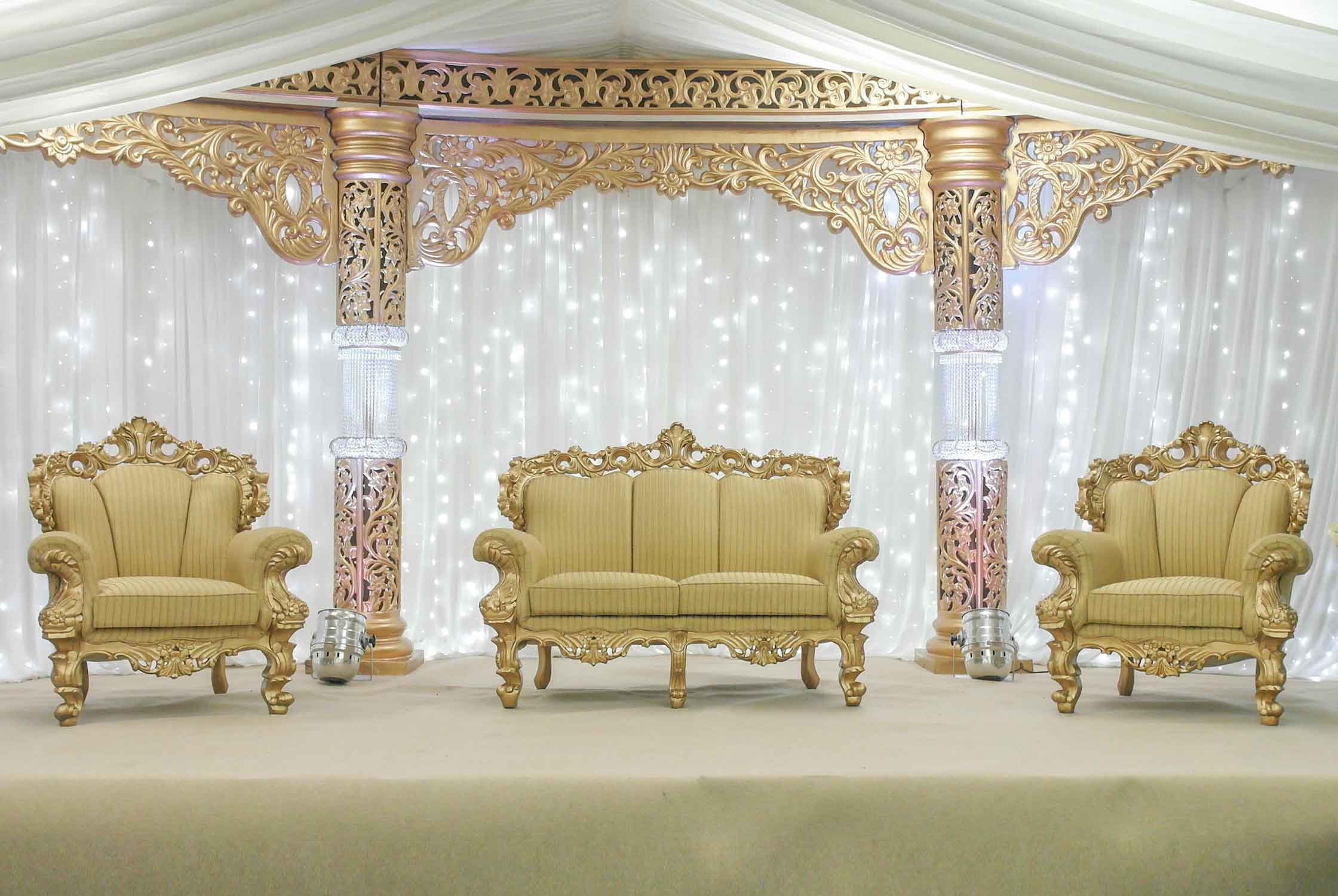 Sparkling wedding stage - photo via SK Weddings.
Mandaps & Wedding Canopies
Mandaps and wedding canopies are a beautiful way to bring a touch of elegance and elevation to your decorations. Whether it's crystal encrusted, marble roman, floral draped or traditional carved wood Mandap look exquisite all lit up! So many decisions, at least it makes it a little easier to find one to suit your theme and colour scheme. To create a real impact we'd advise going for a four or six pillar design. There are so many different ways to illuminate your Mandap depending on the look you are wanting to achieve. Using strategically placed up lighters or LED par cans set to a designated colour can enhance strategic focal points such as the pillars themselves and the bride and groom's stools or chairs. Rope lights create the most consistent light for the circumference of the frame. Candles and lanterns are the easiest way to instantly create a romantic ambience. With so many different styles to choose from you'll find some to suit your theme in no time. Dot them around the frame, up the walkway or hanging from the beams or your Mandap. With no flames in sight LED candles are perfect for events and styling next to fabrics as they do not emit heat.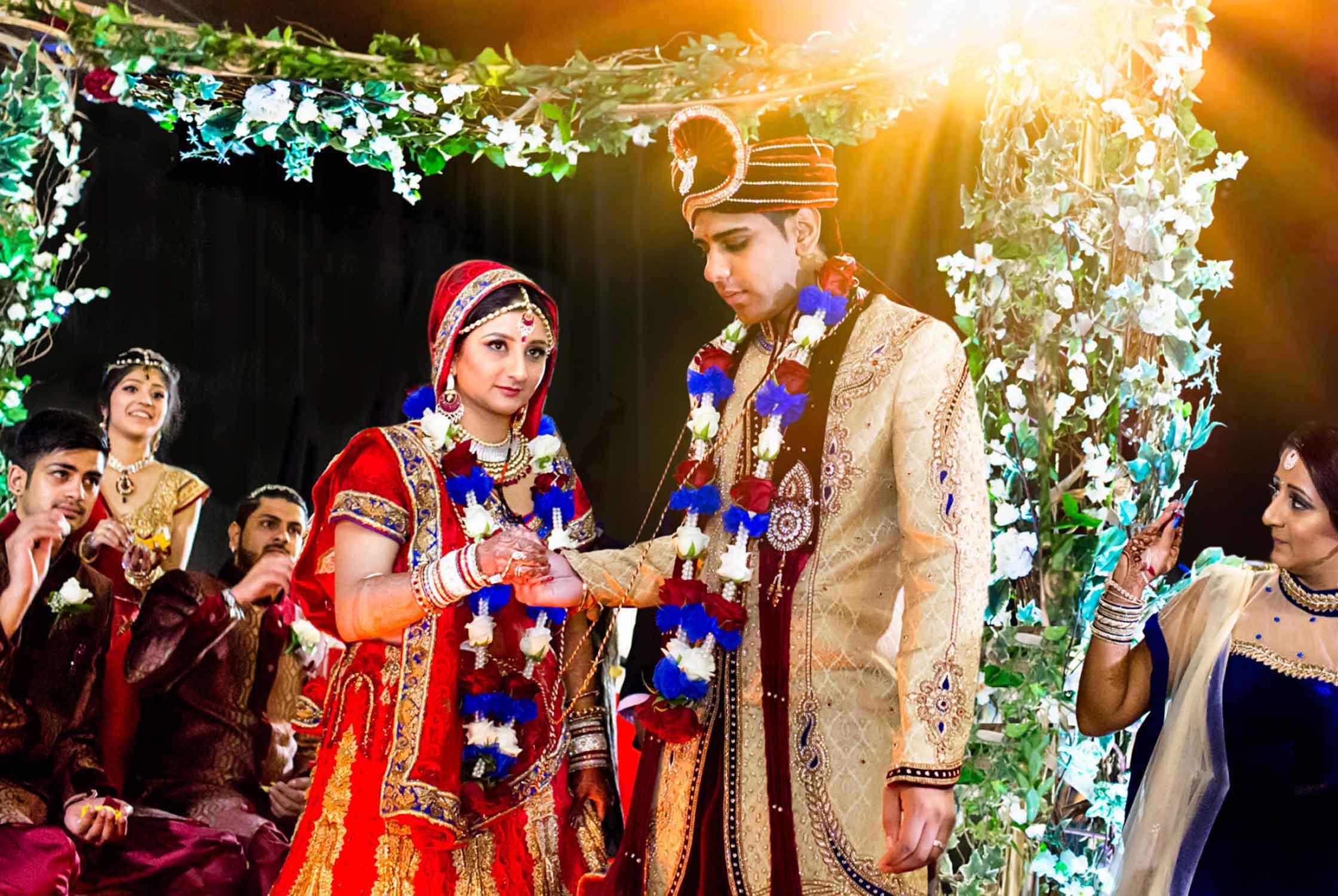 Foliage covered pillars - photo via SukiChandi Photography.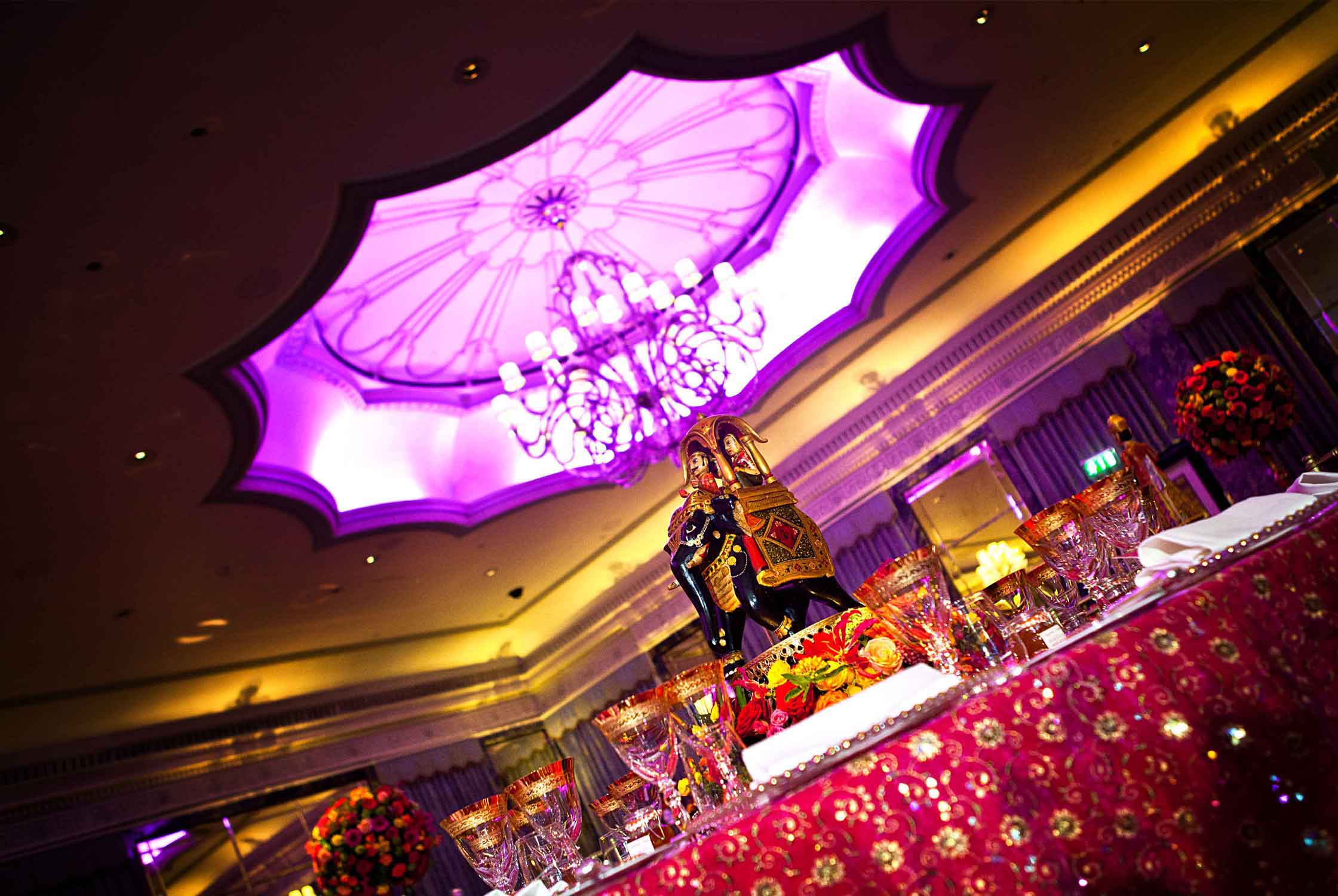 Table inspirations - photo via Pioneer Weddings Photography.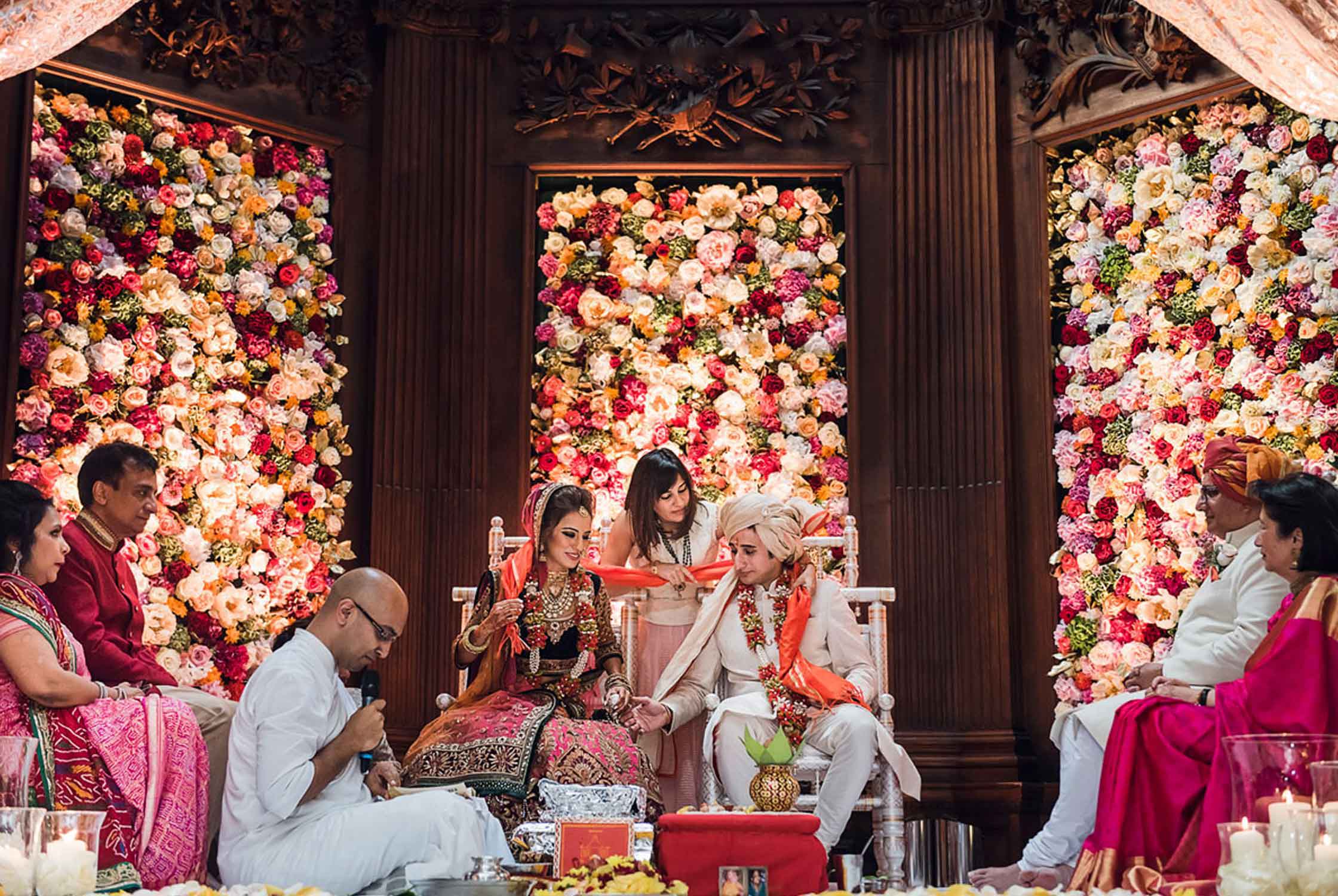 Floral takeover - photo via Phil Drinkwater.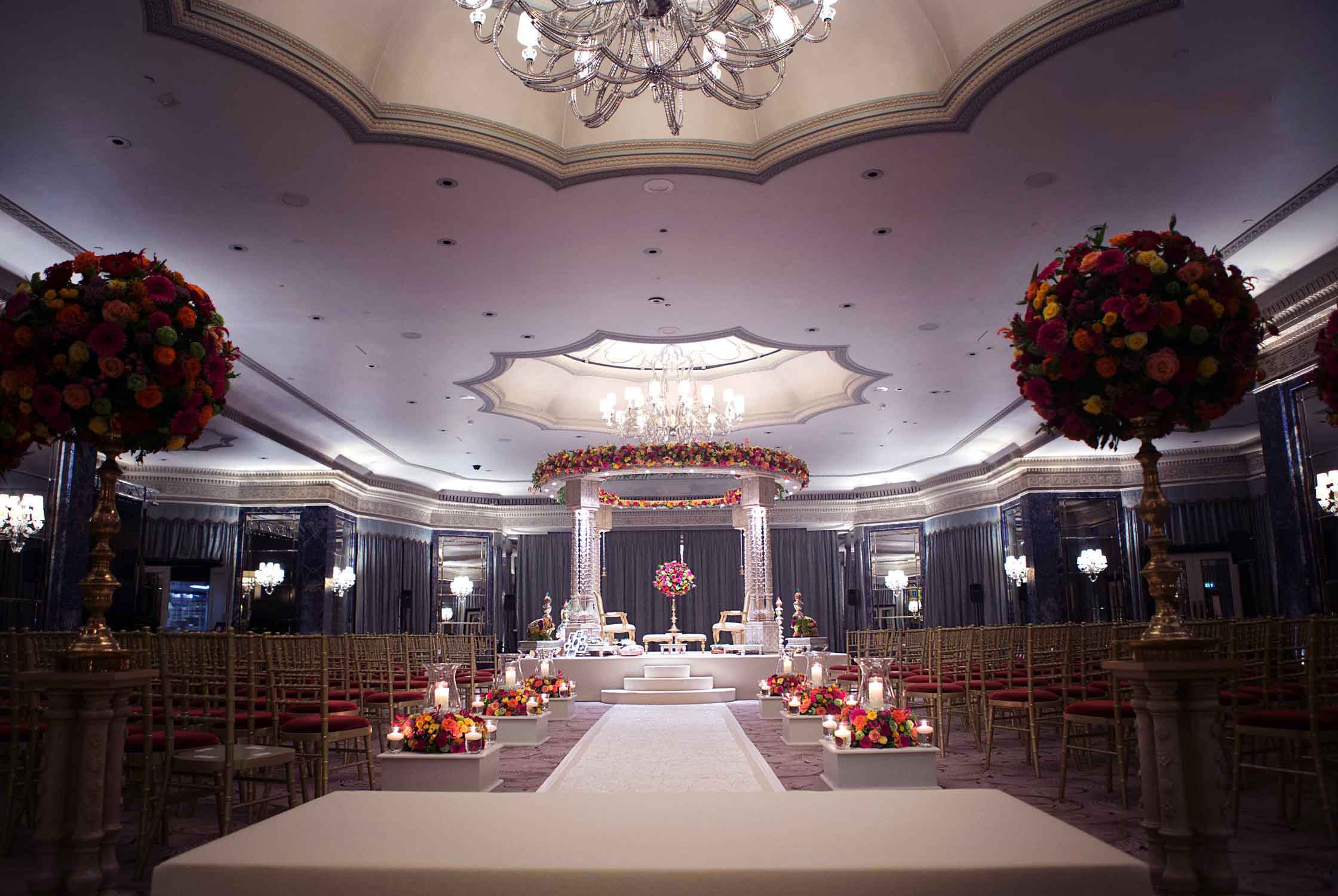 First dance - photo via J.Hoque Photography.