When you've finished untangling your Christmas fairy lights and dressed your tree to perfection this December, spare a thought for your Christmas wreath. Whether you're opting for a shop-bought decoration or a creative DIY project, any festive garland can be lent of extra sparkle by adding a simple string of LED battery lights. There is a colour and a style to suit every Christmas wreath, no matter what your decor theme is this year. We've pulled together a collection of our favourite Christmas wreath lighting ideas.
Warm white bulbs are the quintessential Christmas tree lights, and with shorter lengths available as a battery powered option, they're also ideal for dressing Christmas wreaths. The soft golden glow from warm white fairy lights is perfect for almost all Christmas themes – from traditional to minimalist, Scandinavian to rustic. For use in Christmas wreaths (and trees, for that matter) we would always advise opting for LED bulbs rather than traditional filament bulbs. LEDs will always remain cool to the touch so there's no risk of fire when the lights are nestled amongst twigs or foliage.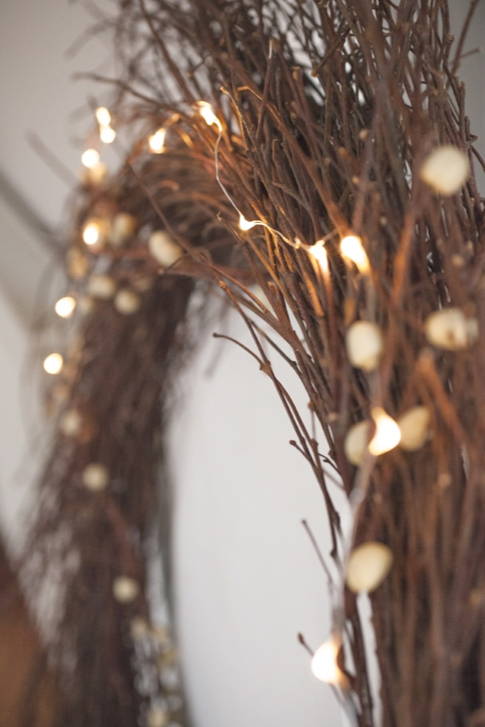 Warm white micro LED lights.
Warm white battery fairy lights.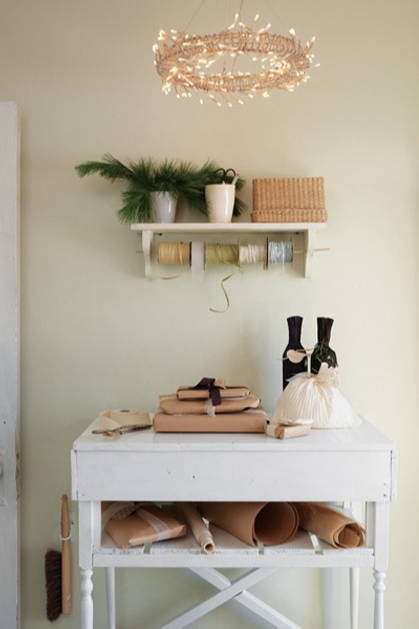 A twist on a traditional wreath.
Love the colours on this wreath!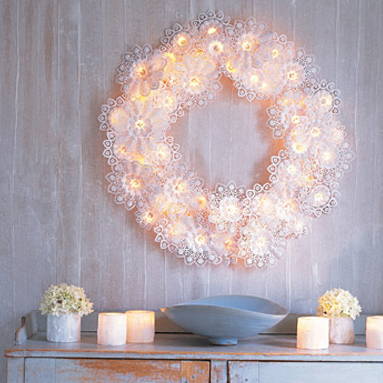 A white doily Christmas wreath.
Whilst most of our warm white battery powered lights are supplied on a clear cable that will blend easily into most settings, you could even go a step further for a really magical effect and try some copper wire lights with micro LED bulbs. The fine, almost invisible wire of these battery fairy lights is very flexible and allows you to carefully twine the lights around your chosen Christmas garland, giving the appearance of little floating stars adorning your wreath.
You needn't limit your sparkly wreaths to indoors, either. With a set of waterproof, IP44 rated outdoor battery lights, you can bring some festive cheer to your outdoor garlands too. Having a prettily lit Christmas wreath hanging from your front door will certainly get the neighbours' attention, and it's a great way to direct guests to your house when holding your Christmas party.