Here's our breakdown of the top trends of 2019 during this festive season so far. Covering all the key products that will transform your house into The Home of Christmas. Look no further to keep yourself updated on what's BIG this season. Understand the Christmas Eve box hype and the Scandi trend must haves.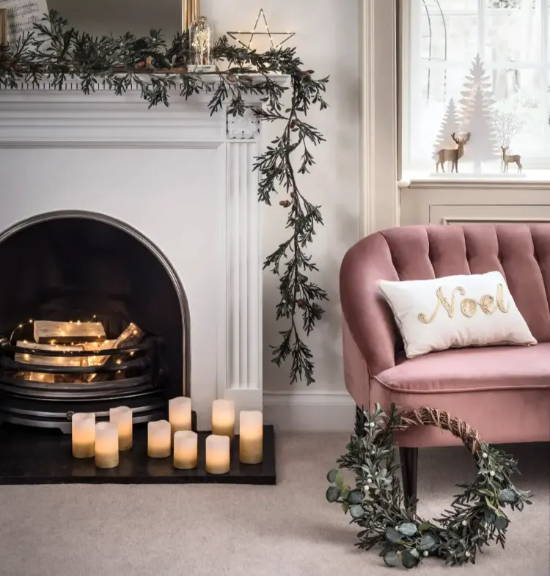 The pre-Christmas warm up
The Christmas eve box is first on the list for high hitting trends this year. It's continually gained popularity since 2016 and has rightfully become a family favourite. It's a personalised wooden box that contains gifts galore ready to be revealed. Typically filled with Christmas day essentials such as fresh PJ's, a bedtime story, hot chocolate, an edible treat and a small toy to play with. The ideal way to break up the anticipation of Christmas day for your little ones. The Eve box is a nice wooden element to happily take centre stage under the tree. Our version of this tradition also has a lovely light up winter scene inside the lid, showing Santa taking flight over roof tops with many of his reindeer friends. The perfect illuminated surprise to shine out when opening your prezzies.
Handy tip: include a mini board game in your Christmas Eve box so the whole family can get involved. A great activity to be get on with to bring all ages together.
More in touch with nature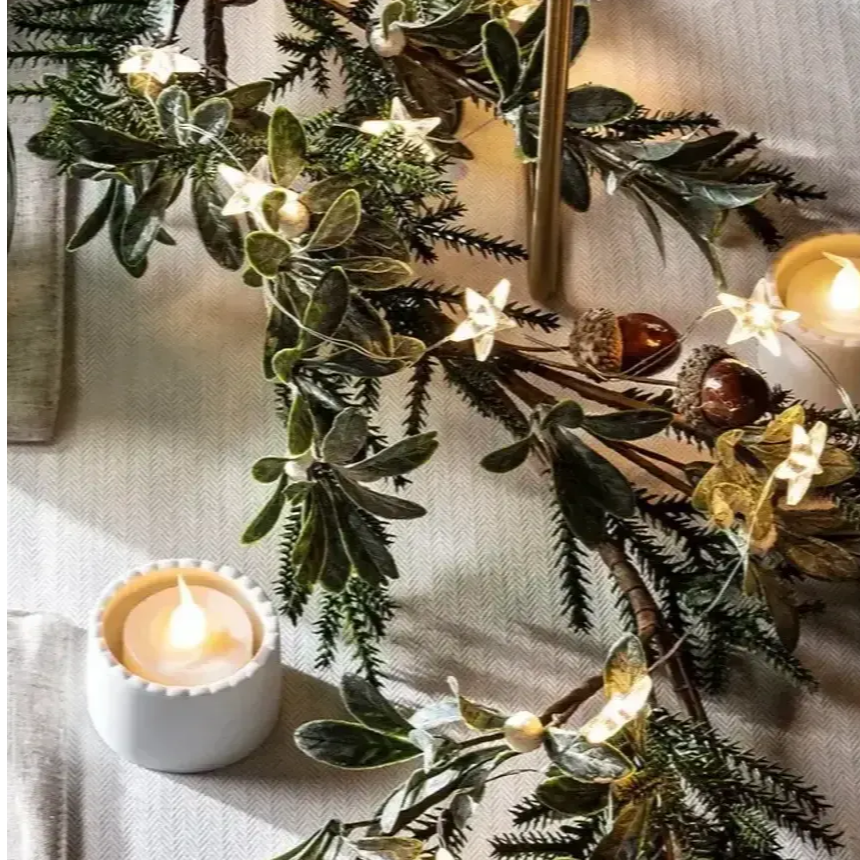 A big trend this year invites nature's simplistic beauty indoors by displaying natural foliage. This Scandi trendy grew from people wanting to peeling back the layers of Christmas jingle and opting for a more minimal aesthetic instead. The festive favourites, to easily achieve this look, has been Christmas wreaths & Christmas garlands. They're decorative touches that come pre-assembled with a mixture of winter foliage, leaf textures and colours. All you have to do is fluff them up and decide where is best to place them.
The top pick product this year is the trim and slender garlands that features exposed sprig branches and neat little berries for a pop of colour. This lightweight style garland is the most versatile due as it can be easily be hooked around the top of door frames, wrapped around the stair's banister or used to spruce up your shelves. The garlands thinner design also makes it perfect for laying on top of the dinner table as a runner. Leaving plenty of space for the Christmas turkey.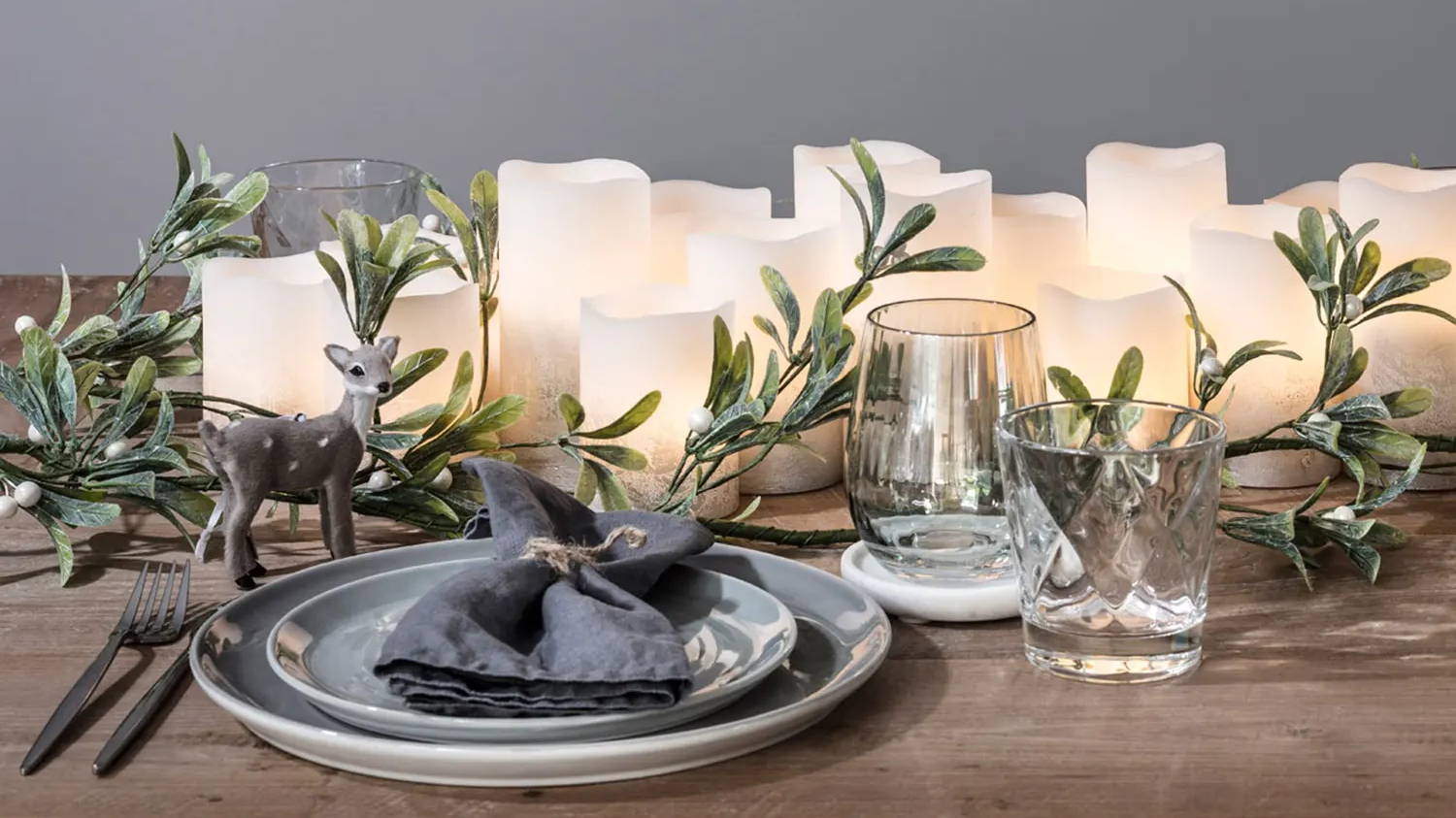 Warm it up with cosy golds
Inside the home people are opting for gold to warm up their interiors. To keep the harsh low temperatures of winter at bay opt for sunny yellows tones and warm white LED Christmas table decorations. Festive favourites have been TruGlow candles, fairy lights and Osby stars. To be displayed on any hard surfaces like the mantle top, on the windowsill or to create dining table centrepieces. Having multiple pockets of soft light dotted around will help fill the room with an amber glow. Turning your Christmas into the snug hub you wished for.
It's also the top colour scheme for outdoor Christmas decorations too as warm white LEDs brighten up the night. Creating a classic cosy Christmas setting on your doorstep. Christmas figures or the odd icicle light trimming the roofline have always been popular. Achieving the perfect 'winter wonderland' look at home.
Lights that will never go out of fashion and can be used for every special occasion is the very versatile festoon light. Built for the outdoors they can dress up your tree branches or be used to hang across your decking in the summer for a classic vintage vibe. However the best fit for this festive season is to use them to dress up your homes roofline. They perfectly replicate the look of Santa's grotto giving your house a special touch.