With the days getting shorter and the leaves beginning to fall off the trees, the transition from summer to autumn is truly underway. It's time to refresh your space and get that ultimate cosy feel in your home. With a range of seasonal lights and decorative features, our autumn decorations suit every kind of interior! Discover our top trends for this year along with some great styling tips on how to achieve the autumn 2020 look.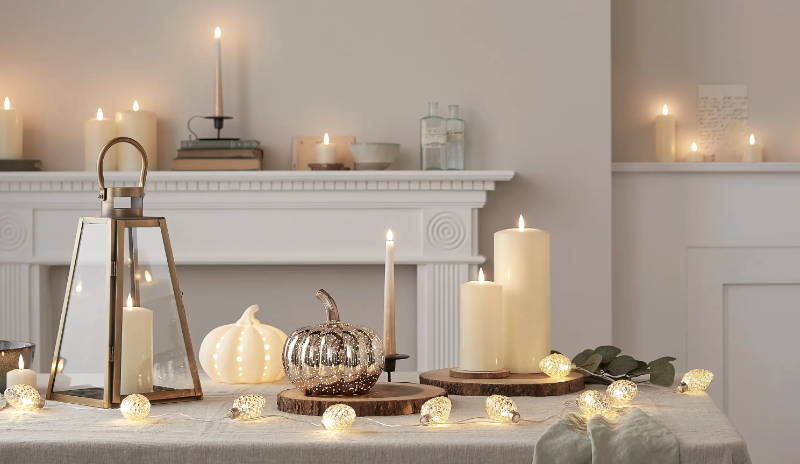 Nothing says autumn better than introducing seasonal shapes into your decor.
Some of our top trending products from this year include our dainty leaf fairy lights. From filigree to maple leafs, we absolutely love their delicate designs and elegant appearance. The warm white micro LEDs radiate a soft glow, which gives the room a warming feel and is perfect for autumn. Silver and gold are key colours for this season and compliment lighting perfectly to produce a cosy ambience. The lights also offer a variety of styling options and can be displayed with ease. You can use them as part of table displays or drape them along shelves & mantels for a simple decorative touch. Our pinecone fairy lights are also a favourite for 2020, with their shape and shine adding the most homey feel to your space.
Whist stars are often associated with Christmas, we love them for autumn too!
Our Osby stars are a charming addition to any home. The silhouette radiated from their warm glow when sat against the wall looks truly magical once the lights go down! They are also perfect for popping in the window to create a starry display, which can be seen from the outside of your home. With a variety of different sizes and styles available, our Osby star collection offers lights for every season! These versatile lights can be displayed in any room in the house, as they are battery operated and aren't restricted to being by a plug. Sit your Osby on the shelf in your kitchen or on the windowsill in your bedroom, they suit every type of space! We also have other star lights available, including outdoor star lights to brighten up the exterior of your house.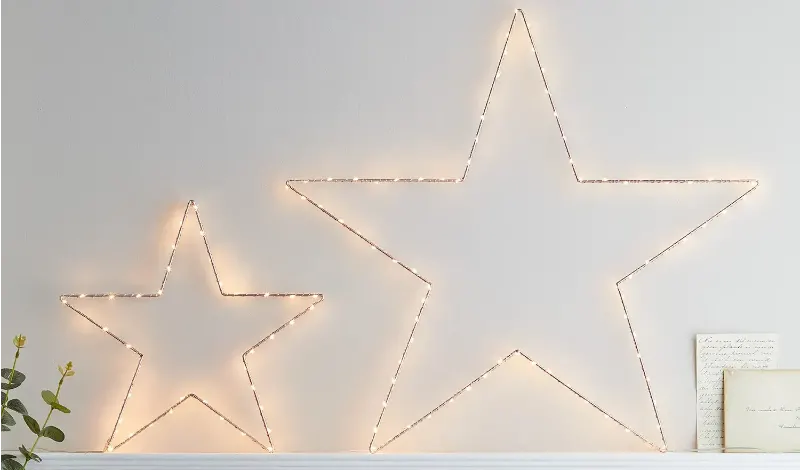 Get your shimmer on this autumn with these golden glass delights!
Gold and glass are the ultimate combo for autumn 2020! From pumpkin lights to fairy lights, our glass features truly deliver on appearance and quality. Not only do they look super impressive, they are so easy to incorporate into your home and create an eye-catching display which you are bound to love! Our glass pumpkins are a customer favourite. Made from fine glass, they are delicately hand finished and each one is unique in its design. Sit is as a centrepiece for the table, surrounded by more subtle yet complimentary autumnal decor which don't take away from its striking look! The golden tone and glass material captures light perfectly, making them glimmer from all angles. They are classy and contemporary, with a captivating shine which fills the room!
The fireplace is a key focal point of most lounges & living rooms, so make sure you consider this when styling!
There's so much you can do with a mantelpiece, giving you the opportunity to get creative with your decorative touches! If you're wondering how you can bring your mantel to life once its gone dark in the evening, we have the perfect solution! By simply entwining micro lights along your mantel you can achieve a fabulous sparkling look, which highlights your fireplace flawlessly. They can be shaped and styled so easily! Spiral the lights to create a simplistic feature which will fill the space or weave them around aspects of your mantelpiece to give them a glow. Add to your cosy haven by popping one of our indoor lanterns on the floor alongside your fireplace to complete the snug set-up. It's sure to be your favourite room in the house for autumn!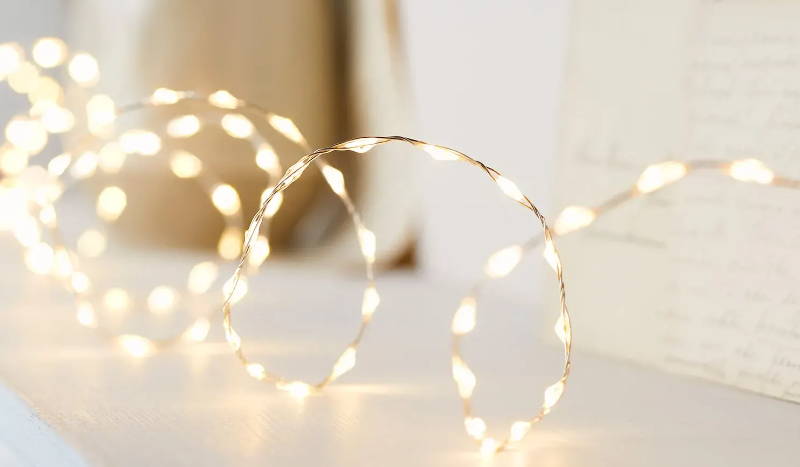 We're all about ombre this year! This on trend design looks super effective when combined with lighting.
Our bronze ombre LED candles combine both an ombre finish with one of our favourite shades for this time of year. With the bronze colouring fading into the traditional ivory colour of our TruGlow® candles, the light from the warm white LED is a perfect match for this autumnal tone. The life-like flickering flame radiates a cosy glow, which compliments the bronze to add to that homely atmosphere which every autumn interior needs! The candles from our TruGlow® collection are as authentic as you can get, without the mess of melted wax or the risk of real flames. With a 6 hour timer, you can't go wrong! They'll automatically illuminate at the same time each day, without the fuss of having to switch them on and off every time you use them.
Mixing up various types of lighting, tones and textures is our go-to tip when styling for autumn.
We believe a combination of candle arrangements, foliage and decorative features really give that wow factor! We suggest selecting a main feature which will be the 'centre of attention' for your display. This could be a brilliantly bright pumpkin light or vibrant candles which instantly draw your eyes in. You can then consider what should accompany your main feature. Smaller ivory votive candles and taper candles are classic yet simplistic additions, which can be easily distributed at differing heights around your display. For a natural look, incorporate fresh foliage and flowers to add a splash of colour to your home. Alternatively, opt for more darker, earthy tones by scattering real pinecones or acorns to add texture and bring a touch of the outdoors inside!