Halloween is just around the corner and we have some spook-tacular ideas for decorating your home this year! Whether you're looking to go all out with your display or want something a bit more subtle, we have something for both tastes. From fun characters to glowing ghouls and pumpkins, these top trending Halloween decorations are sure to transform your space.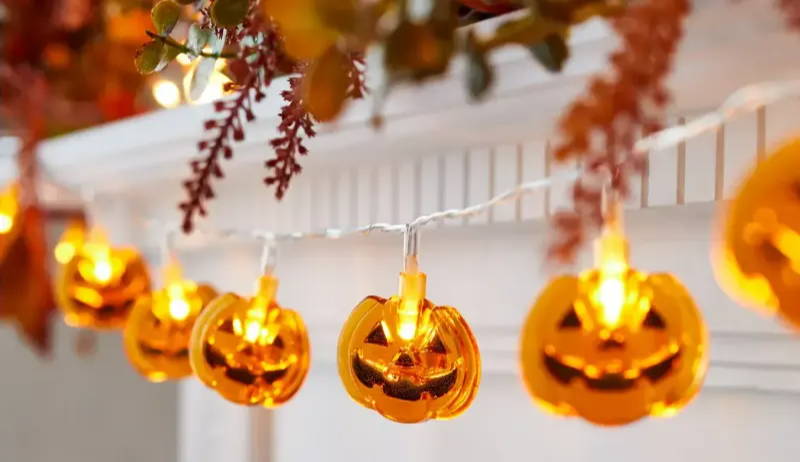 Bring Your Set Up To life!
They the fun factor to your party and give your trick or treaters a fright! If you love to go all out for Halloween and get creative with your displays, we've got everything you need. Our Halloween collection features a number of different characters, from witches to ghosts. The ultimate accessory for entertaining and amusing your family or guests, you're sure to find the perfect Halloween Decorations for your home & garden.
If you'd rather opt for a more subtle and stylish look for Halloween, our pumpkin lights are a perfect fit for your decor. Whilst Halloween is often associated with vibrant colours, softer shades also work well and can be introduced into your home for the season. Ivory, gold and silver compliment each other flawlessly and offer a more elegant alternative to the more traditional spooky decor. Mottled and mercury pumpkins are super on trend for 2020 and are seasonal yet stylish. Made from glass, they have a shimmering effect and look great even when unlit! Halloween candles are the ideal accompaniment for your display. Scatter ombre or ivory candles around the pumpkins, weaving fake cobwebs and spiders in around your display to complete the Halloween theme.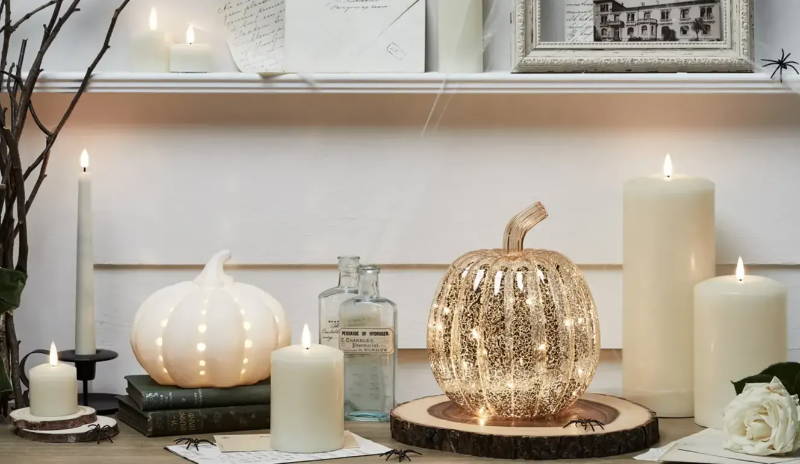 Halloween wouldn't be the same without a bit of creepy decor, are we right? Littles ones love the excitement of Halloween and all the gruesome, scary displays which come with it! Why not make their trick or treating experience even more exciting with the addition of some spooky decorations to your home. New for this year, our LED spider's web is the ultimate showstopper! It can be displayed indoors or out, with the five suction hooks making it super easy to stick in windows over the season. With a glowing look, it's ideal for illuminating once darkness falls on Halloween night for everyone to admire. If you're hosting a Halloween party this year it's also a great feature to include, along with our impressive LED spider which is sure to startle your friends or family! Surround him with some fake cobwebs and illuminate his amber LEDs for the full effect.
Lighting can make such a difference to your Halloween arrangement and add to that eerie ambience! Halloween themed micro lights and fairy lights are perfect for adding that decorative touch and giving your space a glow. Our micro lights are fabulously flexible, which means you can bend and shape them with ease. Wrap or weave them around features of the room, their LEDs remain cool so you can let them glow for hours at a time and they can be paired with fabrics. Fairy lights are ideal for customising your shelves and mantels, styled alongside a seasonal garland as a finishing touch. The lights also have a generous lead cable so you can hide the battery box out of sight and it won't ruin the appearance of your display. You can also opt for the 6 hour timer function on the lights, which guarantees automatic illumination at the same time each night.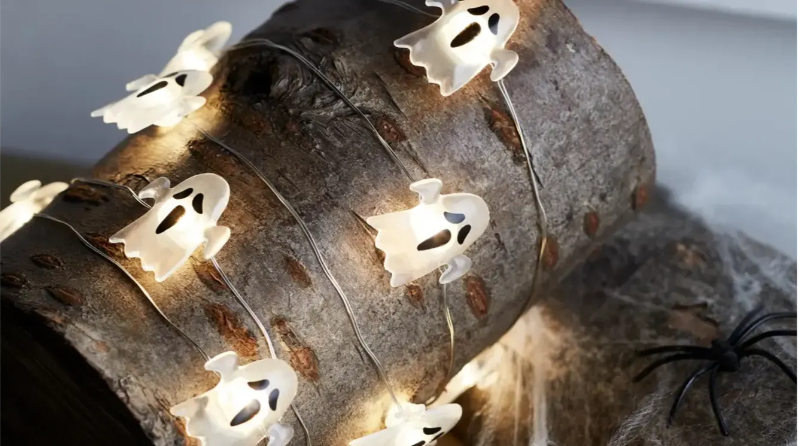 Halloween inflatables are super fun and easy to display! Designed for outdoor use, our light up inflatables are also new for 2020 and are ideal for displaying outside the front of your house ready for trick or treaters to come knocking! Sit them on the doorstep or up the garden path, the 5m lead wire means the plug socket is within easy reach. They inflate and deflate in moments, with the ability to store them away easily for next year. Each inflatable has a colourful design and houses an LED, bringing them to life in the evening once switched on. Bright colours are always popular at this time of year, with oranges, greens and purples often featured to reflect the fun aspect of the season. You can't beat a bit of Halloween humour and our light up witch inflatable is bound to give your guests and trick or treaters a good chuckle!
There's also your garden to consider as part of your Halloween decor! Stake lights are perfect for lining lawns and pathways, illuminating them with a spooky glow by night. They can be staked into soft ground with ease and are battery operated, giving you the freedom to style them in the perfect spot. Sit them in a line or space them out in your garden, they look great either way! The 6 hour timer means they will illuminate automatically at the same time each night, so there's no fuss involved. You could even add some string lights to your outdoor display, to brighten up the exterior of your home. Drape them along roof edges or wrap them around trees at the front of your house to catch the eyes of passers-by. Opt for orange or green lighting to fit with the Halloween theme, or choose multi coloured LEDs for an all round vibrant display.
If you're looking to get your home Halloween ready, check out our full collection of lights and decorations...