Wondering how you're going to spend the following weekends at home? Now's your chance to get those house bits done that have been bothering you for months! Get that paintbrush out and put your DIY skills to the test, fixing those odd jobs that need doing and decorating with some nice finishing touches. Style your home to perfection with our tips on how to make the most of each room in the house. Whether you're looking to finally give your garden the attention it's been craving for a long time...or wanting to focus on making your interior as homely as it can be, we have some splendid styling ideas for you!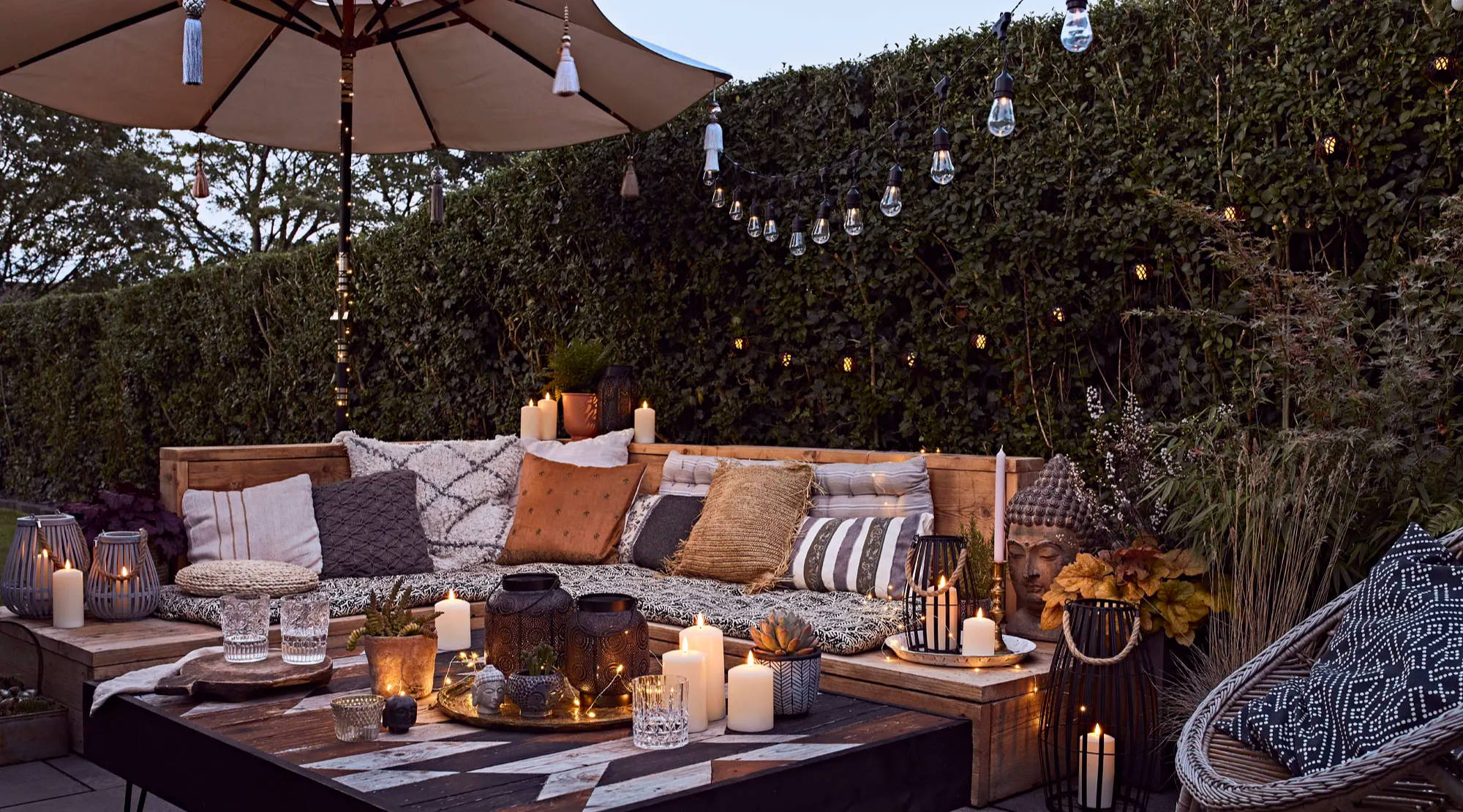 Taking time outdoors is so important right now. Set aside an hour or so when you can go outside and enjoy some fresh air in the garden. The best way you can do this is by creating yourself a space where you can go to for a change of scene outside of the walls of your house and away from your computer screen. Even though you're not actually going far... turn it into a fun, new environment which feels like a mini getaway every time you go up the garden path! It could be your patio or perhaps your summer house, whatever it may be... add some soft furnishings, decorative touches with some ambient lighting for that relaxing atmosphere.
Unplug from those electronic devices and unwind in your new tranquil space.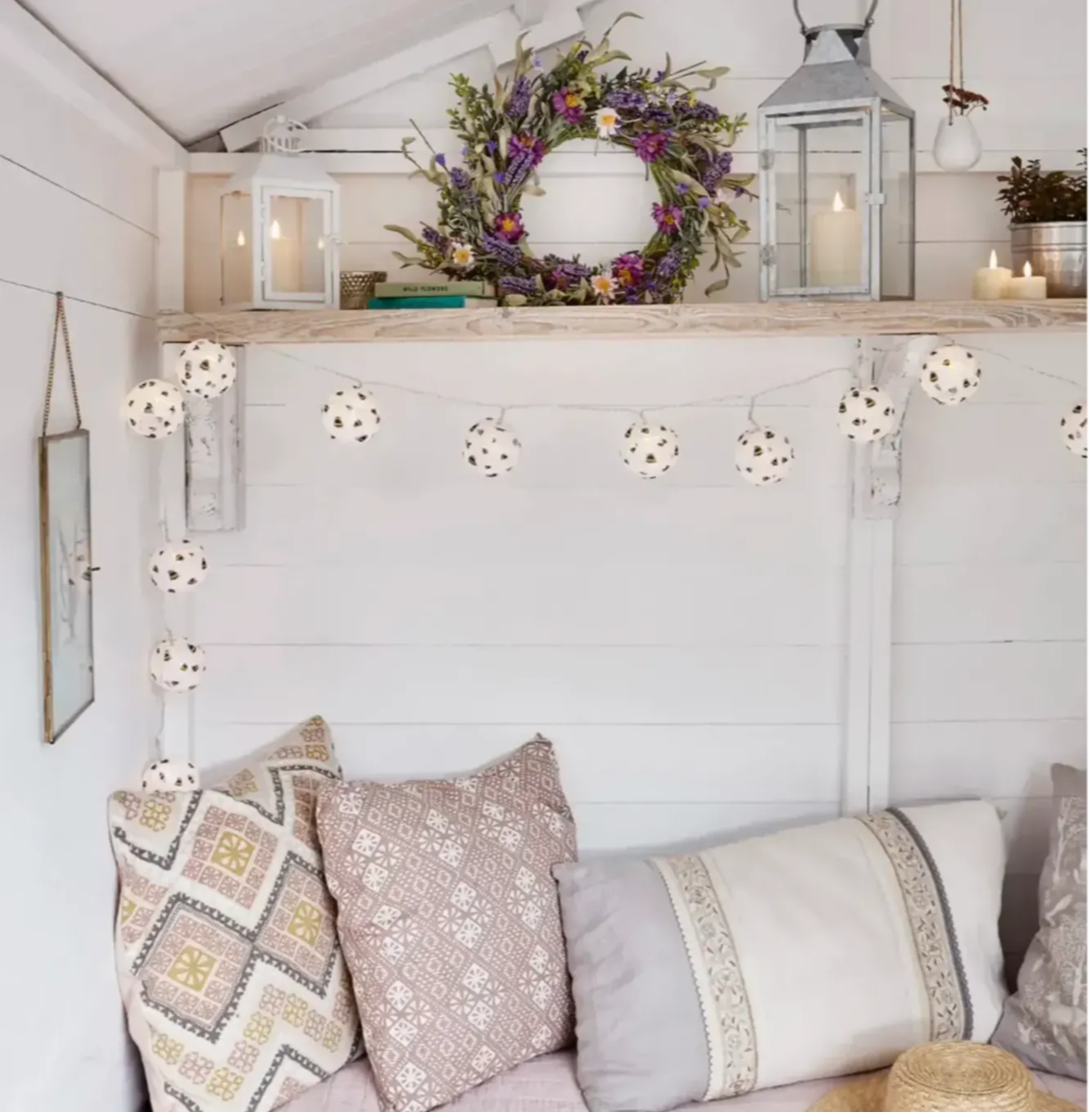 The brighter days provide you with the perfect opportunity to step into the garden. Create the ultimate space for taking breaks during the working day, as well as somewhere to spend the weekend when you're based at home. Customise your outdoor furniture and surround your set-up with some nice display features, making it somewhere for you to really enjoy spending time in. Give thought to an area in the garden that will keep the children entertained, whilst you sit back with your feet up! Make something fun like a bug home, to encourage insects and crawlies that children love, or their own little hideout which they can claim ownership of.
Make the evenings magical by illuminating your outdoor space with some twinkling lights so every night is a starry one. As darkness begins to fall, you can make the most of your time outside, before heading back into the house for the night.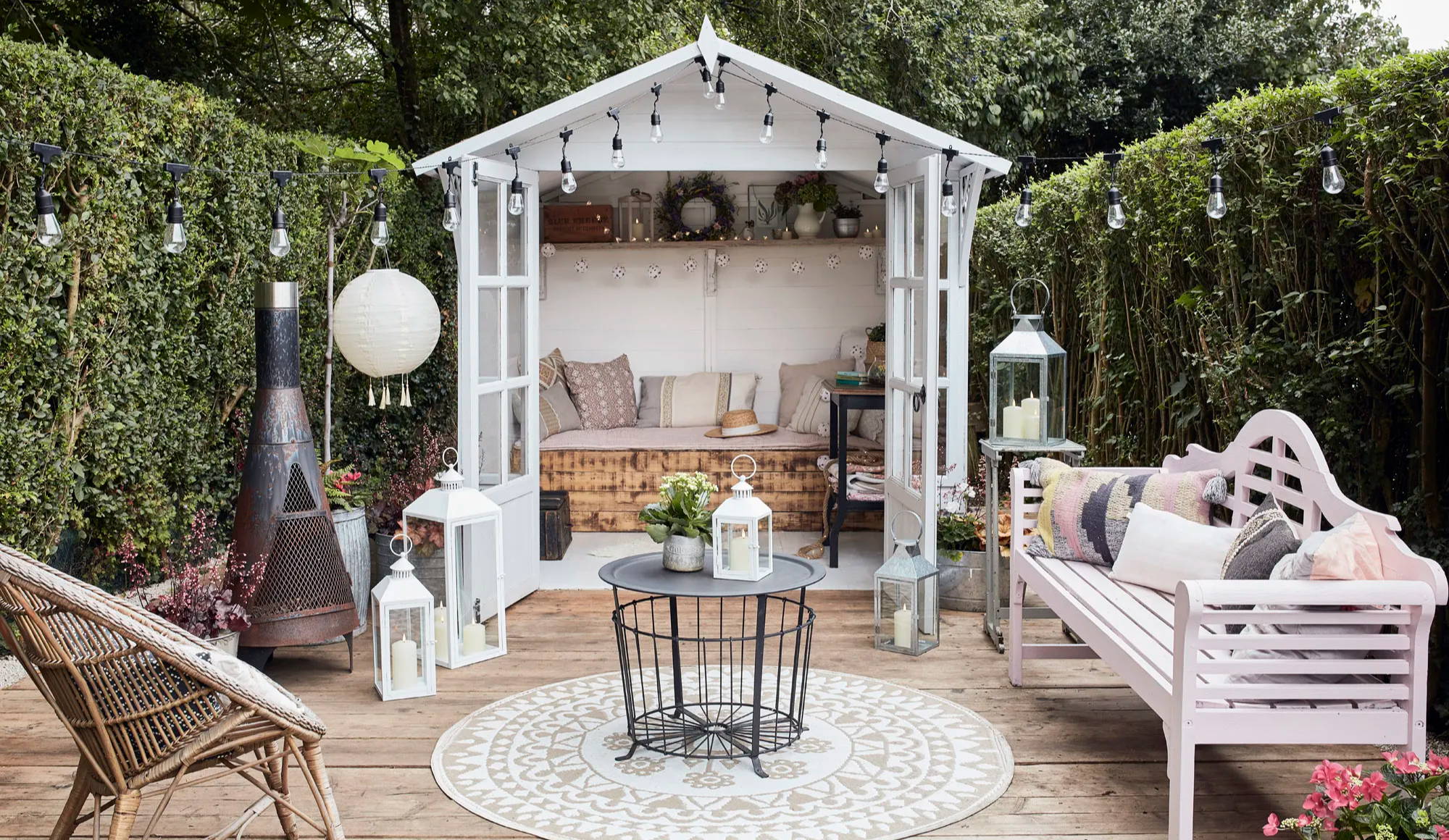 As you spend more time in your living room make sure it's both calming and cosy, to create those relaxing vibes you need after a long day at the (home) office. Kick back on the sofa with the TV on or with a good book and take pleasure in the comfort of your lounge. Refresh your space by getting rid of any clutter, making it clean and tidy so you're not tempted to do any chores whilst you're meant to be taking some 'me time'! Candles guarantee that zen atmosphere that every lounge should have. Scatter a few around the room to complete the look and brighten your space when the lights go down in the evening.
A new colour introduction can also works wonders and add that extra touch to your living room. For example, a throw in pastel shades or a planter of bulbs are perfect spring additions...making your interior super homey!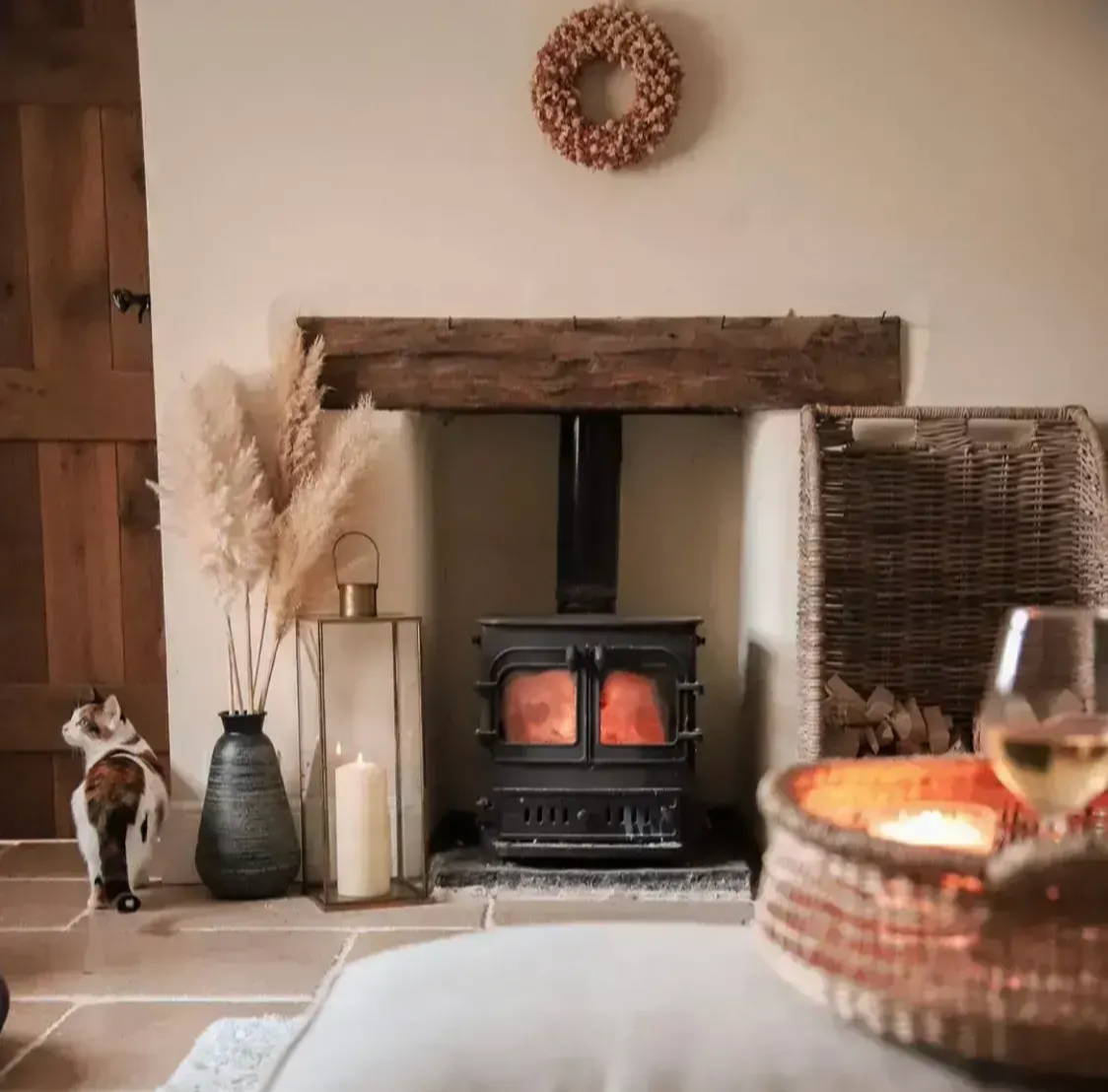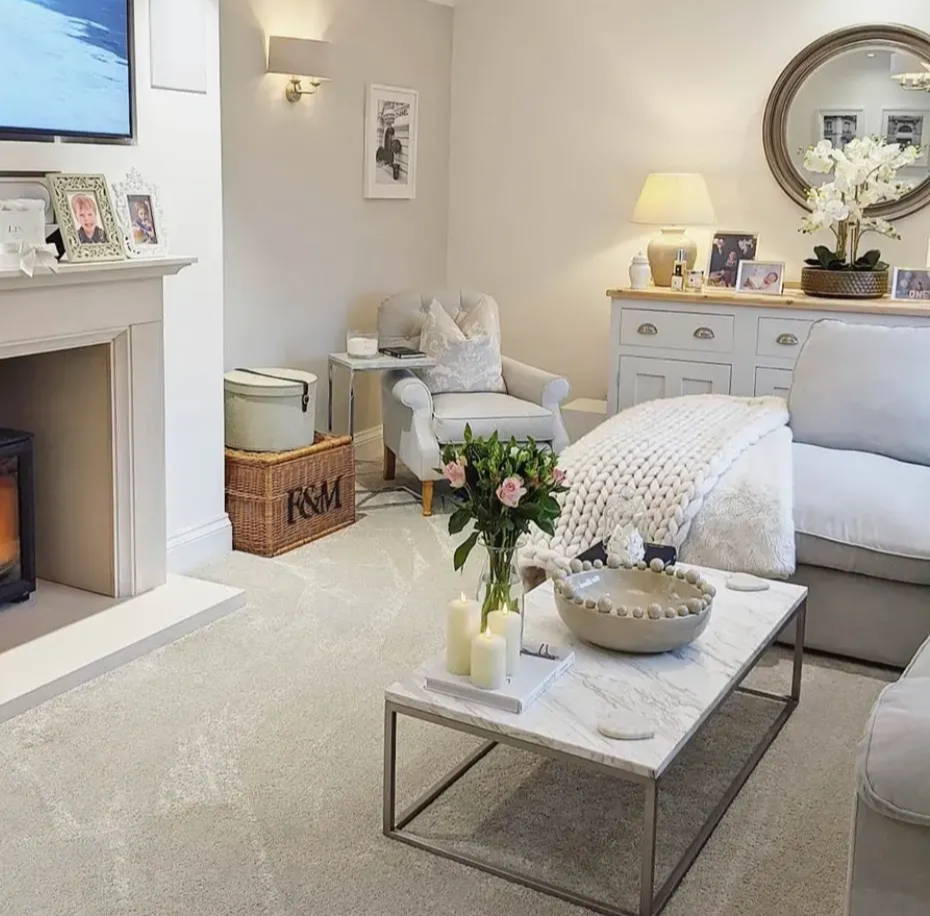 Tranquillity is key for your bedroom to ensure a peaceful escape. After you've shut your bedroom door, you want to be able to shut out the world and enjoy your quiet bubble. Whether you choose to listen to music or read a book, this is your environment to chill out and have some down time. Get the lighting just right to create this calm ambience each night, with a candle on your bedside table or a string of lights across your bed frame - there are plenty of styling options you can choose from. Dress the room with a few sprigs of foliage or floral bouquets, or perhaps add some spring accessories for that fresh look!
Getting plenty of hours of sleep each night is essential in order to rest those tired eyes having spent all day looking at screens, so make sure your bedroom is a space where you you can fully switch off.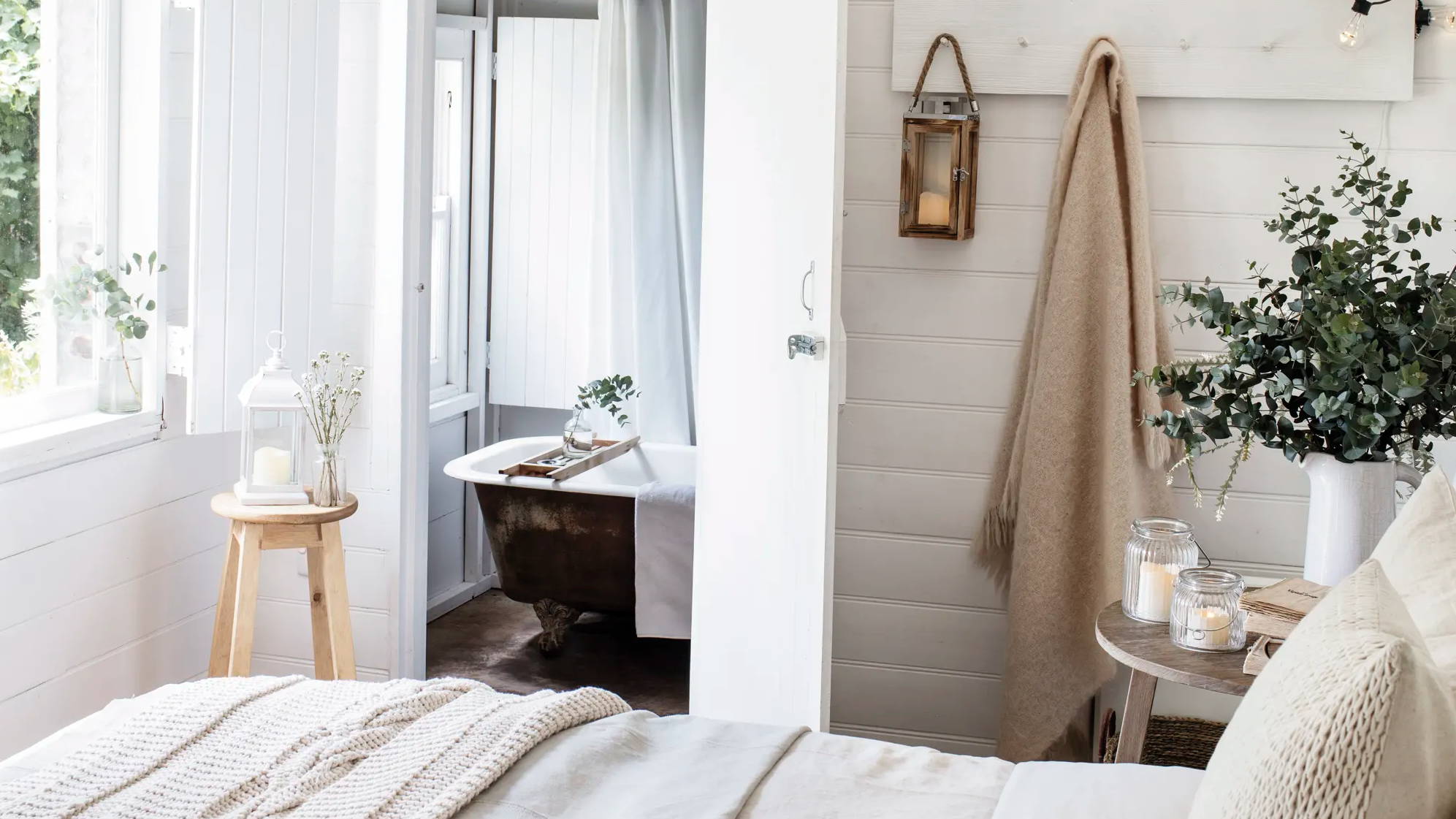 With schools and nurseries closed, a daily routine really helps to keep little ones entertained. Whilst learning is important...playtime is also a must! Maintain a good balance between the two by assigning set times in the day for each activity. This way your little one will become familiar with their routine, which incorporates a mixture of both education and fun. Customise their playroom/play space and bring it to life with some colourful decorations or funky children's lights to brighten up the room. These are bound to make play times extra special and put a smile on your little ones' faces!
After a busy day, a good night's rest is vital to help them prepare for their next session of learning and exploring! Lighting is the perfect way to help with this...cosy nightlights are sure to set the tone just right at bedtime to send them off into a peaceful slumber.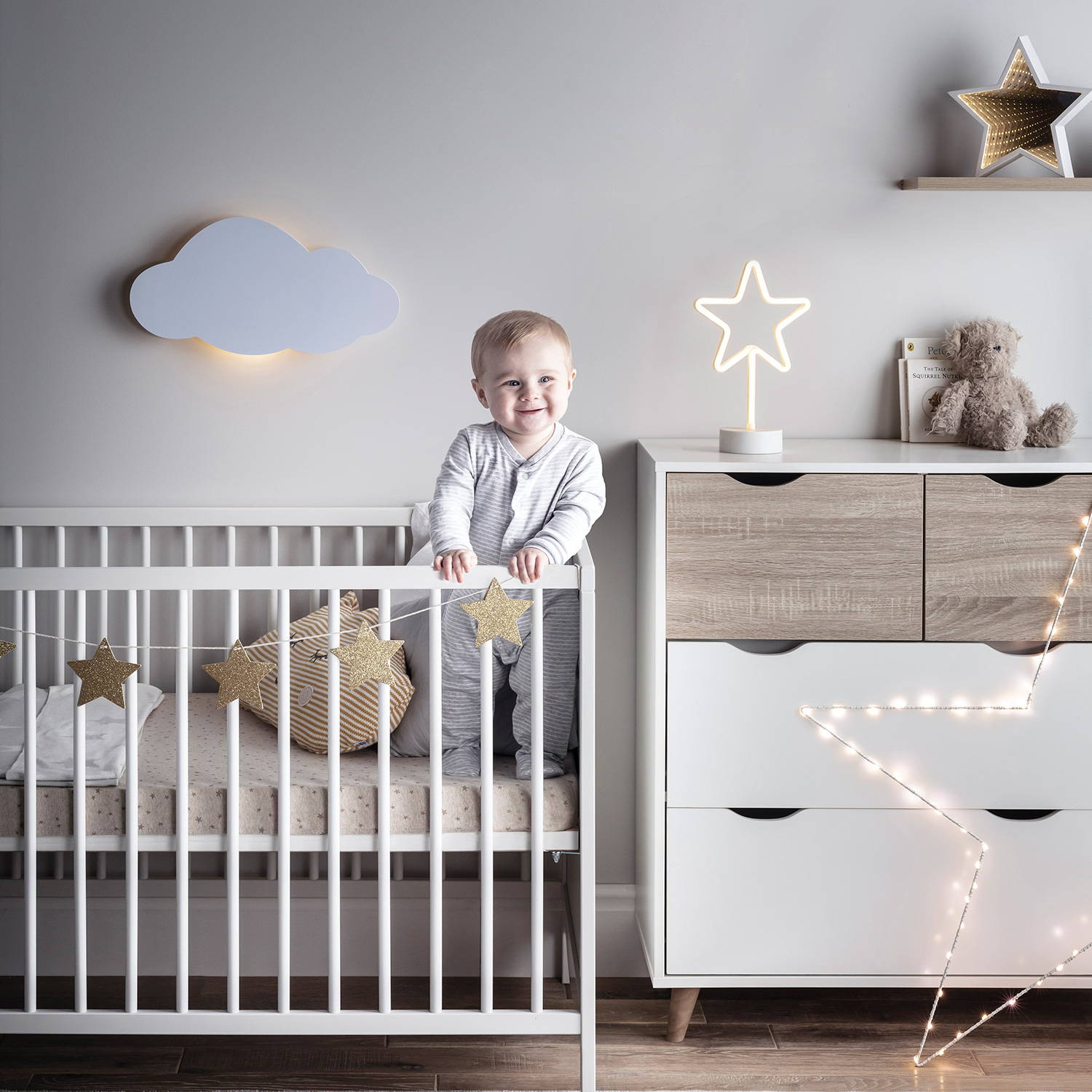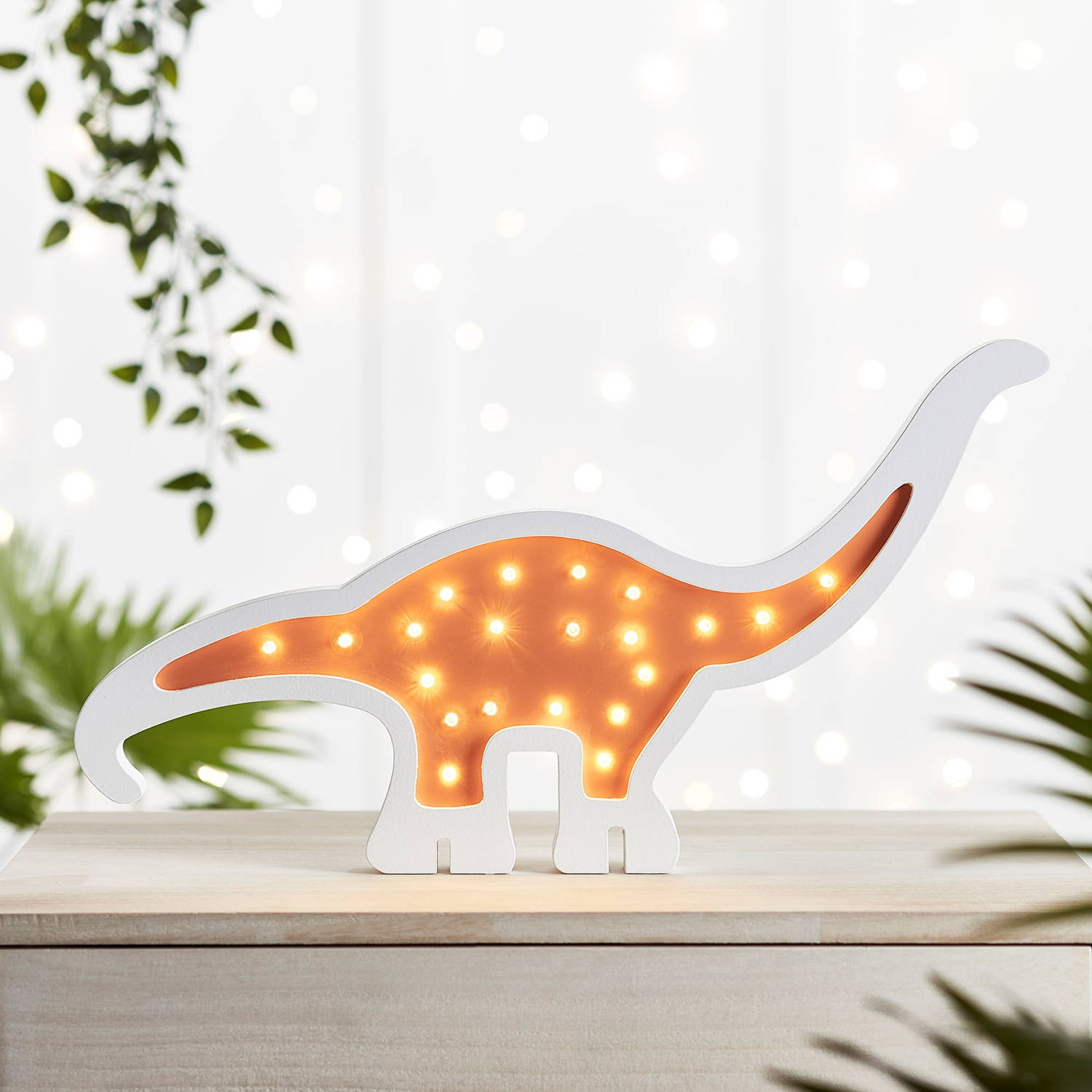 End the day right and de-stress by drawing yourself a blissful bubble bath. After sitting at your computer all day, relax those tense muscles with a warm soak. Surround your space with a selection of soothing candles, turn out the lights for that flickering effect and indulge in your serene setting. Treat yourself to a pamper session and invest in some face masks or bath salts to revitalise your skin and help you feel refreshed...after all, you deserve it! Listen to some mellow bath tunes on repeat to drown out any work related thoughts, so you can savour every moment in this heavenly set up.
A chilled glass of wine will be the only company you'll need...the perfect way to finish the day.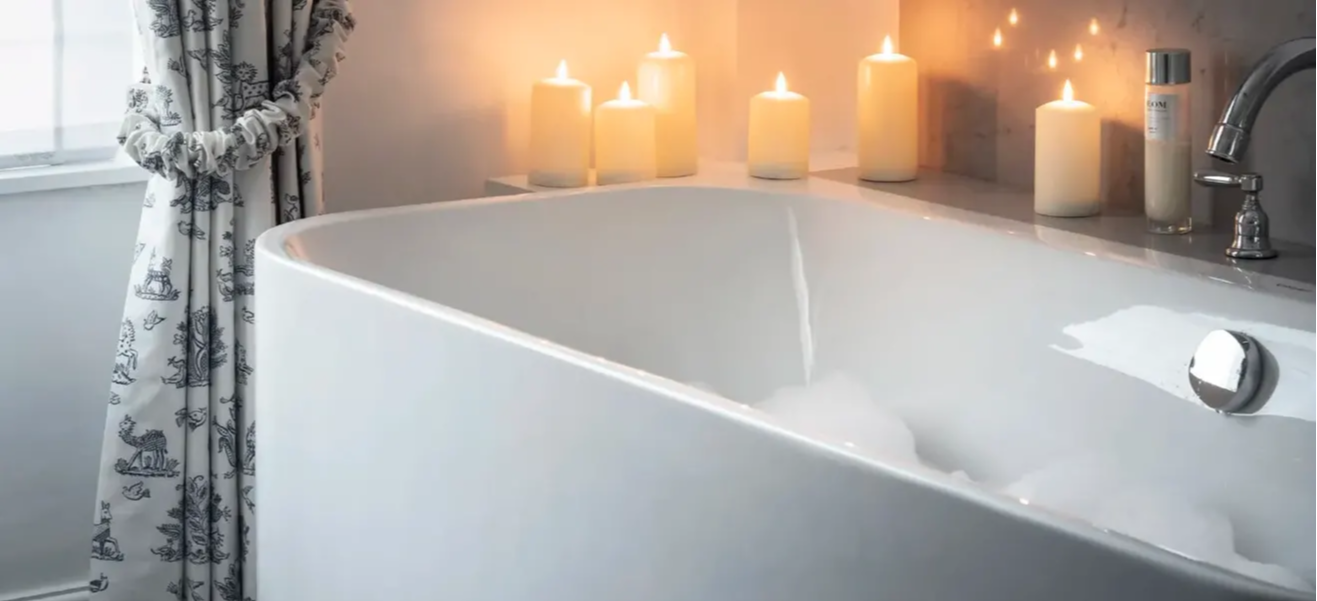 The line between home and work life may be a little blurred at the moment, so it's important to create a space which distinguishes your working environment from other areas in your home. Wherever you've set up your working from home space, whether you've got an office in one of your rooms already or you're based in the living room or your bedroom, give it a makeover! Adding simple yet stylish decorative touches will transform your new work space into something that will inspire you to be productive. A few micro lights will make a lovely addition to your desk or table top, which you can drape or display in a bell jar as an ornamental feature.
You're likely to be spending a lot of time in this area during the week, so rather than it being somewhere you dread going to in each morning...make it appealing by adorning your surroundings.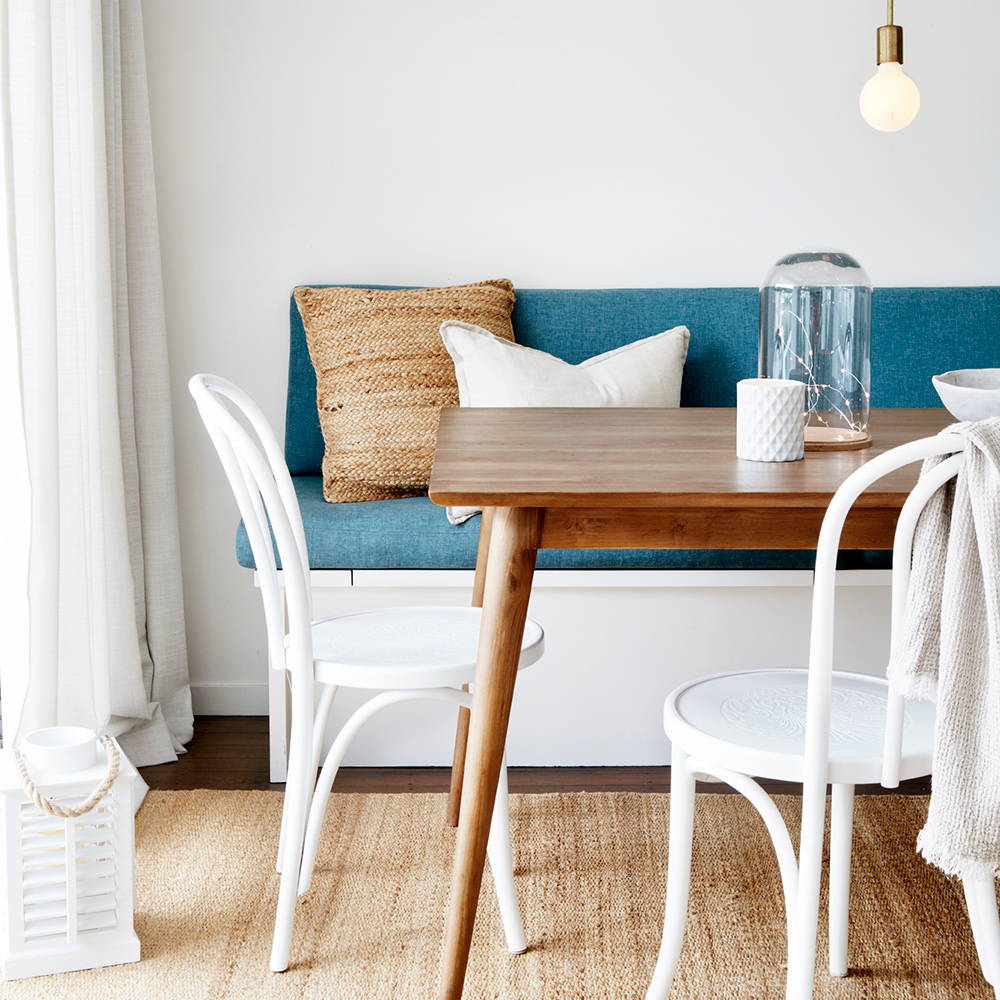 With more of us spending our lunch breaks at home, the kitchen becomes a priority and the place you go to for some time out away from your work space. By maintaining a minimal look, you can use this room as breathing space for when you need to have a sit down with a cup of tea or enjoy a peaceful meal at lunchtime. Revitalise your kitchen by adding a variety of green foliage to your shelves or counter tops, as well as a few decorative lights to brighten the room and make it an inviting 'work free' zone. Finish it off with a simple rug or a few nice cushions and you have yourself a perfect spot for recharging your batteries.
As the saying goes...'the kitchen is the heart of the home'. So show it some love!