Like Jam? You'll love this. Sitting outside on those long, balmy evenings in the summer is one of our favourite pastimes, but eventually the daylight fades and we struggle to see our beautiful garden/friends/glass of wine. A crafty and effortlessly chic solution to this familiar dilemma can easily be found in your kitchen cupboard.
Next time you scrape the last of your marmalade onto your morning toast, put the empty jar to one side for safe keeping. When you've got a little collection going, head outside and artfully dot your glass jam jars around your patio, decking or garden seating area (pro-tip: you'll probably want to wash the jars first). Next, pop a battery operated LED tea light in each jar, switch them on, and call your friends to invite them round. Voilà – instant summer garden party.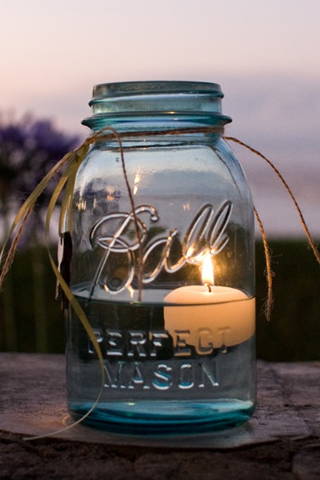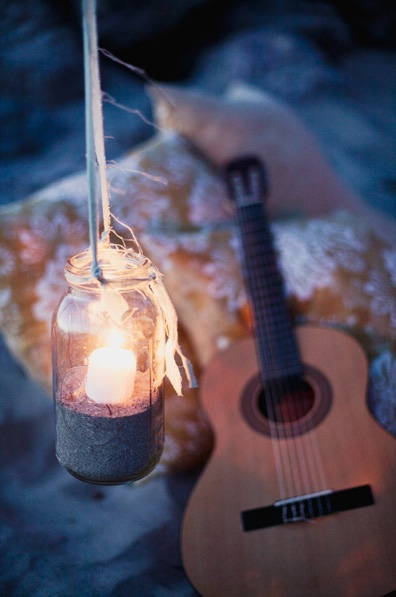 Not only are these little lights absolutely gorgeous, but using battery powered tea lights or battery LED candles rather than real flames means that a) they won't get extinguished if the breeze picks up or if it starts to drizzle, and b) if the jars get knocked over by an overexcited party guest, there's no risk of setting your garden on fire. We've gathered a collection of our favourite inspiration images from around the web to show you how fantastic jam jar lights can look.
For a real Hollywood effect, use strings of outdoor battery operated fairy lights in place of the tea lights. Carefully bunch them up and tuck a set into each jam jar. You could even mix and match colours if you're feeling really creative.
To make your jam jar garden lights even prettier, add sand or pebbles as a base for your tea lights or candles to sit on. Multi coloured glass beads also look fantastic.
If you've lit your garden to perfection but you've still got some glass jars looking for a purpose, bring a quirky twist to your party by using them to serve your drinks. Drinks in jam jars look particularly special when you start adding chopped fruit, ice, sugar around the rim or even a few decorative flowers, topped off with a brightly coloured drinking straw. Use them to hold freshly squeezed fruit juices, flavoured iced tea or your favourite summer cocktail. It's recycling at its best – who needs cut crystal wine glasses when you can achieve instant retro-cool and wow your guests with jam jar drinks?