No one deserves to be treated more than mums, are we right? That's why we are here to provide you with the top gift ideas to make her day extra special! From candles to cute decorative lights and lovely lanterns, we can guarantee we have something for every mum out there. If you're struggling for ideas of what to buy her this year, look no further!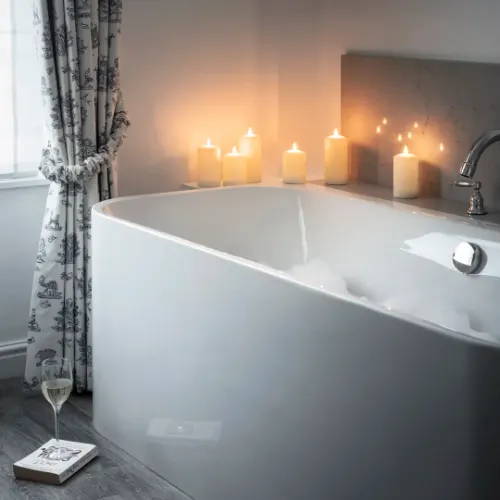 We're sure all mums would agree that baths aren't the same without the warm glow from some lovely candles, to create those zen and relaxing vibes she needs after a long, busy week. That's where our TruGlow® Candles come in!
With a combination of real wax and innovative technology our TruGlow® Candles create realistic looking flames which are battery operated and provide up to 600 hours of illumination. They are ideal for satisfying those bath goals and come in an array of sizes so your mum can take advantage of displaying them how she likes.
All she needs now is a cool glass of wine, a good book and some sweet smelling bubble bath for a perfect setting.
Give that personal touch this Mother's Day and get her something super special.
You could customise your own Micro Light Heart with those pics your mum absolutely loves! The product is equipped with 9 pegs to create your picture perfect display of those memories your mum doesn't want to forget. You can even add more of your own pegs if you have more than 9 pictures in mind! It's the perfect addition to your mum's wall and can easily be hung wherever she pleases using the hanging hook provided. If you want more space for your snaps, our Warm White LED Fairy Lights on Clear Cable  would be perfect to hang across one of those large blank walls your mum has been wanting to fill.
These gifts will be sure to light up her life and put a big smile on her face!
Why not put a unique twist on this year's floral gift, which is way better than your average bunch of flowers from the local supermarket!
Make her day sparkle and add her favourite flower to our Micro Fairy Light Jar Bundle.  There's the ability to shape the micro lights within the jar so it sits how you like and you don't even have to add the flower! Put your own spin on it and make it your own, by adding a different feature ornament or simply having the Micro Fairy Lights by themselves.  Alternatively, our pretty Juliet Rose Fairy Lights would look great either wrapped around her bedframe or perhaps draped in the living room. The neutral cream colour of the rose shaped lights goes well with any room and the warm glow from the LED bulbs gives a super cosy feel.
These sweet smelling gifts are hard to turn down!
Look at the stars look how they shine for you and everything you do! Let's face it all mums are superstars! We have a great collection of star items which will make her house shine.
Does your mum prefer elegant and subtle lighting? If so...our Star Charm Micro Fairy Lights would be perfect for styling throughout her home. They are versatile in their use and can be used to entwine and layer decorations or furniture. Or perhaps a Large Star Window Light to feature on her mantelpiece or in the window would be more suited to her. These are great to display all year round and despite what some people may think...they aren't just for Christmas time! Bring the stars inside and make every night a starry one, creating a magical ambience in whichever room your mum pleases.
These gifts will definitely put a twinkle in her eye!