Everything you need to know when planning your festive garden display!
Welcome to our first of many inspiration pieces to give you a week by week guide to getting your home and garden set for Christmas. As there's such a huge choice available of outdoor Christmas decorations, both online and in the shops, it's easy to feel overwhelmed by the decision of what to buy, rather than the actual decorating itself. Follow our weekly plan and before you know it, you'll be ready to relax and enjoy the time with family and friends.

In this first piece, let's think about Christmas garden lights for your outdoor space. Since the clocks went back at the end of October, the nights fall earlier, and now's the perfect time to get your garden glowing. Having an outdoor power supply is wonderful, but not essential! Our outdoor battery lights are a great alternative and available in a range of lengths up to 20 metres. More on those later! However, if you're keen to get an power source a good outdoor socket costs less than you think, and they're available at good garden centres and online. The best ones come with a built-in timer - and the big advantage of our lights is that you only need one socket, as they all connect together simply end on end.
Which Lights Should I Choose?
You'll probably have an idea of what you'd like to light up, now it's time to decide which outdoor Christmas lights you prefer. To make it easier, we've highlighted our top picks for you!
Fairy Lights & String Lights
We're often asked, what's the difference between the two? There's no difference really, they're just two names for the same thing! Some people call them string lights, some call them fairy lights. They're still the most popular choice for trees, being completely versatile and totally durable to withstand all the elements.
If you have a tree that has a shape you love or is well positioned for everyone to enjoy, we'd recommend winding fairy lights either individually up the larger branches or around the outer shape of the tree. You can also bring the light string back down and dress the trunk too. When winding upwards, space the lights wider so when you come back down, you can cover the gaps. This works particularly well for deciduous trees (those that lose their leaves in autumn). When it comes to colour, we've got loads to choose from, opt for warm white, multi coloured or something in between!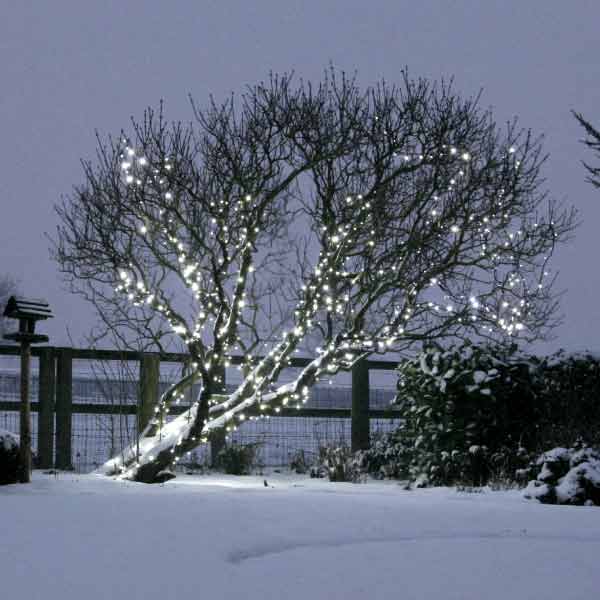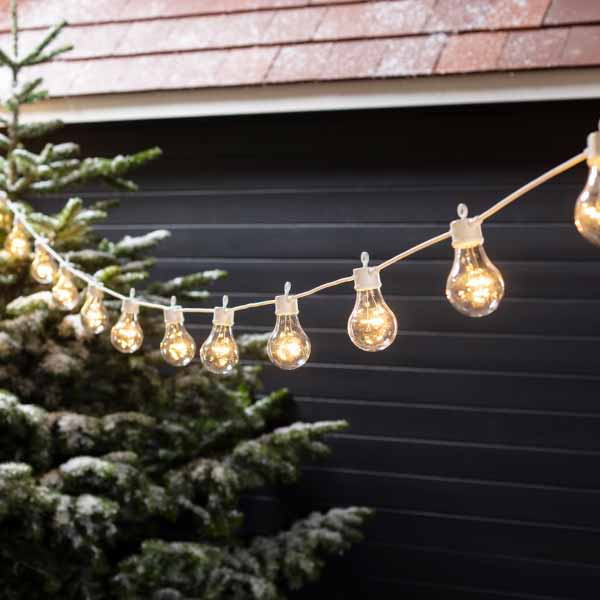 If you fancy a bolder display, we recommend our big bulb festoons. They're the ultimate outdoor Christmas tree lights and they also work beautifully along a fence or any other structure that has height. If you struggle to hang the festoons, use our festoon poles to frame the area you want to cover. Complete the look with garden lanterns on the ground.
For a simple but effective look, cover hedges and fences with outdoor net lights. You can achieve a stunning look quickly and very simply! Our net light ranges connect together for larger areas, just like all of our other plug in garden lights. Tack small nails into the fence or hang the net light within the hedge itself, securing the corners with cable ties and wait impatiently for night to come!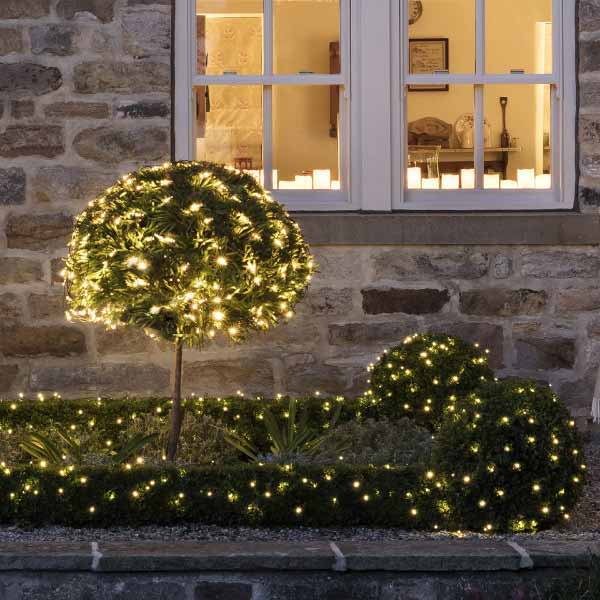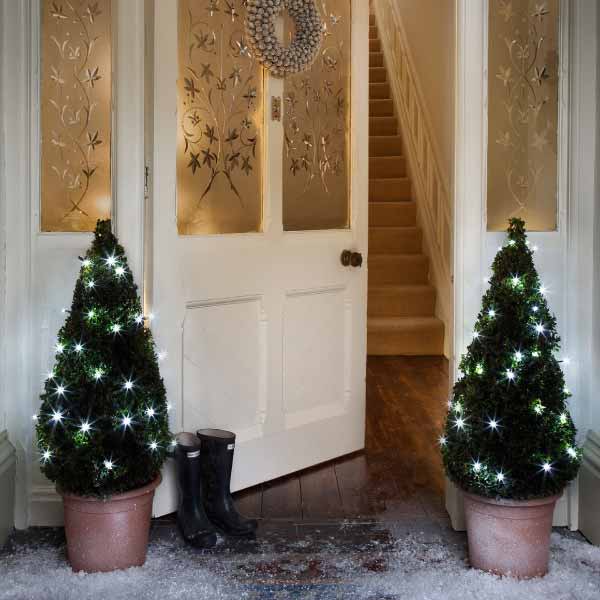 Outdoor battery lights are a fantastic and totally fuss free option for literally anywhere you like! Wrap them around small trees and shrubs for an instant glow, perfect next to your door. The added advantage of a 6 hour timer means that you don't have to go outside at night to turn them off, either. The lights and the battery pack are waterproof meaning no soggy batteries! They're a bestseller, as there are no trailing wires to contend with, and the perfect solution for where there's no outdoor socket.