Nothing quite beats the warm flicker of candle light to create an instant festive Christmas atmosphere. LED candles are the perfect way to brighten up different areas around your home achieving that extra cosy feeling every time. Here are some of our styling tips for inspiration.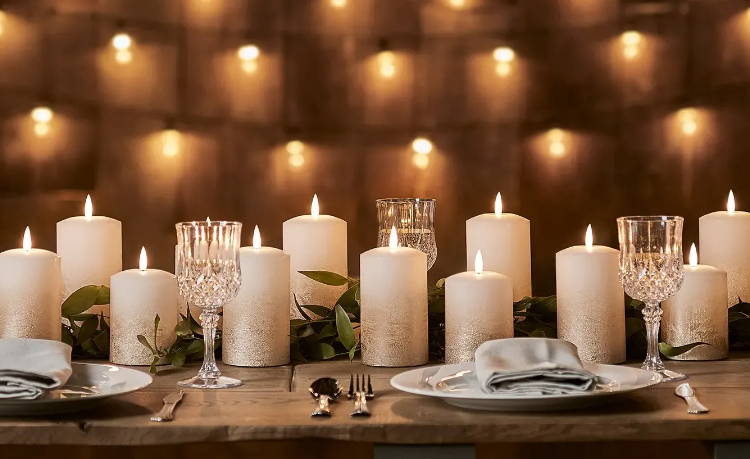 During the countdown to Christmas everything builds up in excitement and can feel like it is picking up in pace. So treat yourself this year by creating a calming tranquil space in your home to return to after your last minute Christmas shop. The dancing flicker of candle light is a lovely welcome on a dark winter's afternoon and for that reason they make fine gifts to give out to your friends and family too.
The classic ivory Pillar Candles are guaranteed to always be in style as the off-white blends in with any interior. Our TruGlow candles has innovative technology recreate the look of a real flame achieving a just lit appearance. The LED candle option is a super safe design especially around little hands and busy tables at Christmas. Coming in multiple sizes it allows it to perfectly fit on the mantelpiece, table top, window sills or around the bathtub edge.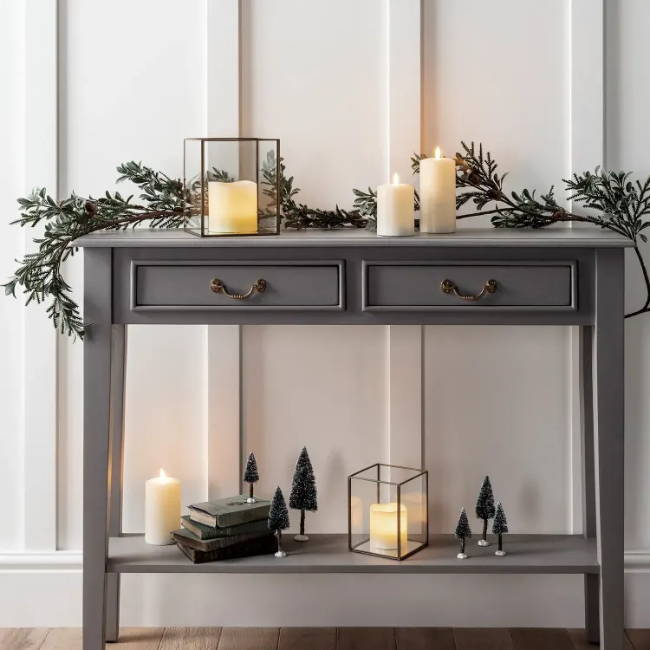 Style Tip: If want to spruce up your pillar candles especially for over the Christmas period, then use some of your leftover gift wrap cuttings and strips of ribbon. Decorate the candles middle by wrapping the paper around like a belt. Finish off the look by attaching a ribbon and tying it in a bow. No glue needed. When Christmas is over, simply untie the bow and peel away the paper to revert your candle back to being suited all year round. We do recommend you only use this decoration tip on LED candles as they won't cause a potential fire hazard.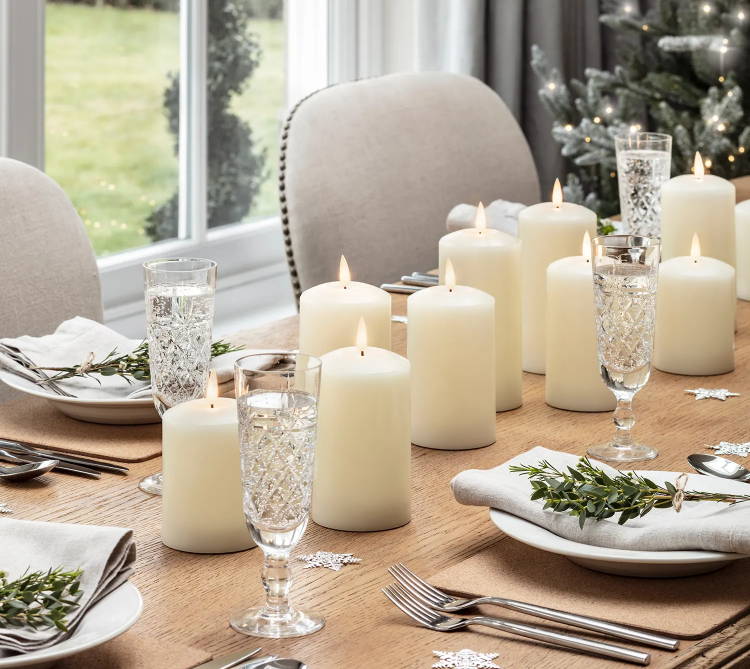 Mix up your Christmas table setting with textures, varied heights and multiple light sources. Think about what will work with your surrounding decorations, the colour schemes in the room and how big your table is. As you need room to pull those Christmas crackers!
Introducing different textures is easy, the simplest way would be laying down a wreath in the table centre or trailing a garland down it's length. Finish the look off by wrapping a string of fairy lights into the garland so it can peep through the leaves and winter foliage.
To create some interesting heights to your table utilise glass containers, like small bell jars and indoor lanterns, to spotlight some of your favourite candles. Christmas Lanterns are great to bundle a string of micro lights inside; as the fine wire gives the LED bulbs give the impression of fireflies.
The perfect pairing for a Christmassy table are LED Taper Candles. Mixing the traditional centrepiece with the digital age. This look is very elegant and a Christmas scene classic. You can take it one step further and position the taper candles inside candelabra for a 'Wow!' feature. For a subtler option, that's still very festive and timeless, use our ceramic star base holders. They can fit in real wick candles inside too!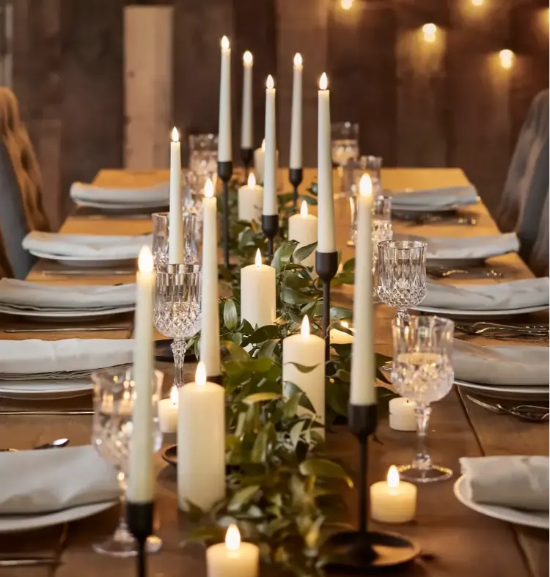 Top tip: If you don't have a candelabra but still want to elegantly display for your candles. Then flip over a few spare wine glasses and place them down the table's centre. You can then place your LED pillar candles to rest on top of the wine glass bases. Wine glass candle holders are guaranteed to create a pop of interest to the table display and give some needed height above the plates of food.
If you love scented candles but hate how quickly it melts away, then use a LED Candle and add some potpourri into it's display. The combination will achieve the same effect as a scented candle but will give you a stronger fragrance when someone walks by. For a more seamless display, place the candle in the centre of a shallow glass bowl or decorative tray; then surround it's base with layered potpourri. Alternatively, opt to use a hurricane jar to vertical display the potpourri up the glass sides. Exhibiting the dried fruits and foliage in the glass and giving the LED candle prime position to rest nestled in at the top; to radiate it's warm glow from above.
A favourite of ours, this Christmas, is the 3 wick TruGlow winter candle. This TruGlow candle comes with subtle aromas of cinnamon sticks and citrusy notes from the orange slices all sealed within the hand poured wax. This unique three tipped LED candles is a great choice to keep that just lit appearance and glow matched with an autumn/winter scent.