Add a fun and cosy touch to your little ones room with our creative lighting ideas. Children's Lights are an easy way to add fun and character to bedrooms during the day and a comforting glow by night. Take a closer look at the top bedroom trends for this year and our best selling lighting to match.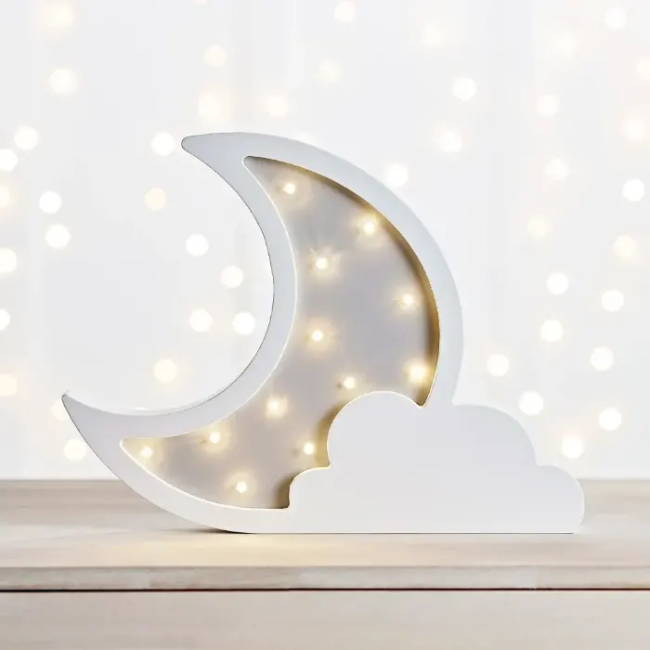 For a smoother bedtime routine adding the warm glow of a Children's night light naturally helps your little ones settle down. The softer lighting sets a calming atmosphere in the room and is gentle to sleepy eyes unlike the bright overhead light. Night lights can also help reassure your little one if they wake in the middle of the night as they wont be surrounded by darkness. This source of ambient lighting is great to put in the nursery too! As it allows you to check in on your baby without disturbing them and provides enough light for a night feed or nappy change.
One of our favourite themes this year is the magic of a fairytale bedroom. You can draw inspiration from the illustrations inside their favourite story books. Our top tip is to pick out Children's wall lights with a cute recognisable character or symbol to make bedtime reading more immersive and something to look forward to. Our favourite decoration for this trend is the iconic golden crown wall light that's fit for a prince or princess. This timeless piece features in almost every fairy tale and has the perfect warm royal glow.
Children's fairy lights are another great night light to decorate with as they're very versatile to style. The multiple LEDs along a flexible cable makes them easy to incorporate into your little ones interior. They're perfect for wrapping around bed frames or pinning along a shelf. Both arrangements allow you to tuck the lead cable and battery box to one side out of view and reach of little hands.
Get ready to soar with this second trending theme. A space themed room is great for your little ones imagination and introduces an early interest in science. Your stargazers will love the extra twinkle of Children's Fairy Lights. One of our favourite styling tips to fit this theme is making a mini galaxy to hang above their bed. Suspend your night lights from the ceiling to create a lovely relaxing display for them to look up at as they drift off to sleep. Most of our Children's Lights have a handy 6 hour timer too for fuss free automated switch on.
Another awesome styling idea we've been loving recently is the feature wall. You can get super creative with the details of your display. It's ideal for combining wall art with glow in the dark stickers, toys and different light sources. For this look we love our freestanding lights that can double up as a Children's Wall Light; just like our rocket night light. They give you the freedom to style on a side table for the perfect reading light or hook onto the wall or wardrobe giving the look that your rocket is in mid flight.