Nothing says "luxury" like a stately drive lit by traditional golden fairy lights, especially when you're in the South of France. Lights4fun customer Nik was kind enough to send us these stunning photographs of a driveway he dressed in Cannes earlier this year, using our warm white outdoor lights. Over 300m of connectable lights went into decorating the tree-lined drive, the green cables blending perfectly into the foliage to give a gorgeous "Hollywood" effect on the tree trunks. Teaming the tree lights with warm white spot lights on the ground gives the whole scene a beautiful golden glow, perfectly in keeping with the stunning villa the driveway leads to.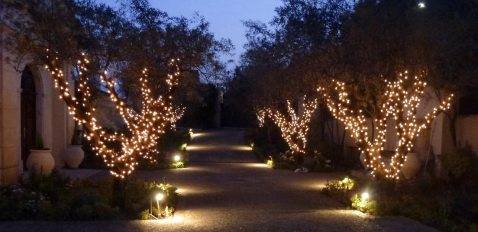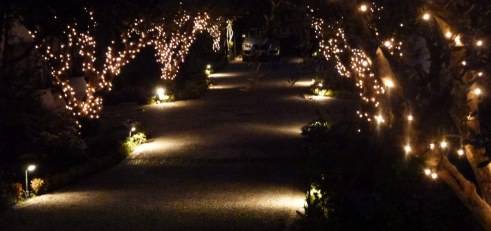 The fairy lights that Nik used were designed by Lights4fun for permanent outdoor use, rain or shine, and can even be left outside in the snow so are perfect as both summer lights and outdoor Christmas lights (although admittedly snow probably isn't as much of a concern in Cannes as it is here in the UK…)
Nik used our traditional filament lights for this display, but be sure to see our full range of garden lights, including LED fairy lights and net lights.
Top tip for wrapping trees with string lights: don't wrap the lights too tightly around the branches. Give the tree a little room to grow by not pulling the cables taut – if they're too tight, you may find that the string lights become damaged over time as the branches of the tree expand.
Thanks for the photos, Nik!