Sometimes it can be really frustrating switching your Christmas tree lights on and off every night, especially when it means you have to clamber around on your hands and knees under the tree whilst trying to avoid getting impaled by a shower of pine needles and getting poked in the eye with spiky branches! What's more, it's always a challenge trying to keep your precious Christmas tree display in tact, particularly when you've spent hours creating a fabulous and completely faultless festive arrangement. We've definitely all been there before.
This year, why not make it much easier for yourself by using battery lights on your Christmas tree? All equipped with a handy 6 hour timer meaning your lights will switch on automatically, battery Christmas lights should definitely be at the top of your Christmas to-buy list.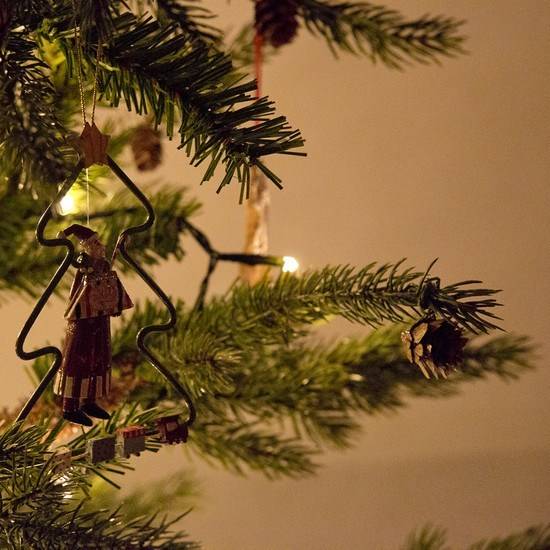 Christmas Battery Lights vs. Plug-in Christmas Lights
We're still all for using plug-in lights for your Christmas tree, however, using battery lights that feature a timer instead certainly makes life much easier. It basically means you can have a hassle-free Christmas tree display!
You can enjoy all these benefits when using Christmas battery lights with a timer:
Low maintenance – with a 6 hour timer, you can receive 6 hours of illumination before the lights automatically switch off for 18 hours and repeat thereafter. What's more, you can enjoy 8-12 weeks of illumination from 1 set of batteries.
Easy to install – simply drape the lights around the tree and switch on
They use LED bulbs – meaning they're pet-safe, child-friendly and perfectly fine against any sorts of materials
No more climbing under the tree
No plug socket needed
Our warm white battery lights on green cable are the most popular at Christmas time and are ideal for traditional green Christmas trees.
Featuring 19.9 metres of lights and a 0.3m lead from the battery box, you'll find these Christmas battery lights simple to operate and gorgeous to look at! What's more, these lights are IP44 rated for outdoor use in addition to indoor use, meaning you can expect up to 6 weeks of constant illumination before you'll need to replace the batteries.
Here's what our customers had to say about these Christmas battery lights:
"I used these lights on the magnolia tree in the front garden. It was lovely coming home to the twinkling lights every night, especially as they were on the timer so I didn't have to switch them off an on! The batteries lasted all through Christmas. I'll be geting some more next year!" — Verified buyer – via eKomi1 February 2013
"High quality lights with good battery life" — Verified buyer – via eKomi1 February 2013