Get ahead so you're ready to dine in style at the most wonderful time of the year!
One of the most exciting aspects of Christmas lunch, apart from the food, is without doubt the table complete with Christmas table decorations. Nothing sets the atmosphere or promotes anticipation in the same way. Here's our guide to create a really lovely table that you'll be proud of.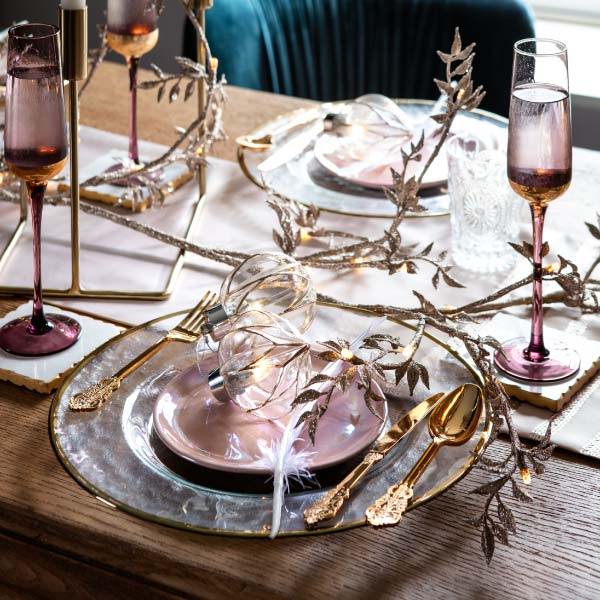 Ahead of Christmas day, make sure you have everything ready for your table. It takes a while to lay the table and to decorate it, so check through to ensure you have everything to hand and ready to pop into position. If you're using one, check your tablecloth for marks ahead, and if you have time, wash and iron it freshly (even better if you have a spare bed to keep it on!) Napkins are a must on Christmas Day, so once again have a look through and make sure yours are crisp and fresh!
You'll want to reflect your style in the look you're going for. Whether it's all perfectly matching or your collection of vintage crockery, our advice is that for smaller tables, the uniform look is best, with matching table mats, cutlery and glassware. For larger tables, you can get away with mis-matched items, because the larger scale table will let the beauty of your treasures shine through. Imagine, you're all decked out with indoor Christmas lights, your tree is twinkling and the aroma of Christmas lunch throughout the house! It's best to lay the table first and then you're all set to tackle adding the Christmas table decorations and Christmas candles. If you are time poor, focus on one thing and do it really well, and our advice would be to go for the table centrepiece as this is what everyone will be looking at most. Ideally it should be created so that it can be appreciated from all angles.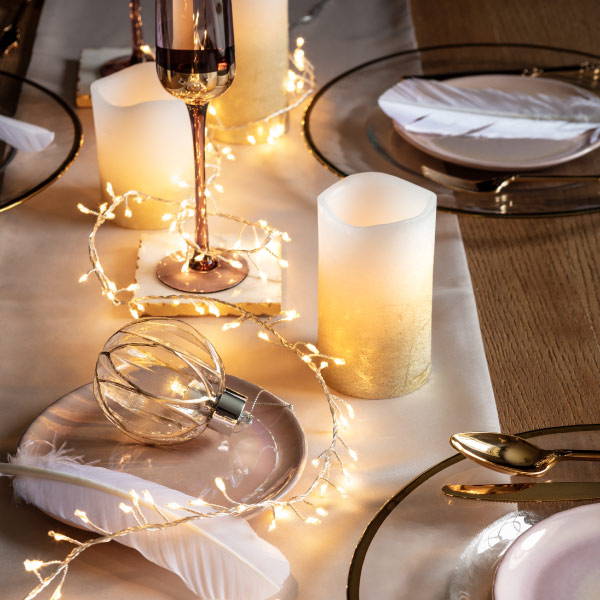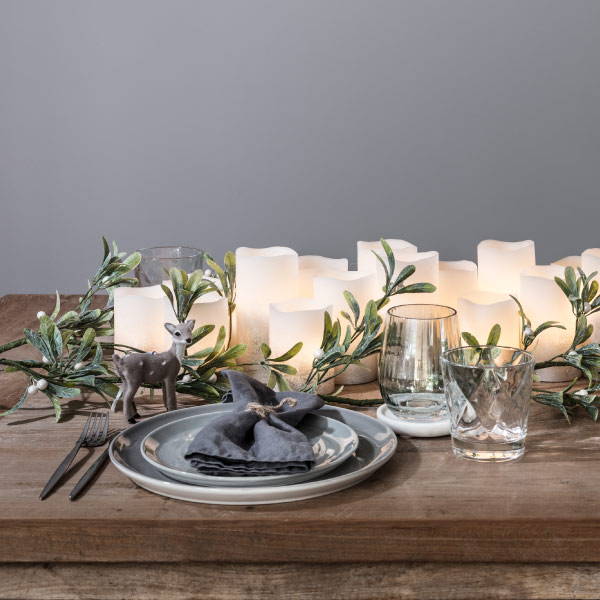 The simplest way is to place an artificial garland down the centre of the table. Many are composed of multiple textures and added berries to give a very appealing and natural look. You could weave Christmas fairy lights in amongst, too, for added magic, especially if you use battery operated micro lights on a timer. If you're using real foliage, for rich depth of colour use holly, ivy and other dark leafed greenery. If you're opting for a lighter tone, our favourite is eucalyptus which can be bought it cut lengths from the florist. If you can get real mistletoe, the ivory white berries look sensational with candles.
Look at the room overall that your table is in, because regardless of its size, you can create a festive look that is made up of Christmas decorations at different levels. To give a really lovely sparkle, we recommend hanging hang a few micro star fairy lights from the ceiling over the centre of the table. At mid-range, Christmas candles popped on the table provide height, and then complete the look with tea lights at the lowest level. You'll need space for the food essentials, so don't overload the table to the point where you can't fit anything else on! If you do find that you are short on space, adapt another surface close by, such as a console table, or create your own with a tray set on top of a footstool, perhaps.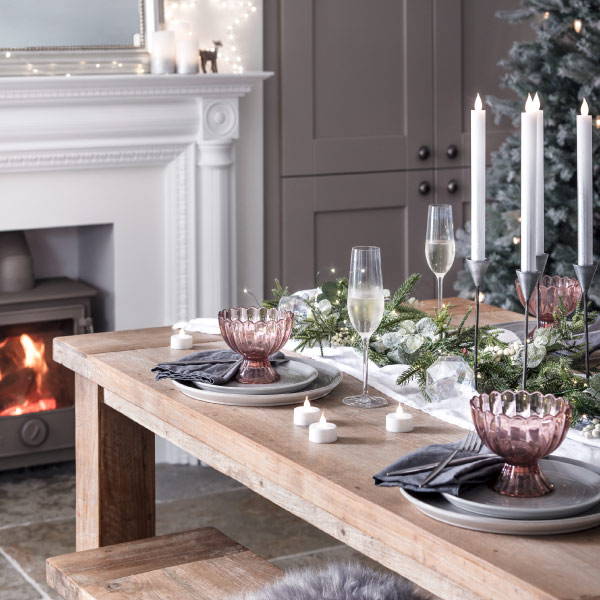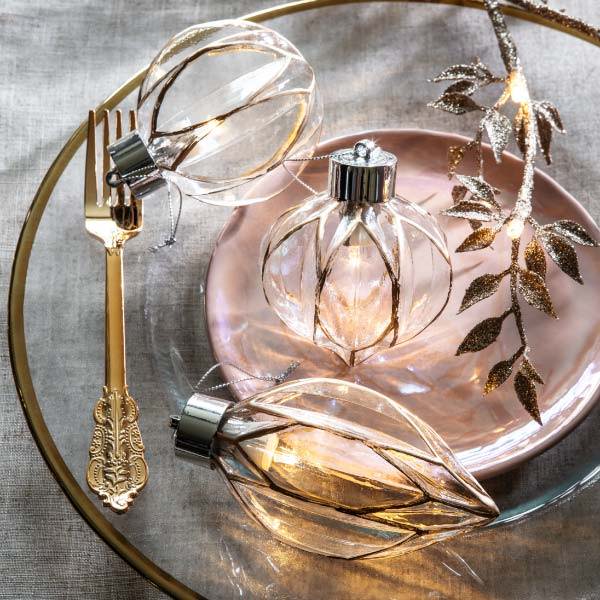 Everyone loves personalisation and we really like the idea of taking a bauble and attaching a pretty label to it. Simply write your guests name to mark their place and pop it into position at their place setting. It's also a lovely take away gift for them as a reminder of a wonderful day! The final touch is the crackers, of course. Where would we be without those paper hats and terrible jokes?