We've heard rumours of a serious heatwave about to hit the UK, and we're not about to be caught unprepared. Was it raining this morning? Yes it was, but we're not letting that dampen our hopes for a glorious weekend. For the past few days we've been sharing summer garden party inspiration across Facebook and Pinterest, and it seems like you're all as keen for a bit of al fresco entertaining as we are, so here's a handy blog post with some hints, tips and ideas for dressing up your outdoor space with garden lights in time for the hot weather.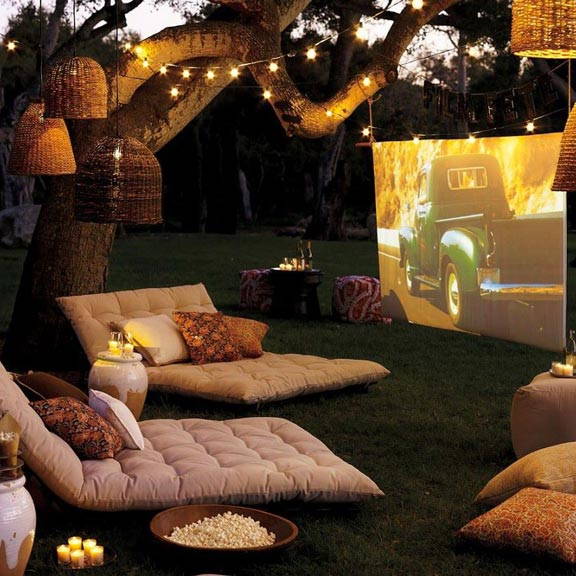 We want an invite to this party.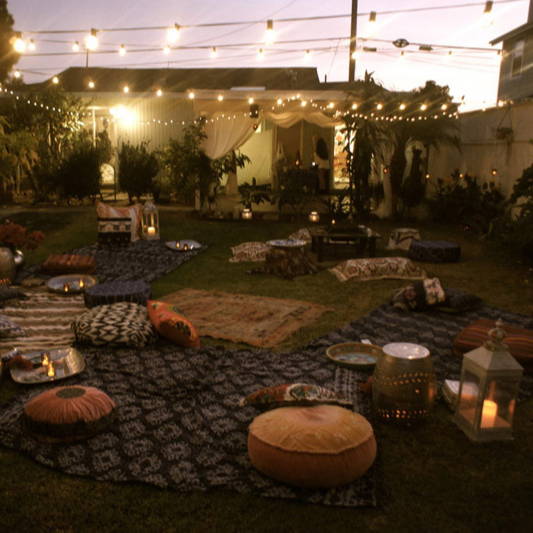 Moroccan-style tea party.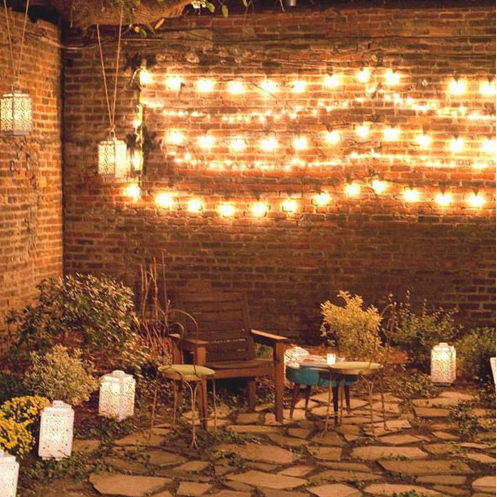 Every patio deserves fairy lights.
We can think of nothing better than spending a Saturday evening relaxing in the garden with a few friends, a few drinks and a few strings of . Set the scene for a fantastic summer evening picnic by combining richly-coloured scatter cushions with rugs, throws and strings of overhead vintage-style festoon lights. Add a few (battery operated for minimum mess and maximum effect) and some mellow background music and you've got yourself the ultimate summer get-together.If you want to really push the proverbial boat out, rig up a projector and screen like in the photo above and create your own outdoor cinema (popcorn mandatory, of course) that your friends will remember long after the summer's gone. This would also make for a fantastic birthday party for young and old alike - all that's left is to pick the film.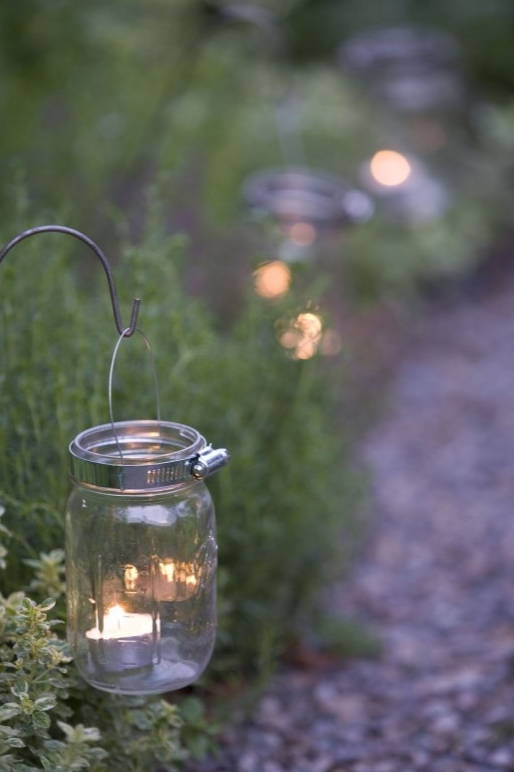 Glass jar lights are perfect for summer.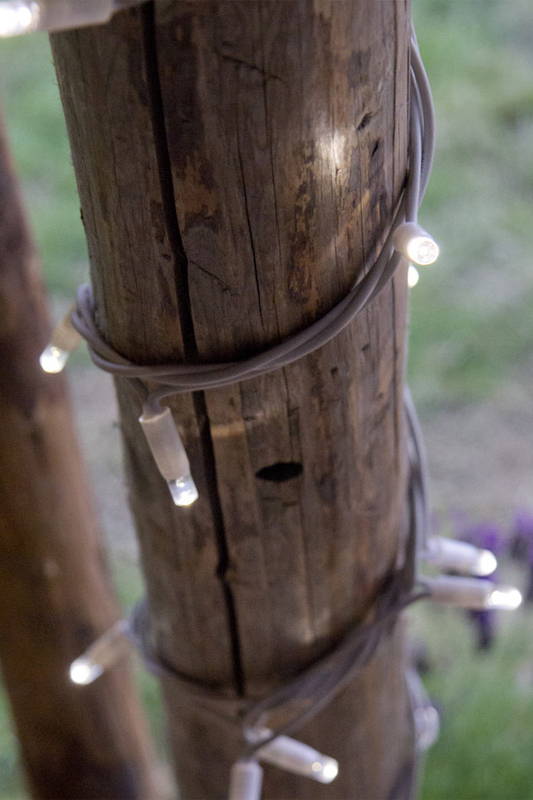 Wrap trees or posts in warm white fairy lights.
No garden party is complete without a string of retro-style festoon lights.
When it comes to summer party lighting, you needn't limit yourself to traditional fairy lights. Make use of the features of your garden, patio or deck by incorporating your lights into the scenery - string vintage-style "big bulb" between trees or buildings, wrap trunks or gate posts with LED string lights, and use battery powered tea lights in hanging glass jars to line pathways and flowerbeds. Warm white is by far the most popular colour for summer - its golden glow lends the perfect ambience to any warm evening spent outdoors, and it's a colour option that we offer through almost all of our ranges of outdoor garden lighting.That's not to say that colours are totally out of the question, though. A string or two of multi coloured festoon lights will bring a real "carnival" feel to your garden party or BBQ, and if you're holding a themed event then there are a wide range of options available, from bright pink to glowing amber, allowing you to tailor your lighting perfectly to your party.
Nothing says "summer" quite like a garden party lit up by hanging paper lanterns. Dot them along fences and in tree canopies, string them over dining tables and patios - however you use them, paper lanterns are always the perfect finishing touch to your summer party décor. Sometimes known as Chinese lanterns, these little beauties come in all shapes, sizes and colours, and at Lights4fun we even offer a choice of power options. If you've got an outdoor plug socket or an extension lead, we have a fantastic string of indoor/outdoor "paper" lanterns (pictured above) that are both pretty and practical - IP44 rated, they're durable and weatherproof so you can leave them outside even if the hot weather takes a siesta and the drizzle sets in, as is unfortunately sometimes the case at UK-based garden parties.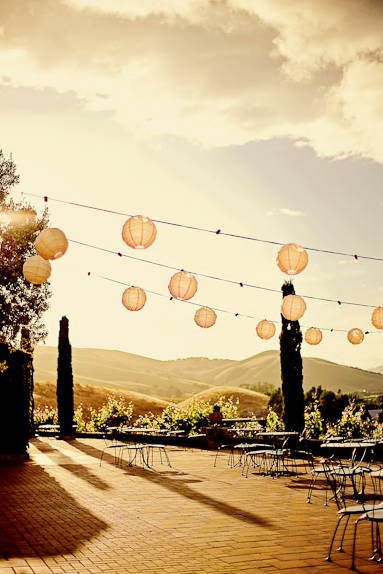 Summer paper lanterns are the ultimate garden accessory.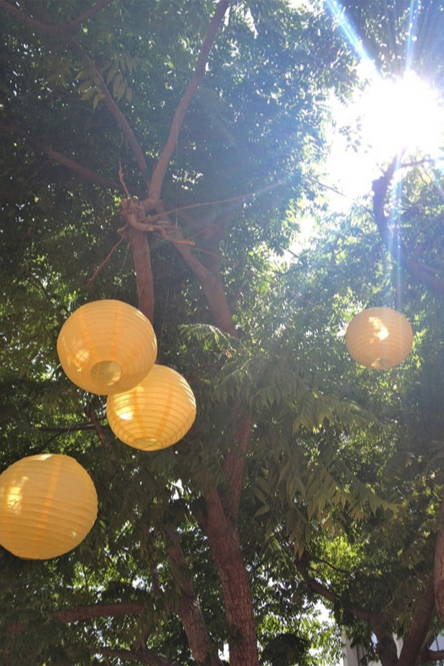 Hang round lanterns from trees in your garden.
These little lanterns can be used indoors or outdoors.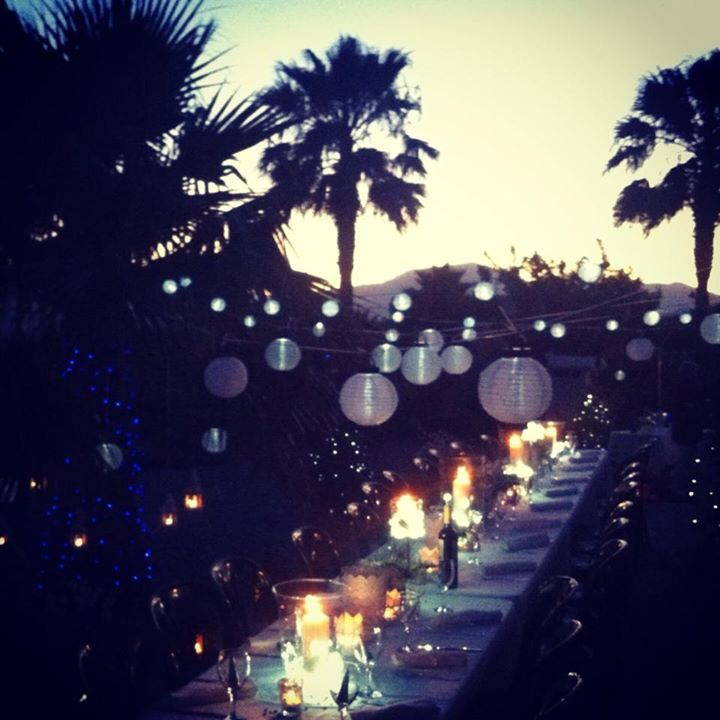 Lights4fun lanterns in Spain by Jeanne Farmer.
For the rest of the garden, are a brilliant lighting solution. Hang them from tree branches or trellises, let them charge up in the sun during the day, and watch as they light up come dusk. Mix and match different colours for a festival-style picnic, or cluster a group of white lanterns together for an effortlessly elegant effect. A super-green, super-popular lighting option for summer garden parties.
*Lights4fun cannot guarantee that this hot weather will actually arrive. But we live in hope.