If you're dreaming of a wedding outside in the wilderness, we don't blame you. Whether you decide on your own land, a botanical garden, beach or forest, an outdoor setting captures an air of romance. We'll show you how to create your wedding arch, tips on how to create your aisle, and how the best wedding decorations your big day.
For British weddings it's a good idea to have a contingency plan for wet weather - and some outdoor wedding lights you can rely on! For more exotic locations then you'll be able to utilise much more outdoor space in your layout planning. Allowing for covered areas under gazebos & vines give protection from the sun and also rain. They're also fabulous to break up areas by creating intimate lounge areas, sheltering your dessert table or just the ticket for your buffet feast to be served under.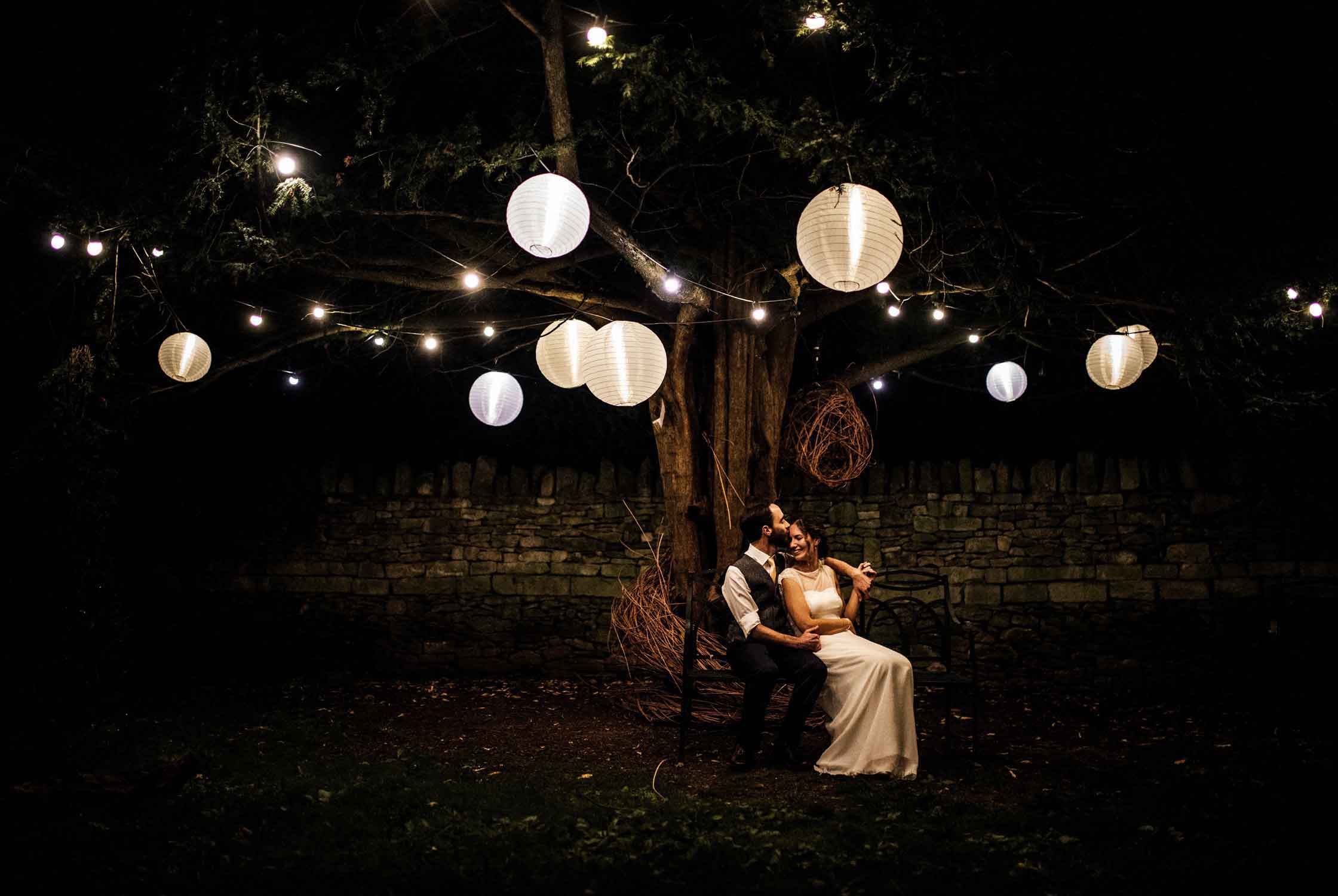 Tree light canopy - photo via Michelle Wood Photography.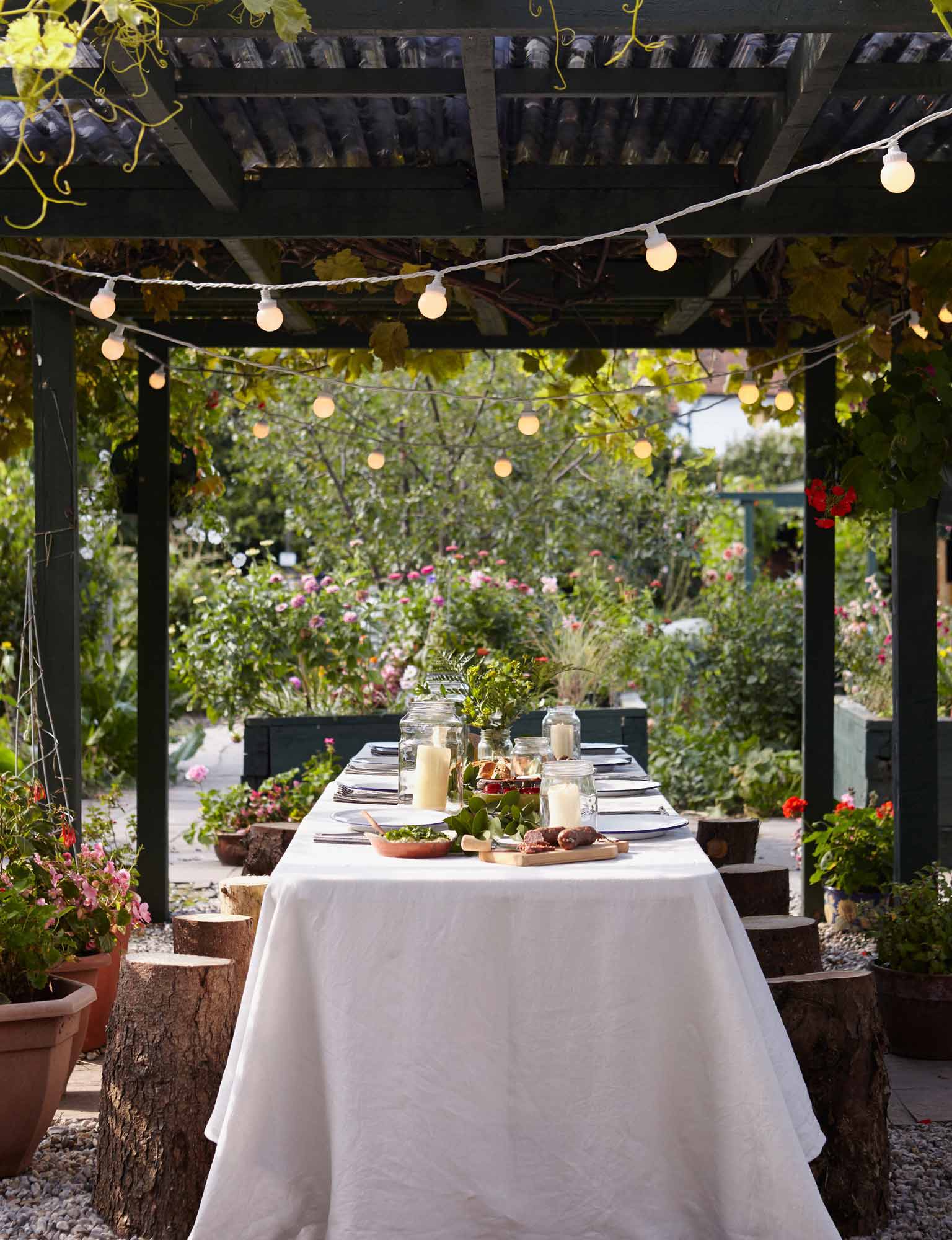 Light canopies for makeshift dancefloors - photo via Peaches & Mint.
Aisles can be effectively created with two rows of chairs, paired with your archway the scene is set. Now to decorate, encircle your aisle and archways with lights and decorations and you'll have a cosy magical feel in no time. We'd suggest placing your archway directly in front of a tree or with a tree either side of it so that it's a clear focal point and you have somewhere to hang your decs and lights from. Chinese solar lanterns are great for hanging pretty in trees and bushes and give off a gorgeous glow at the same time too. But as darkness falls you'll need some serious illumination, zigzag festoon lights between trees and poles to make a stunning ceiling of light. No-one wants to get lost in the woods! Wedding lanterns are ideal to dot along pathways to guide your guests around your venue. Little wooden signs can be a great way to help people find their way plus they can be super cute decorative props too.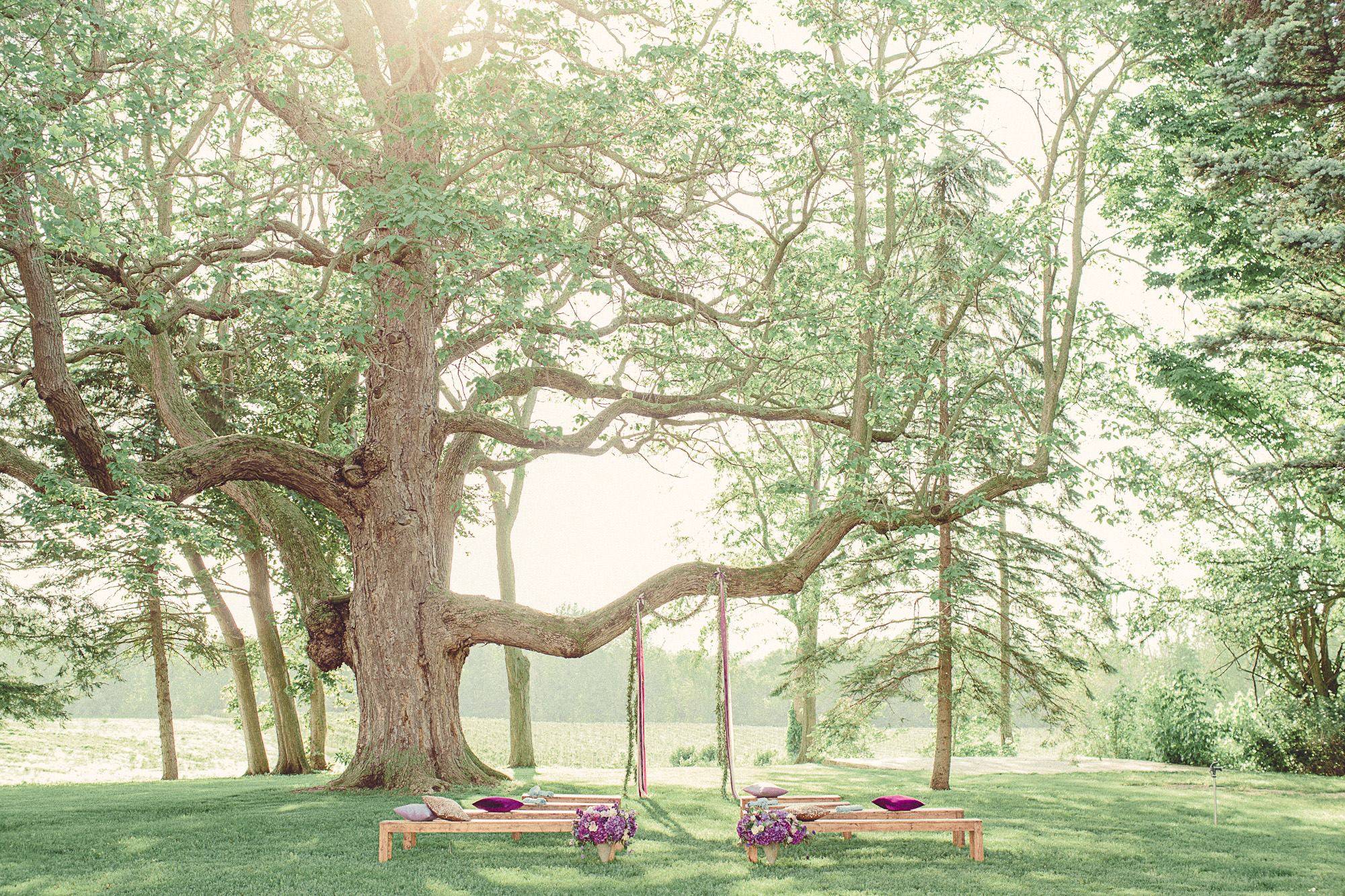 In amongst the trees - photo via Bradley James Photography.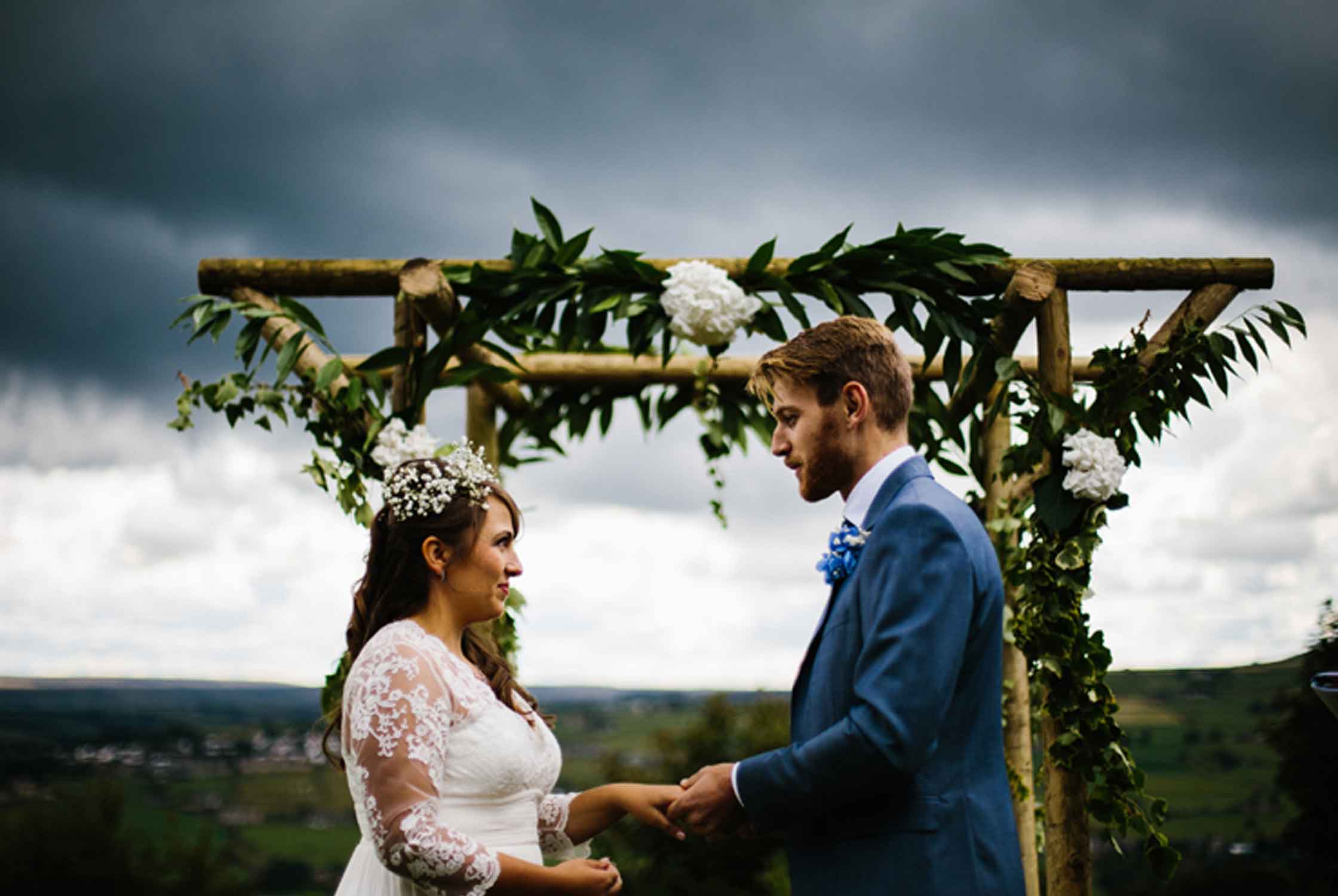 Wooden archway - photo via Sansom Photography.
Table Dressing Inspiration
Wedding table decorations are an essential for outdoor weddings as it's the main piece of furniture you'll be using. Whether you have a long banquet table weaving around a woodland, two rows in a sunny courtyard or a series of trestle tables, floral centrepieces are key. We'd suggest succulent potted plants, wooden window boxes of rosemary and thyme or bell jars filled with vines and micro lights for a modern look that won't wilt before you've tucked into your second course. Battery tea lights are one of the most effective table lighting resolutions for outdoor spaces, they have an authentic look but there's no chance of them blowing out. Pop them in mason Jars and place on your table or hang from wires around your venue for a pretty addition to your decoration theme. Easily accessorised and themed with a simple wrap of fabric or flowers, there's no need to fire hazard with LED tea lights.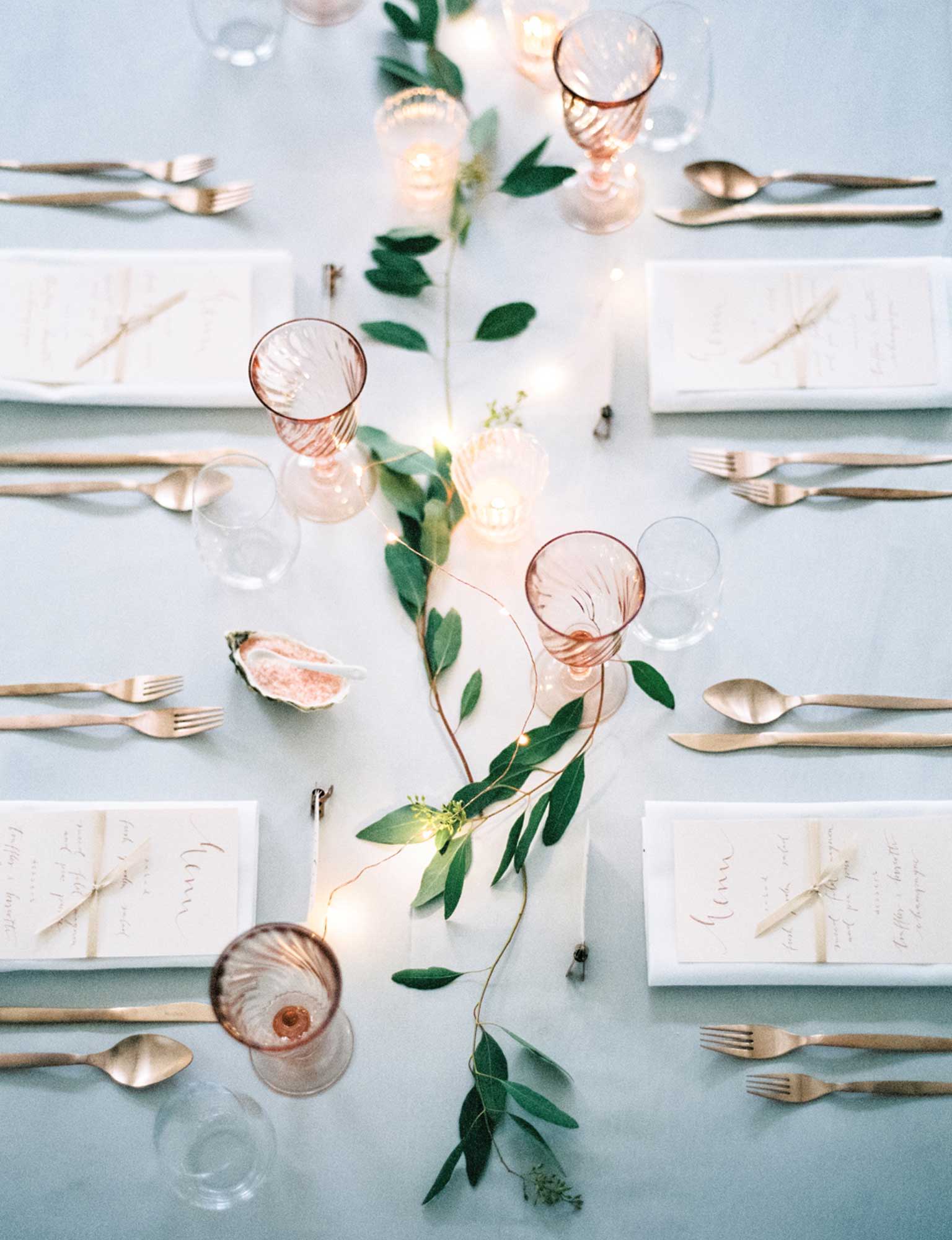 TextMetallic touches - photo via Peaches & Mint.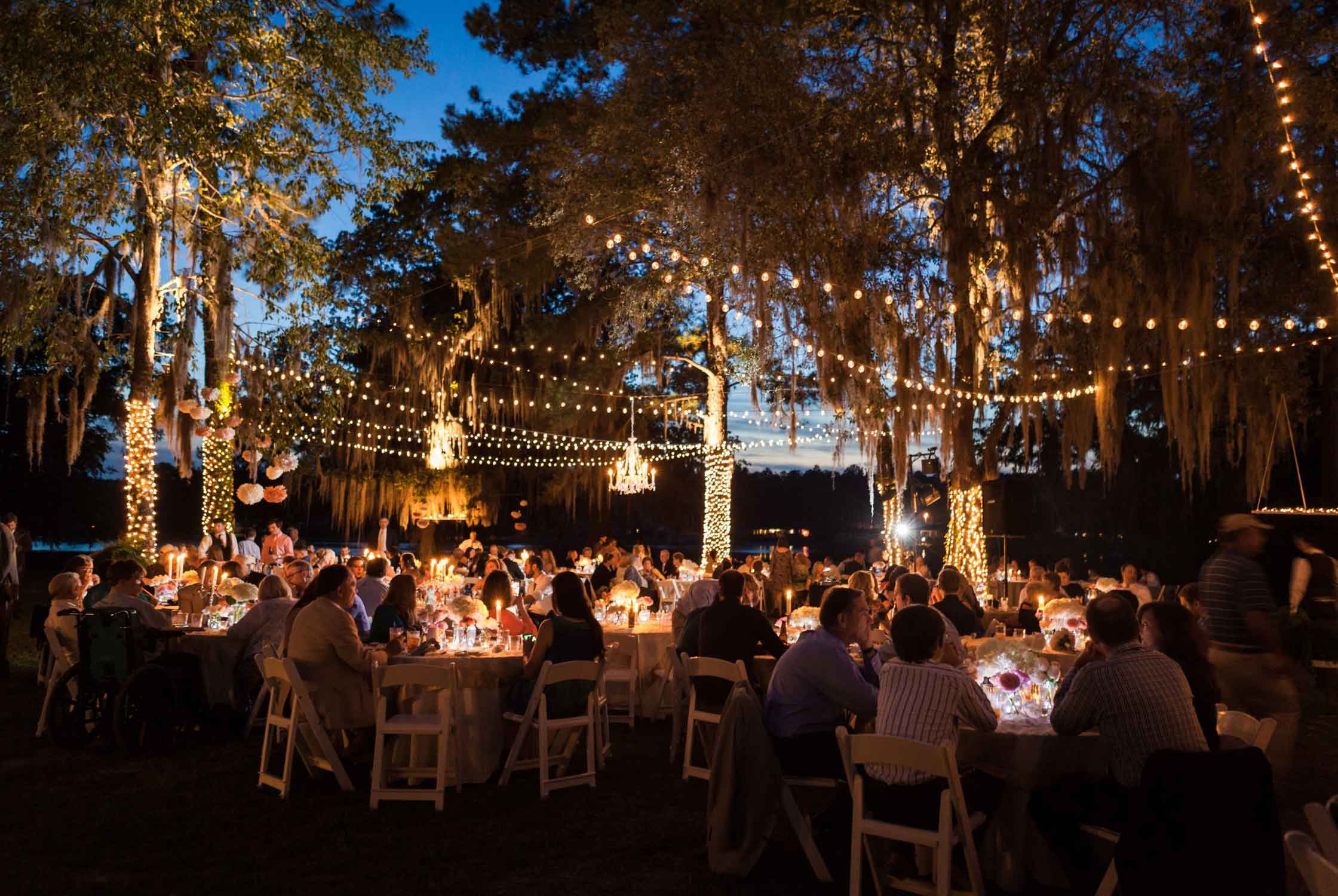 Wrap trunks & drape from trees - photo via Sarah Eubanks Photography.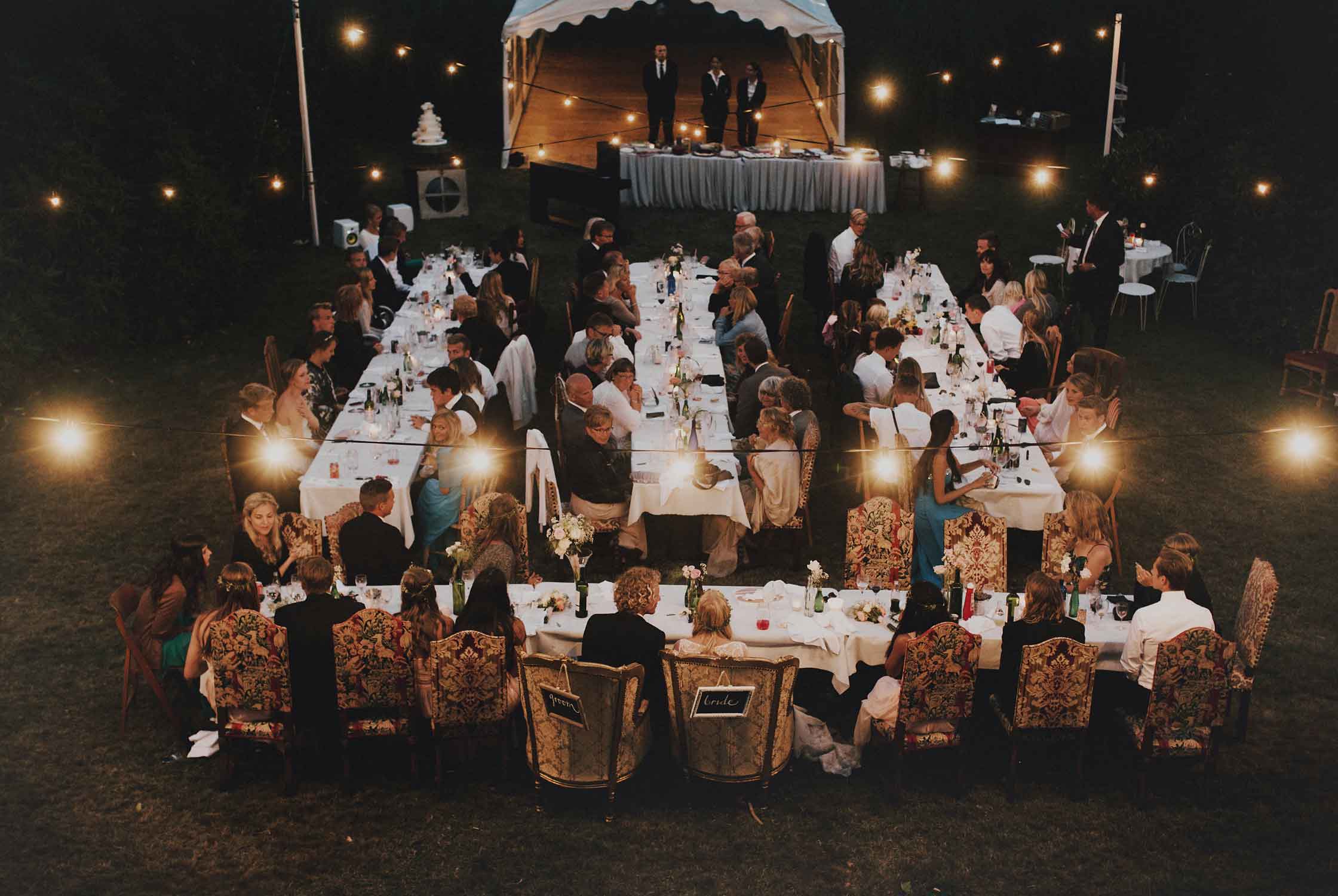 Zig zag your festoons - photo via Logan Cole Photography.