When choosing garden lights there's the big decision of whether to choose solar lights or battery lights. This all depends on where you're planning on displaying your lights and the time of year. Our quick guide is sure to help you choose the right lights for your outdoor space!
For lighting up your garden all year round outdoor battery lights are a great option, especially if you don't have access to a power source. Lanterns can free stand out in the garden and fairy lights blend into foliage seamlessly. Whether it's a Christmas sparkle or a warm welcome with a lantern in the summer months, battery lights are reliable and also super easy. All our battery boxes come with a hook to hang off the ground to avoid water ingress for maximum longevity. For maximum length, our battery lights can power 30m from one battery box. If you're worried about how soon you'll have to change the batteries, rechargeable batteries are a great way to ensure your garden always has a glow. With a built in timer and 8 multi functions, these make for a reliable and flexible display.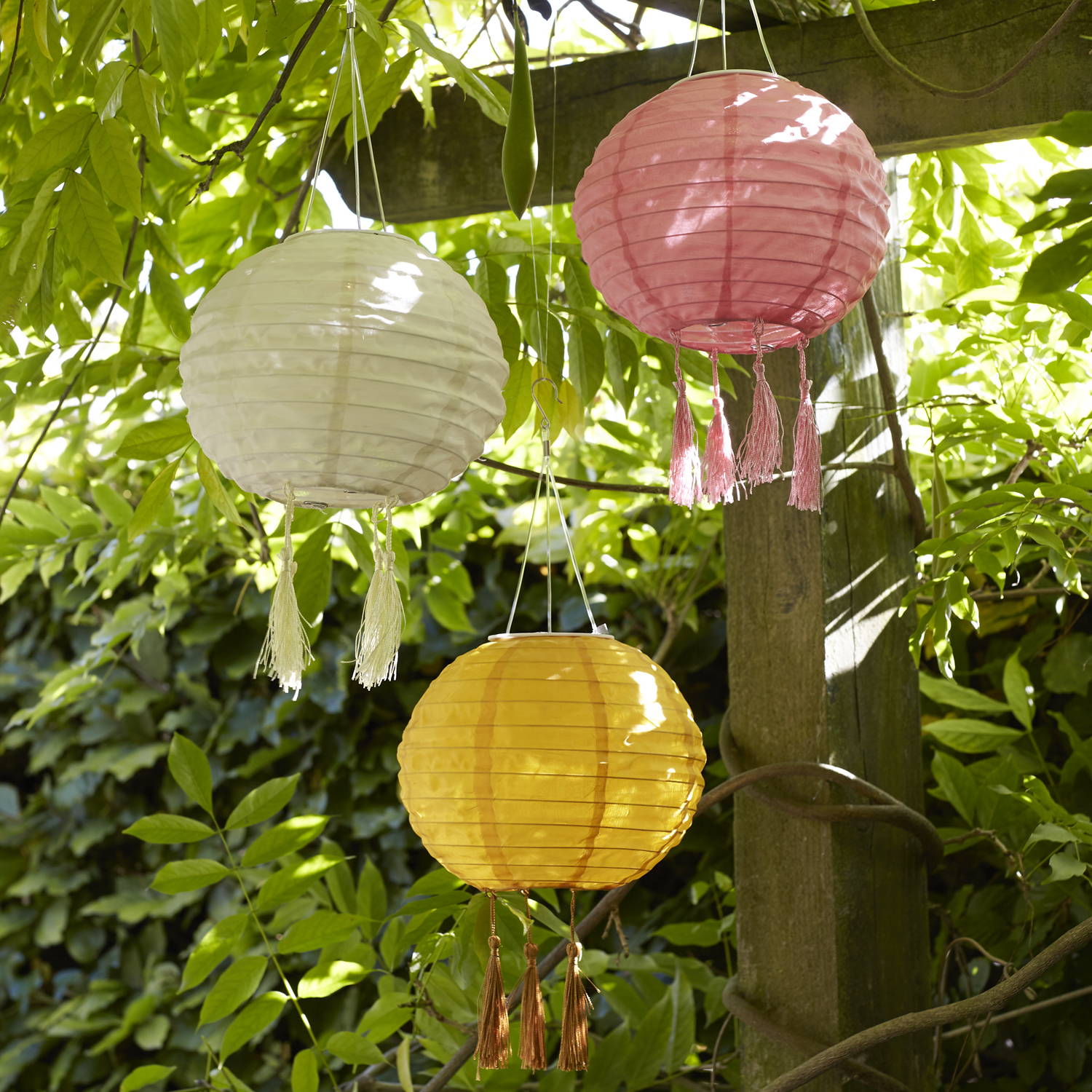 Lucena Tassel Solar Lanterns
Whether it's fairy lights, lanterns or path lights, they all come in solar! The perfect hassle free lighting, simply pop them outside in a sunny spot and you'll have illumination each evening. There's no need to pop outside to turn on the lights as the daylight sensor does this automatically each evening and the solar panel charges the batteries each day. These lights are perfect for the summer months, however do remember solar lights need a significant amount of sunshine - at least 6-8 hours for light up time each evening. In the winter months we'd recommend bringing the lights in ready for the next season! Solar lights need a little more sunshine than through your glass windows, so make sure to place them outside with the solar panel in clear sunlight and away from any street lights to ensure the daylight sensor works to its full potential. If you're looking for outdoor lights for the spring and summer months, these are the lights for you.
If you're wanting to bring your garden to life in the summer months to make the most of warmer evenings, solar is the perfect choice. For illumination all year round from summer soirees to your outdoor Christmas tree we would recommend battery!