Create a dark and eerie atmosphere for party guests this Halloween with these funky spider web DIY Halloween lights. A fabulous addition to any party table, lonely-looking corners or even window ledges that are screaming for some attention, these easy spooky Halloween decorations look absolutely awesome in the dark and are really cheap, quick and fun to achieve.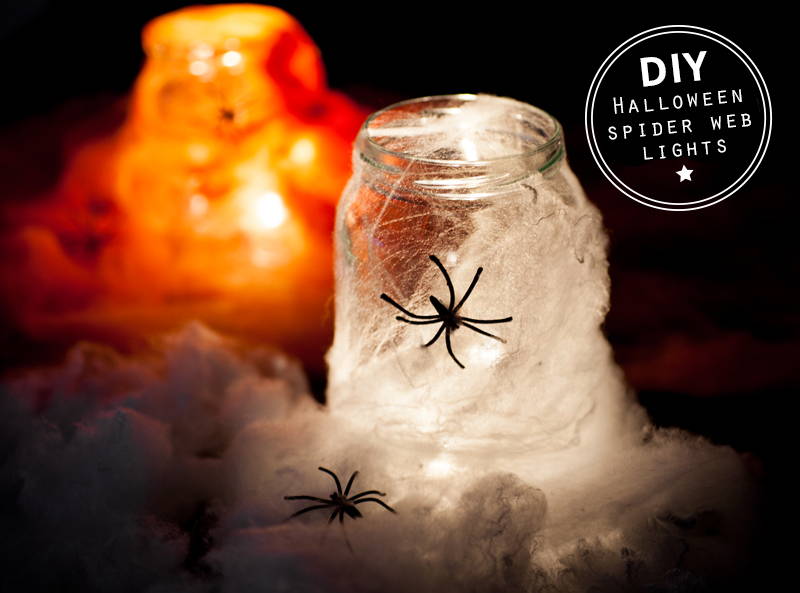 Here's what you'll need to create your own decorative Halloween lights:
Halloween cobwebs
Plastic spiders
Glass mason jars
How to create these awesome DIY Halloween lights
1) Switch on your tea lights and pop one into each jar, making sure the tea light is roughly central so that the jar is evenly lit up. We used one light per jar for this DIY project as tea lights are quite bright, but you can use as many as you want depending on how bright you'd like the jar lights to be. You could experiment with different colours too.
2) Next, begin stretching out the cobweb in your hands; the cobwebs are very malleable so you can really get creative and play about with them as much as you like. We used one orange and one white web, which we stretched over the side of our mason jars and over the surface of the table they were placed on. Make sure the tea lights are completely covered by the web before perfecting your web arrangement.
3) Finally, place a couple of your plastic spiders on top or on the side of the web. Get them tangled up in the web for a convincing spider web feel. It's as easy as that!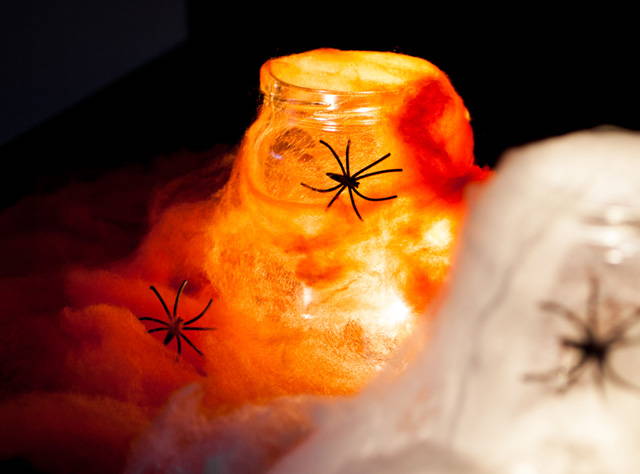 Where to put your personally crafted Halloween lights
Create dozens of spider jar lights and bundle them together for a Halloween table centrepiece or dot them around the house to act as eerie low level lighting.
These decorative Halloween lights would also make great Halloween window displays and are sure to tempt the eyes of curious trick or treaters.
Once Halloween's over, don't be so quick to rid of your spider jar lights. Remove the spiders and cobwebs from the jars and transform them into beautiful all year round mason jar lights, ideal for dinner tables or subtle lighting decorations.