Add a touch of sparkle to your home this winter and create your own Christmas tea light holders, the perfect table or window accessory. Not only are these awesome DIY Christmas crafts ideal for the festive season, they're also a gorgeous all year round home decoration and also make great gifts.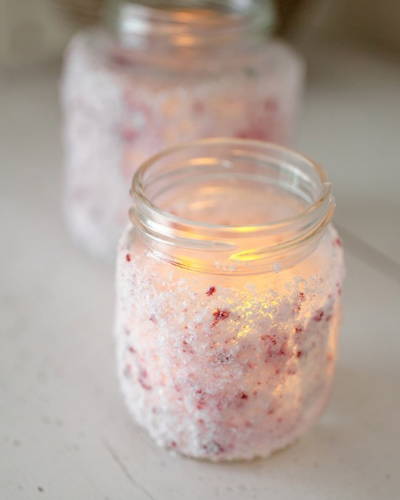 DIY Salt Mason Jars - super cosy!
These awesome jar lights look fabulous as Christmas window lights and really come to life at night when the tea light glows beautifully through the layers of salt. Create one jar for a little personal nightlight or simple home decoration, or rustle up a few and bundle them together to form a lovely centrepiece for the Christmas table decorations. What's so great about these little festive creations, is the fact that they're completely affordable and incredibly easy to make. You may find that some of the materials you need for this DIY experiment could already be lying around in your humble abode.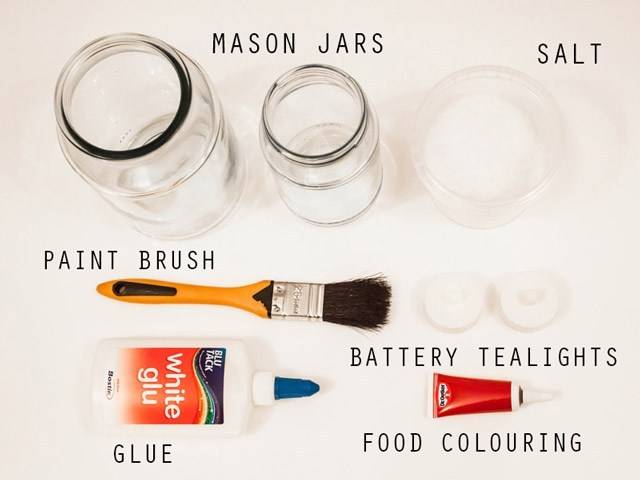 TIP: Use epson sea salt or fine sea salt for the best results. You will also need a flat surface or a plate to pour salt onto.
Tip some salt onto a plate – you'll need to pour roughly how much you think you'll need to cover the outside area of your mason jar.
Add food colouring to the salt; you can choose any colour you like or even mix several colours together. We used red food colouring for ours. Mix together using the end of your paintbrush or a spoon.
Next, use your paintbrush to paint glue onto the outside of your mason jar.
Roll the jar over the salt so that it sticks to the glue. Roll the jar back and forth for a good coverage of salt.
Leave the jar to dry for a couple of hours (although the jar will dry completely overnight).
Once dry, give the jar a gentle brush over to remove any excess salt that hasn't managed to secure itself to the jar.
Pop an LED tea light inside and enjoy your personally crafted Christmas light!
Did you manage to make these fab Christmas crafts? We want to know! Send us a photo on Facebook or show us on Pinterest.