Discover how to style our new Christmas collection.
Your winter mood board starts here...
Over at Lights4fun HQ, Christmas is our favourite time of year and we're absolutely dying to show you what we're loving this season. So put the kettle on, munch on a mince pie and get in the mood for some festive inspiration, because this year we're launching our first ever Christmas trend collection! Dishing out our secrets on how to style our new Christmas lights with some dreamy home accessories - Enchanted Forest is born.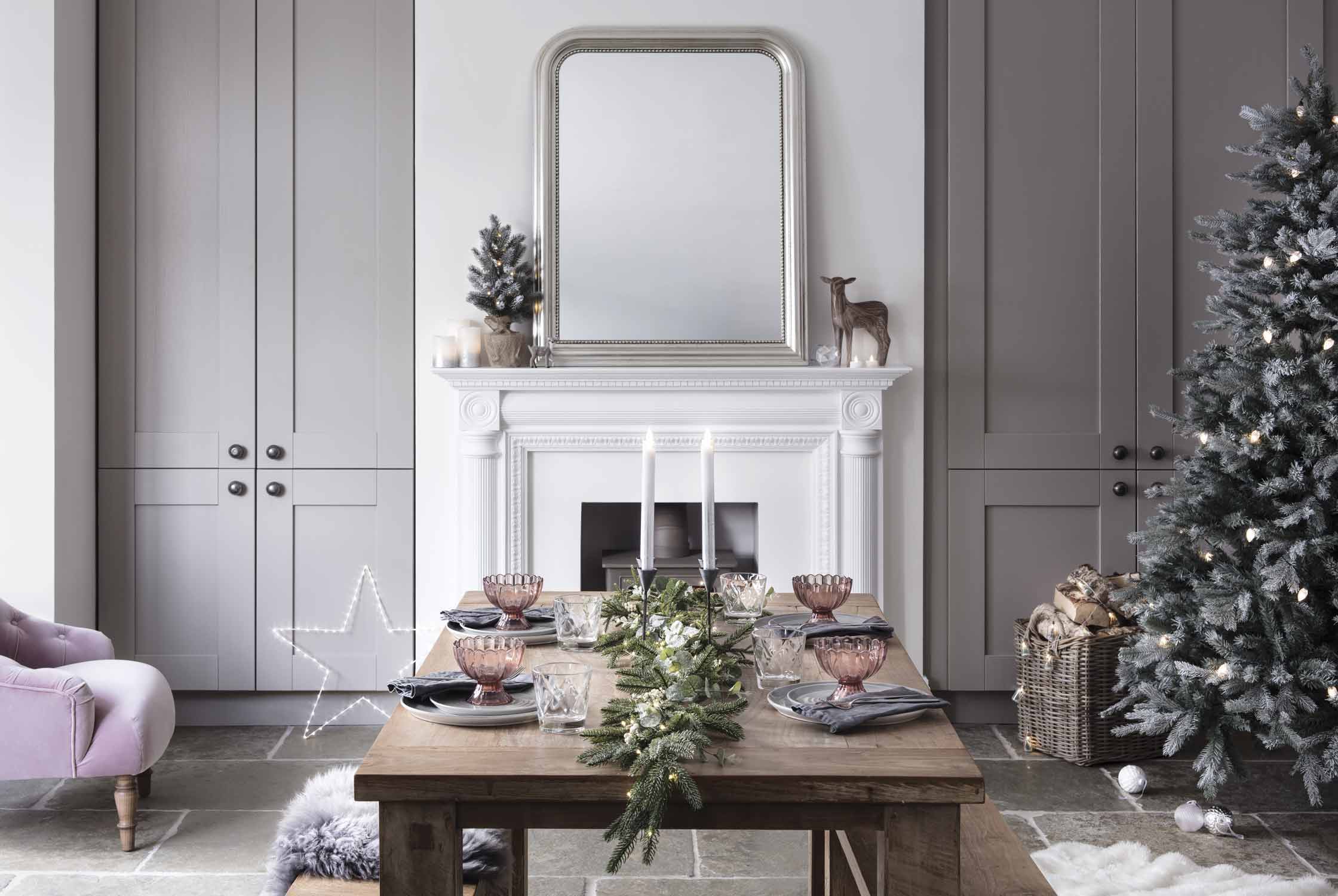 This season it's all about those muted colours and earthy textures. By mixing soft pastel pink with mint green and cool grey, it creates a tranquil backdrop for you to add some sparkle to this Christmas. Try adding the pop of pink in your dinner set or glassware, this is one of the easiest ways to translate the trend into your home. We got giddy over dusky pink trifle bowls, ombré Christmas candles and iridescent tumblers, because coloured glass is an absolute must-have this year. If you're feeling adventurous, this dreamy matte velvet chair is a bold but beautiful addition to any room, and ticks all those trend boxes. In the colour 'florentine velvet', try styling with a faux fur throw to curl up with next to the fire. It was so cosy, we had trouble keeping our resident retrievers from pinching our spot.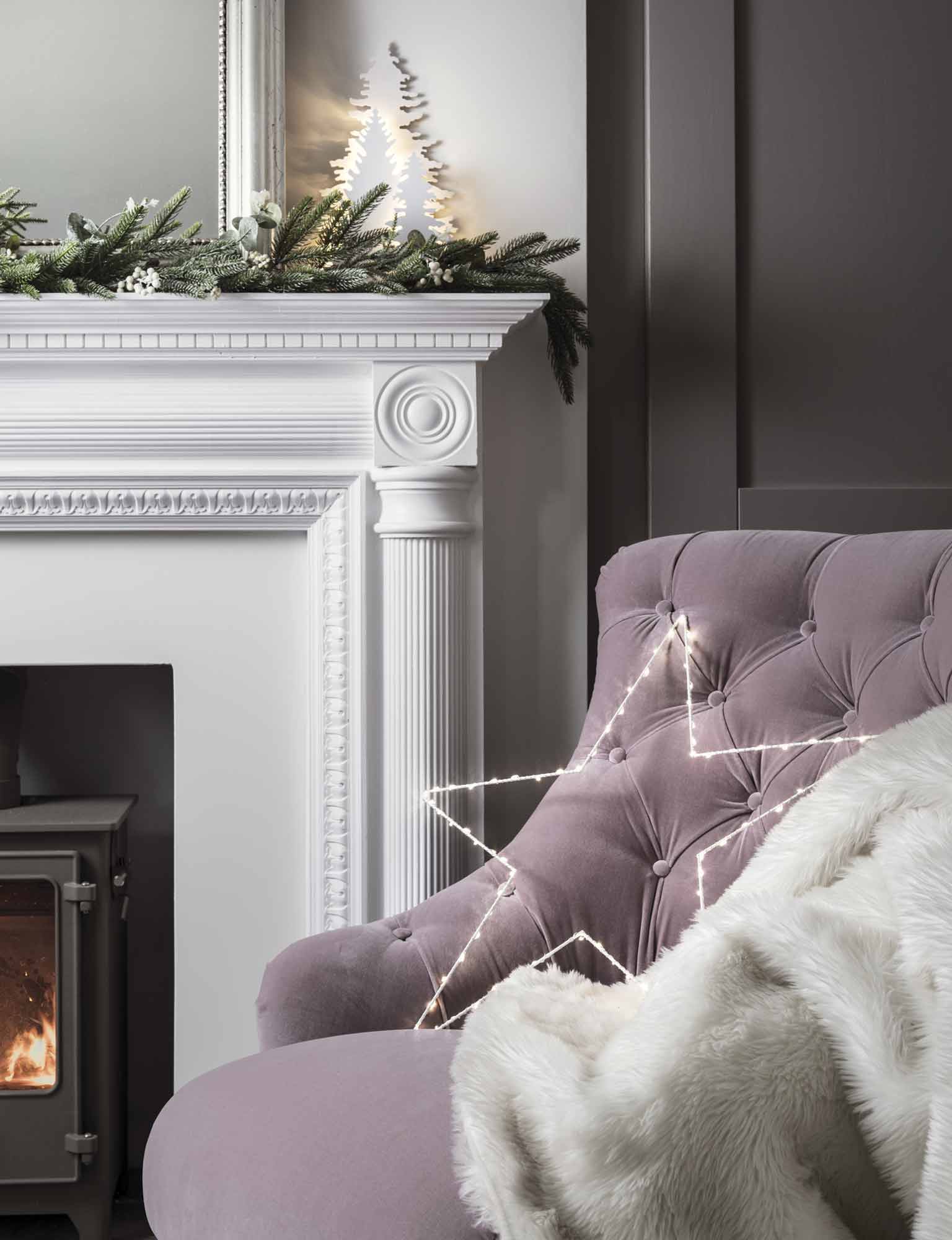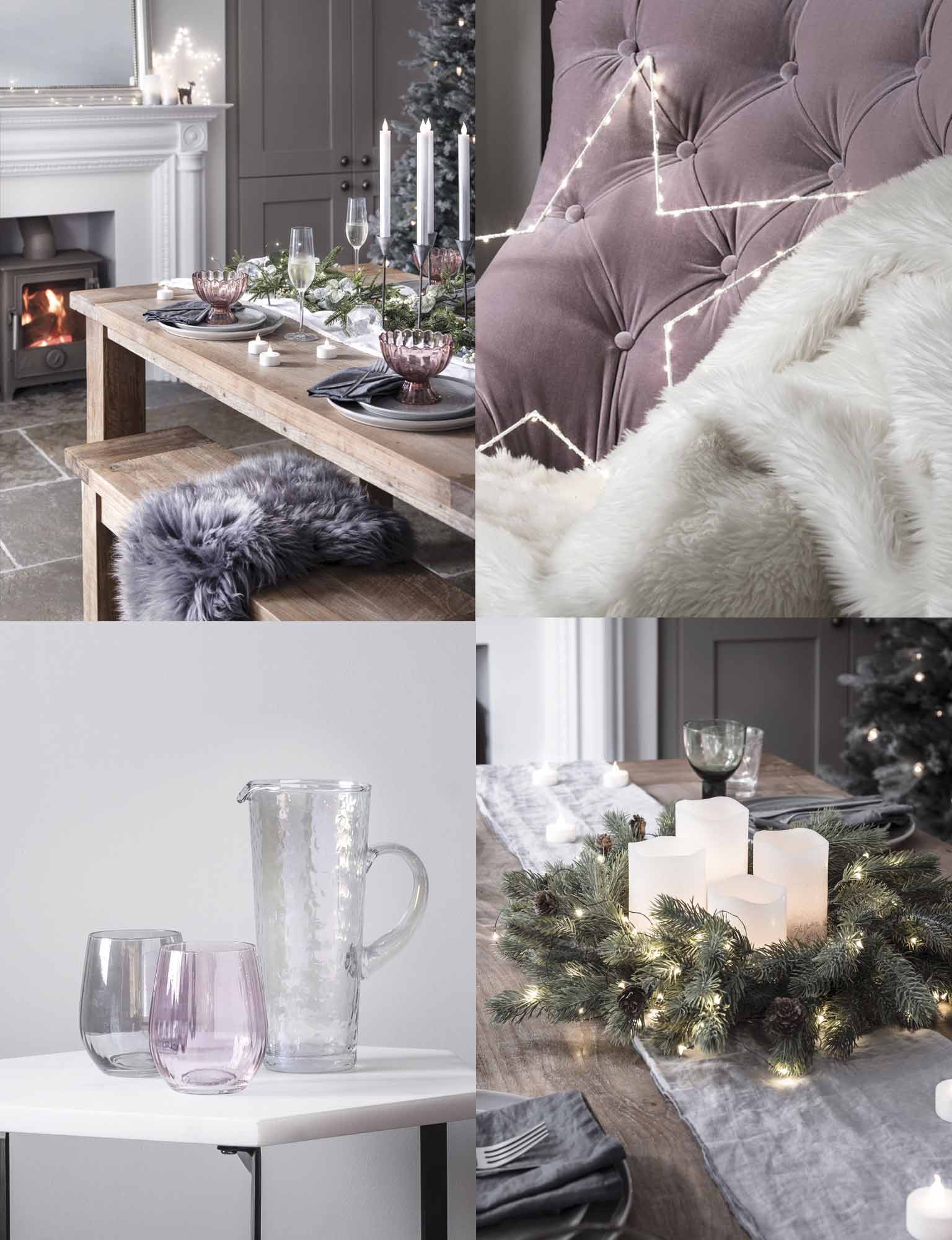 Another feature texture for this season is linen, and the more creased and crumpled the better - hooray! We loved the natural touches we could create by teaming a grey linen table runner with our bare wooden dining table and adding some greenery on top. Even using linen napkins puts a contemporary spin on your traditional table setting and with a sprig of eucalyptus too- you're right on trend!
As well as the Christmas tree, this year we just can't get enough of greenery! With natural textures, dewy winter mornings and woodland foliage on our trend hit-list, our new artificial wreaths and garlands are a perfect addition to create the look, minus the wrestle with your wellington boots. From staircases to table settings and front doors to mantelpieces, accents of greenery can be used anywhere in the home this festive season - the more the better!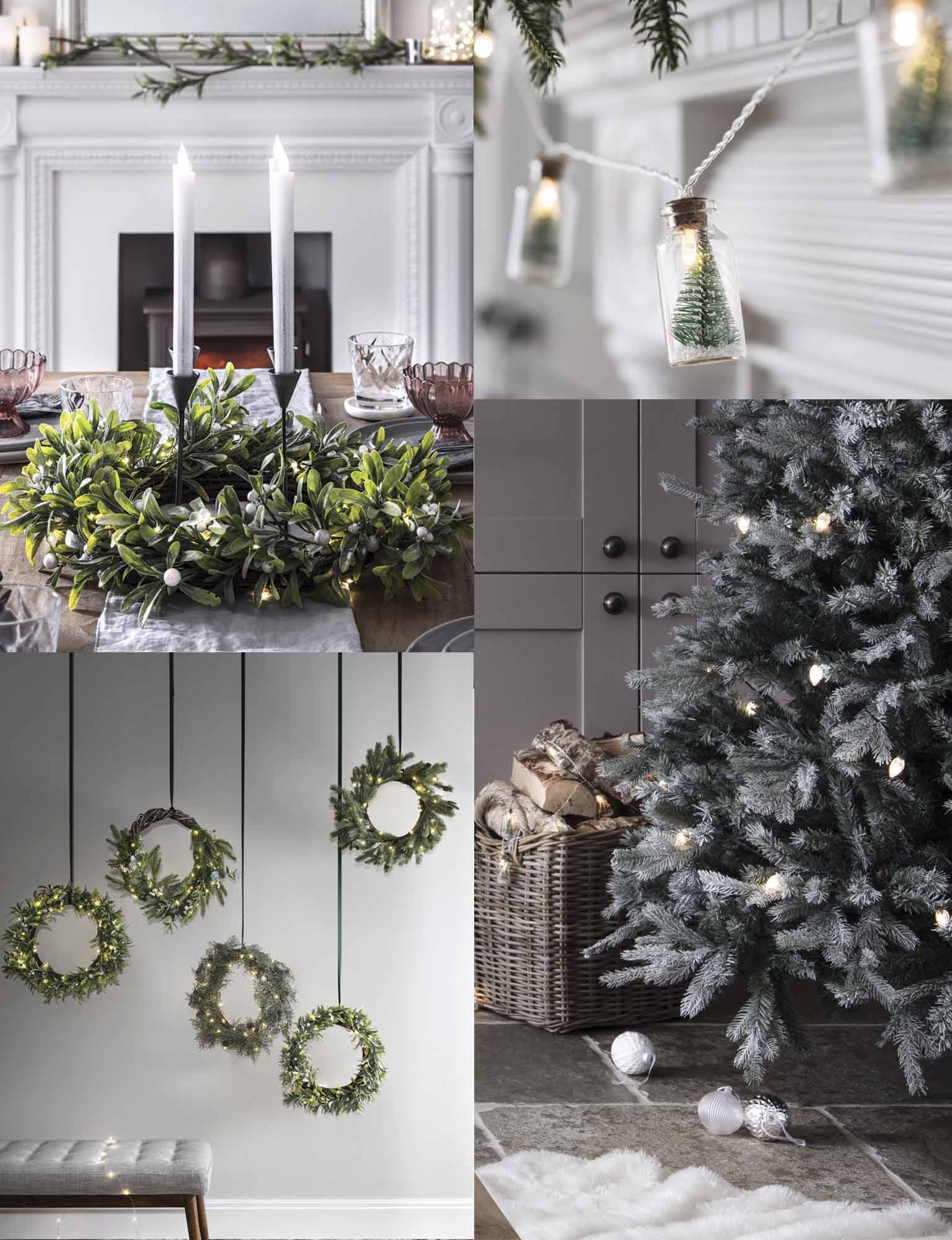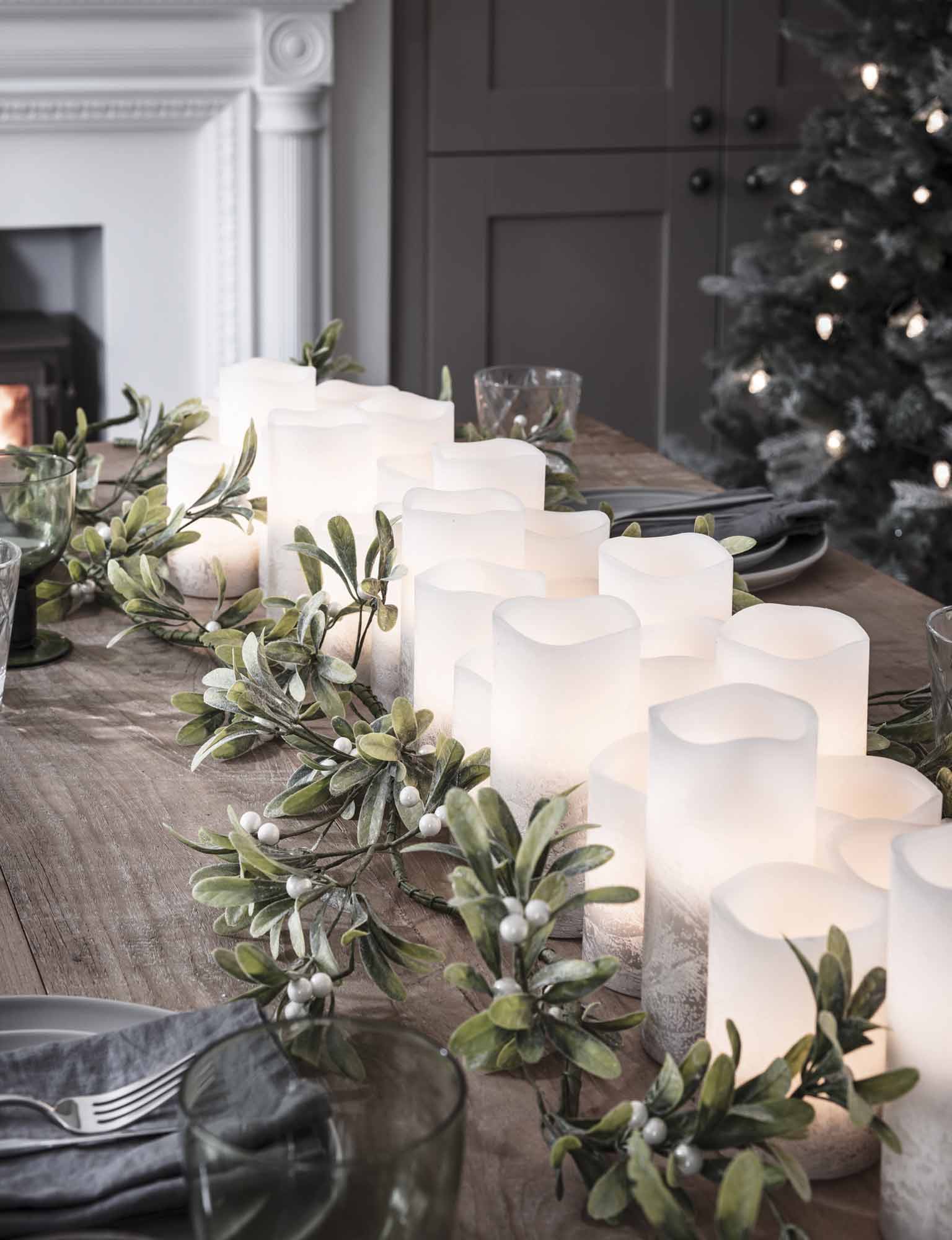 Featuring the foliage of the year - our Frosted Eucalyptus wreath and garland have glittering leaves and frosted tips, effortlessly sprinkling some Christmas style into your home. We dressed our mantelpiece with the frosted garland, layered in front of a gilded mirror to give depth and texture as an elegant statement. If you'd love even more glitz, entwine micro lights in between the leaves, using our green wire finish to get that seamless, glistening look.
Plus, if you want your table centrepiece to look fresh from the forest floor, simply lay one of our Christmas wreaths on your table and cluster Christmas candles in the centre. So go on & give it a go! This style edit designed to inspire festive creativity! With this year's frosty finishes, you're sure to add elegance to any room.
Whether you're in a cosy attic space or a master bedroom with high ceilings, forget bedside lamps and introduce some glow. A swag of fairy lights adds decorative detail and they come in many forms, including childrens lights for the little ones. Festoon lights are a design feature by day, elegant lighting at night. Hang them vertically on walls or drape from ceilings, their perspex bulbs are super lightweight. Choose warm white lights for soft tones and cosy evenings are ahead. From minimal white to opulent dark palettes, simply contrast your theme using light or dark cables on your lights.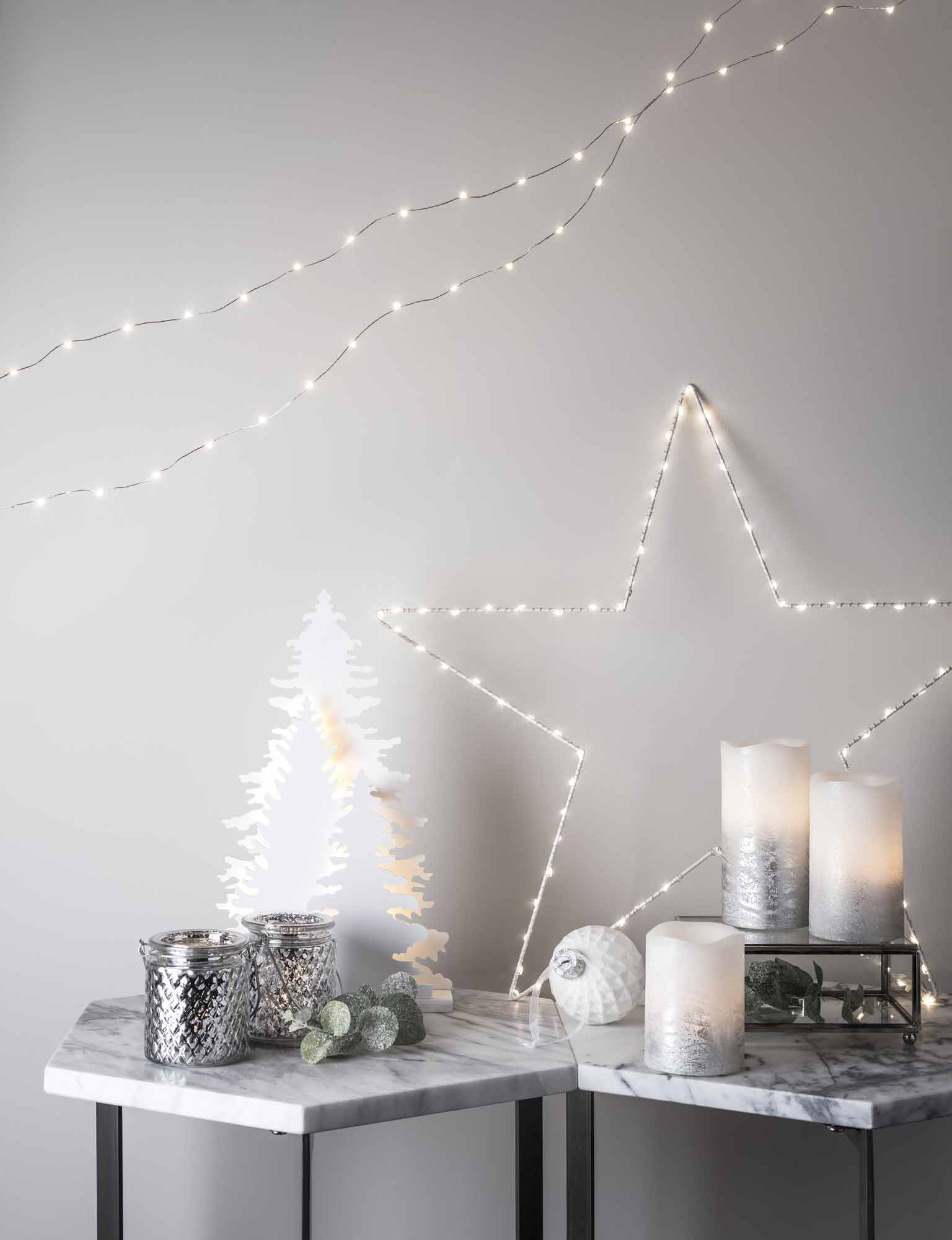 The Christmas tree is no exception to the micro light bug either! Gone are the days of slogging your old quality street or roses tins down from the attic, filled to the brim with tangled Christmas tree lights, with the lid that never quite closed. We're loving micro so much that this year we've developed our own exclusive tangle-free, nylon green set for your tree - and they'll fit in your kitchen draw! The soft nylon cable means you can wrap the micro-lights around your tree with no tangles, but certainly a lot of twinkle. And we must admit it's one of our favourite style hacks of the season...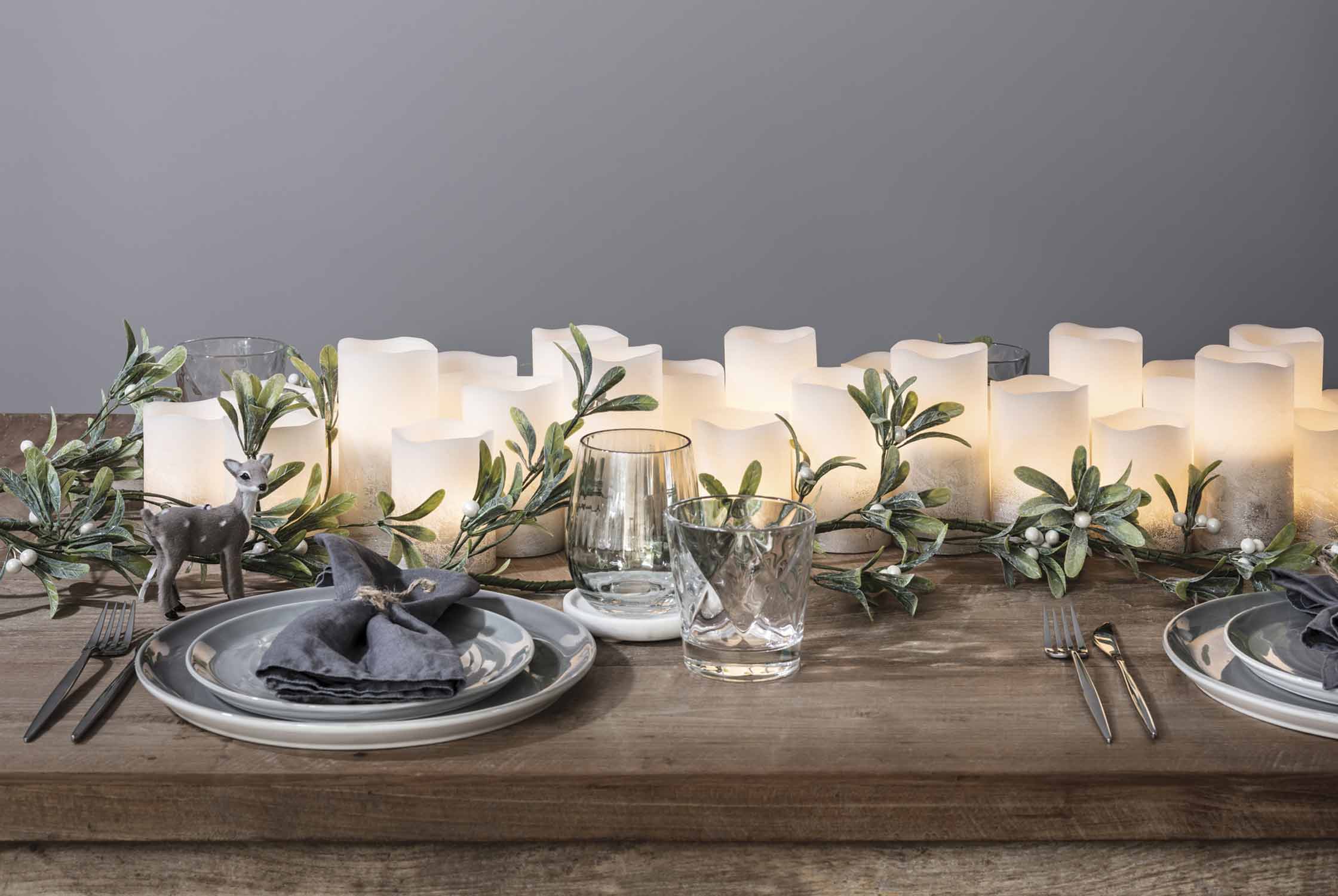 Another key directive for this year is matte finish metallics. New for this season, we're loving our silver ombre Christmas candles that come as a trio, but also look sleek grouped as Christmas table decorations. The silver gradient effect adds a touch of luxury and gets you huge trend brownie points . And who thought ombre was only for the hairdressers? For one more easy style hack, get the distressed, mottled look (without going at anything with the turkey carver) our selection of silver mottled LED candle holders, simply weave in between a garland or pop on a table top, and there are no matches needed!
Thanks for reading our how-to-style guide for Enchanted Forest, we hope you love the collection as much as we do! Be the first to know about our next trend collection when you sign up to the Lights4fun email club (you can do this below).