There's nothing more delightful than the news of someone getting down on one knee, but it's even more exciting when you're in on the secret engagement and you've been asked to lend a helping hand.
Lee Hawksworth, owner of Glampit – a thriving business which supplies beautifully furnished tents for weddings and various other functions – told his other half, Christina Brough, that he was planning on setting up his Glampit tents for a photoshoot on the first weekend of June.
Lee informed Christina that the images would be used to promote the business. Little did she know that the wedding photoshoot was just a clever disguise for a surprise wedding proposal….
We were delighted when Lee approached us for help with creating the ultimate proposal setting, comprising glamourous tents nestled on Ilkey's stunning countryside. Thrilled to take on the task, we immediately knew that our popular festoon lights would be a perfect fit for this super special summer engagement party. With our garden party lights, warm white battery lights and a trusty camera at hand, we went along to help set up this exciting event.
Blessed with beautiful sunshine, the setting was already taking shape upon arrival; beautiful white tents were complemented with many elegant interiors including stunning floral displays, rustic furniture, well-dressed tables with candelabras and colourful confetti. It's safe to say that dressing a wedding tent has never looked so effortless, yet so stunning. We applaud everyone who made the setting look so spectacular, including wedding planner Charlotte from Eden & Eve.
We dressed either side of the Glampit bell tents in our LED battery fairy lights, which added a touch of elegance and a beautiful warm white glow to set the scene. Not only were these battery operated lights the perfect length for dressing the tents, we didn't have to worry about finding a power source in the middle of a field! We think these outdoor battery lights are absolutely ideal for any type of outdoors event, especially as they have a handy 6-hour timer.
Our connectable festoon lights looked beautiful strung across the trees which encompassed the glorious glamping spot. Similar to our warm white party lights, their subtle radiance transformed the setting into a rustic fairyland and looked even more fantastic once the sunset hit the lip of the idyllic Ilkley countryside.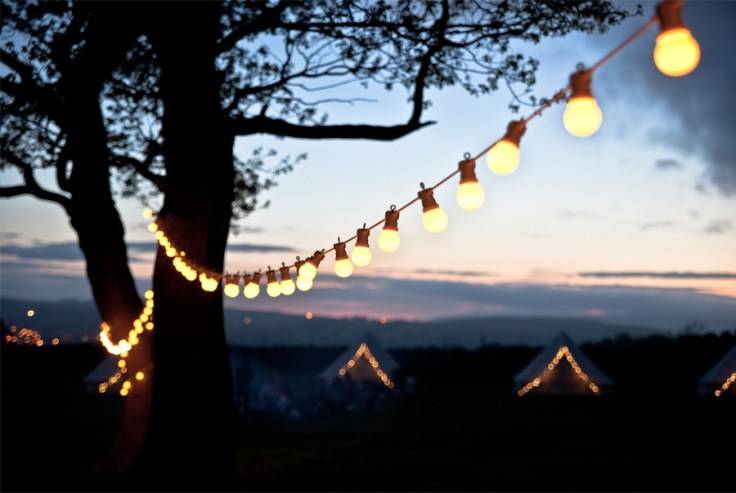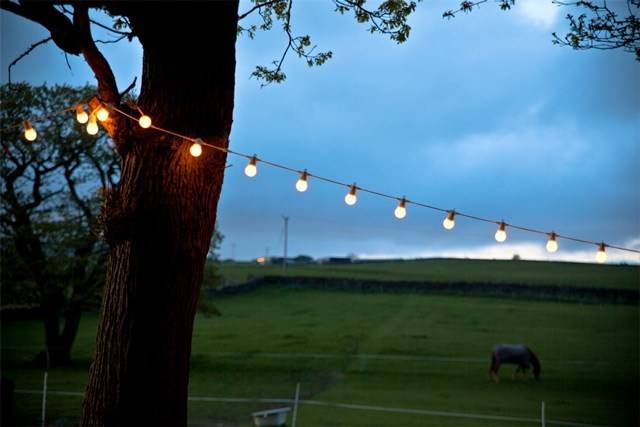 "We got an engagement and an engagement party in one"
Christina arrived late afternoon, with all but a clue about what would happen next. Shortly after and much to her surprise and shock, she found Lee kneeled down in the front of her, asking for her hand in marriage. No setting could have been more perfect for the happy couple and with great pleasure, she said the much-anticipated three-letter word. YES!
Christina told Yorkshire Evening Post: "It was lovely. I didn't have a clue. When I arrived I was a bit shocked to see all the suppliers."
"We got an engagement and an engagement party in one."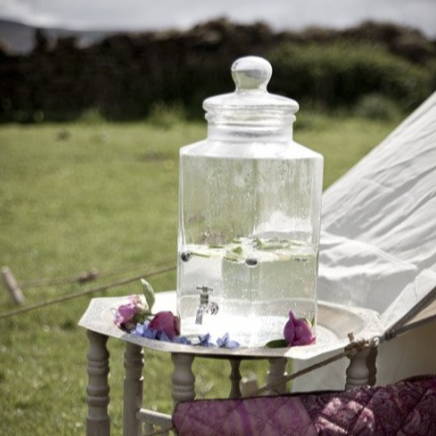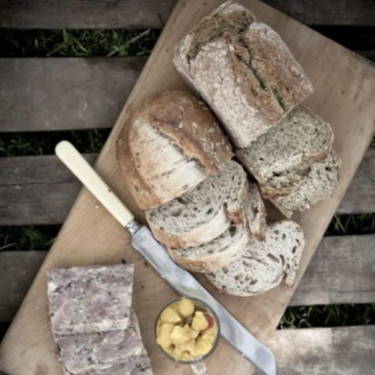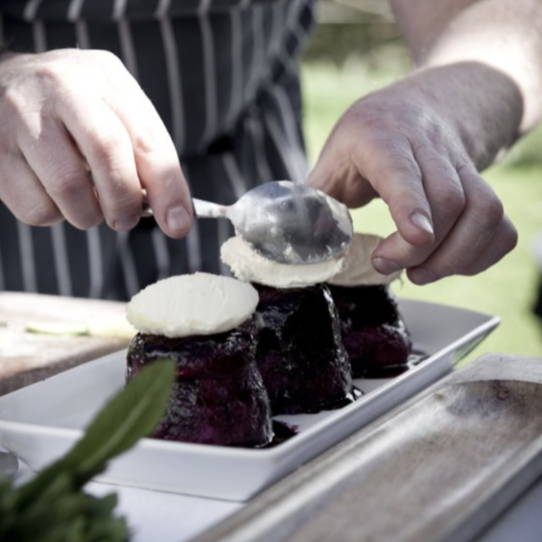 Setting the mood with outdoor party lights
As darkness hit, the setting looked even more stunning than before; all the guests, including the newly-engaged Lee and Christina, were conversing around a toasty-warm campfire, surrounded by lit-up tents and strings of outdoor battery lights.
The glow from the festoon lights brought a touch of warmth to the cooler night, which we think these lovely party lights are perfect for absolutely any outdoor setting and look equally gorgeous strung from parasols, fences, gates or even furniture.
The battery lights we used for Lee and Christina's engagement add a touch of elegance to any outdoor furniture too thanks to their versatility. They're also incredibly easy to use and are great for indoors too.
If you'd like help with your lighting or you're currently setting up an event, we'd love to hear from you. Find us on Facebook or follow us on Twitter.
Whilst arranging the surprise engagement, Lee created a private board on Pinterest which was only visible to suppliers; a great way to collate ideas if you're organising a secret event. If you're arranging an event, we'd love to share a board with you on Pinterest.
Congratulations Christina and Lee, we wish you all the best!