As we've already established, fairy lights are not just for Christmas. They're also for staircases. If you've got a staircase in your house or office that's looking a bit drab, here's how to add a bit of sparkle in under ten minutes with our Christmas fairy lights.
We chose warm white LEDs for our stairs, on clear cable to blend in with the pale wood and neutral carpet. Starting at our power socket at the top of the staircase, we ran one string of lights down the handrail and another string down the inside of the staircase, twining the lights around the banister and then trailing the last ten bulbs along the foot of the bottom step. Easy!
The best advice we can give you is plan it out. Make sure you've got enough cable to cover the whole staircase, otherwise you might find yourself running out of bulbs halfway through, which in our experience is really annoying. For our staircase, we used two sets of our 8m indoor fairy lights with 100 bulbs per string, so 200 LED bulbs in total. You can experiment with different bulb spacing to get a more subtle or more "full on" effect, but this is one situation where we tend to err on the side of "more is more". If you don't have a power socket near your staircase, choose a set of lights with a generous lead cable between the transformer and the first bulb, or go for battery fairy lights instead.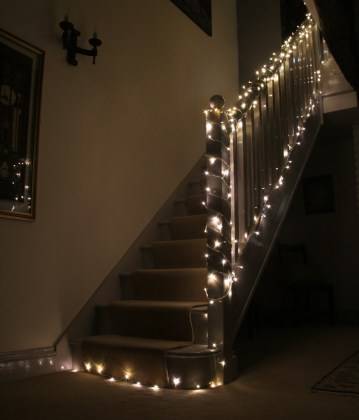 You can also play around with colour. We chose these warm white fairy lights to fit in with the neutral, cosy décor, but for a more modern look you might want to consider an ice white LED – this would look especially cool if you have a metal handrail or glass balustrade. If you're feeling bold, go big with colour – imagine a staircase lit by bright pink fairy lights. Yes please.
Lighting your staircase with fairy lights isn't just about the aesthetics either. It sure looks pretty, but it's also super practical – LEDs use a tiny amount of electricity (see our buying guide on energy efficient LED lights) and, unlike traditional filament bulbs, will always remain cool to the touch so you can leave your staircase lights on all night as a nightlight alternative without fear of a) scorch marks on your carpet or b) frighteningly high electricity bills. No more risking your life as you stumble downstairs in the middle of the night for a glass of water, no more waking everyone up by turning the big hallway light on.