Whether you're planning a Halloween party this year or simply fancy getting in the neighbourhood 'trick-or-treat' spirit, we've plenty of ideas you can easily deck out your home's exterior for the spooky season, even if you're pushed for time or you're on a tight budget. All you need is a few strings of outdoor Halloween lights to create an eye-popping outdoor lighting display.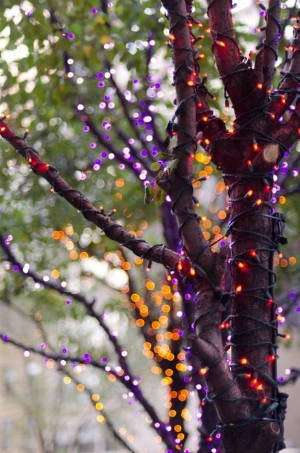 Halloween Tree Lighting Ideas
Conjure up a magical Halloween display by wrapping bundles of outdoor Halloween lights around the trees that surround your home and garden. Don't forget to invest in some Halloween-inspired colours such as purple, green or amber fairy lights for an authentic seasonal feel.
Either wrap the trunks of each tree in Halloween lights or drape the lights over the branches of the tree for more of a scattered look. For an even more enchanting decorative Halloween display, why not hang a few pumpkins from the trees or even pop a few Halloween decorations beside your lighting display if want to make a bigger impact on curious trick or treaters. As soon as night falls, you have your very own spellbinding garden display complete with a colourful fairy light glow.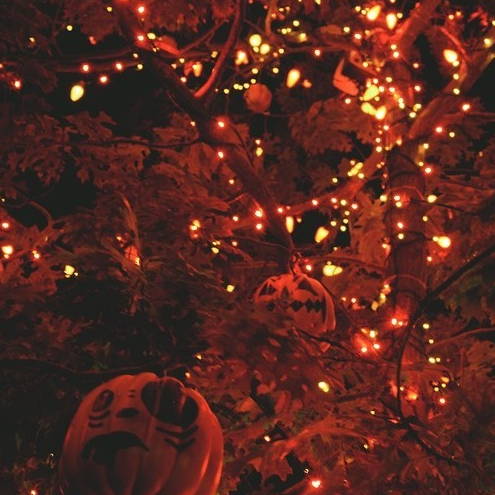 Halloween Fence Lighting Ideas
If you're pushed for time, you don't have to go to great lengths to create an awesome Halloween lighting display for your guests. Simply drape some outdoor fairy lights over a fence or wall for an instant eerie glow; we think green fairy lights look great for this type of garden lighting and you can also reuse them on the tree at Christmas!
If you have a driveway or pathway that's lined with a fence, hang the fairy lights all the way along to act as a glowing pathway for your party guests.
For the ultimate Halloween setting, scatter purple UV lights around the garden for a magical Halloween glow. Suitable for indoor and outdoor use, the purple UV lights connect together to make longer lengths, all from the same plug and are completely kid-friendly thanks to their super-safe LED bulbs.