We'd all love a 15ft Christmas tree straight from a Scandinavian forest with lush, emerald pine needles and branches as thick as a giant's arm. Festive perfection in theory, but in reality? Not practical. For one, shipping a real Christmas tree directly from a Norwegian forest is going to set you back a few quid and frankly that's money that would be better spent on food or a new Christmas jumper. Secondly, pine needles get absolutely everywhere. And thirdly, who's got a 15ft high ceiling?
For most of us, too much stuff and not enough space means that a gargantuan storybook spruce is something that we have neither the need nor desire for. Even if you do have a cavernous hallway big enough to accommodate a small forest, there must be some compact corners of your house crying out for a bit of festive cheer. To that end, we've scoured the net to bring together the ten best DIY space-saving solutions for fitting alternative Christmas trees into small spaces.
1. The Logs and Fairy Lights Christmas Tree
For a real rustic-themed Christmas, you can't go far wrong with some natural lengths of wood and a string of Christmas tree lights. Tack the slim logs to the wall using small pins or picture hooks, then add a few springs of foliage and a string of Christmas lights to complete the look. Make sure you're using LED fairy lights rather than traditional filament bulbs - this will eliminate any fire risks and will make sure your wall doesn't end up with any scorch marks.
2. The Logs and Baubles Christmas Tree
As above, but perfectly suited to areas where there's no power socket. Whether you layer your logs parallel to one another as in the first image or angle them to create a tree outline as in image #2, this rustic space-saving DIY Christmas decor idea will suit almost any design scheme. If you did want to add some sparkle to a socketless corner of the room, you could always use a length of battery operated Christmas lights.
3. The Fairy Light Outline Tree
No logs this time - just a simple string of warm white Christmas lights and a few picture hooks. You can really get creative with the shape of this alternative Christmas tree too - you could even use a few strings of lights and create a little family of trees side-by-side. For a more modern effect, just switch the warm white lights for some bright white LEDs, and consider a green or black cable if you plan to display your fairy light tree on a dark wall.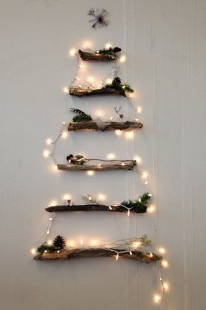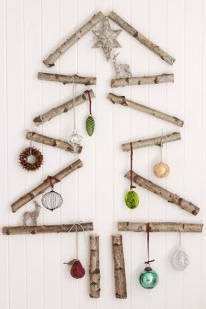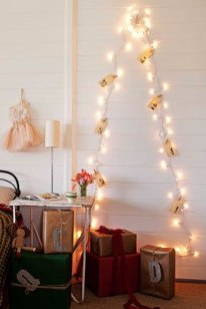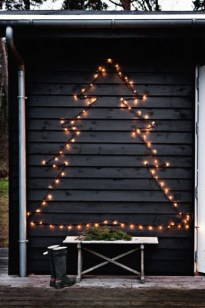 4. The Outdoor Fairy Light Tree
Space-saving Christmas trees aren't just for inside. Add some Christmas cheer to your shed, fence or exterior wall by winding a string of outdoor fairy lights into the shape of a festive spruce. Make sure you choose lights that are IP44 rated - waterproof and snowproof - so your display will stand up to a White Christmas.
5. The Full-On Fairy Light Tree
Not satisfied with just the outline of a tree? Mark out your shape with a faint pencil then go all out by stringing your fairy lights back and forth to fill in the tree outline. If you want to really go big, you could use some strings of connectable lights. With a high powered transformer powering up to 1,280 LEDs, there's really no limit on how big you can go.
6. The Stick-On Christmas Tree
Got a white wall that needs a dash of colour? Use green paper and spray-on adhesive to create this two-dimensional festive wall decal. If you're feeling particularly artistic and want to make things permanent, you could even grab a paintbrush and design your alternative space-saving Christmas tree directly onto the wall. We wouldn't recommend doing this without your parents'/partners'/landlords' permission, though...
7. The Junk Christmas Tree
This is one of our favourite alternative DIY Christmas trees and is sure to be THE talking point at any Christmas party, dinner or gathering you're holding this year. Gather up all your bits and pieces that you've been holding onto "just in case" - we're talking buttons, badges, mini photo frames, bits of jewellery... anything you've got lying around. Next, draft out a faint outline of a Christmas tree onto your wall using a pencil or piece of chalk, then begin filling in the white space with your bric-a-brac, attaching each piece with a small picture pin or a ball of Blu-Tak. The effect is incredible, and totally unique - no one else will have a tree like yours!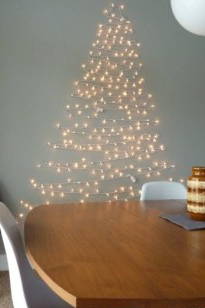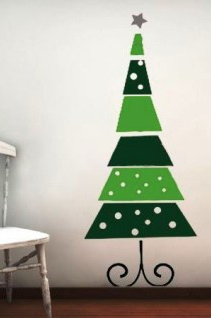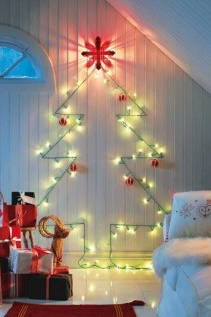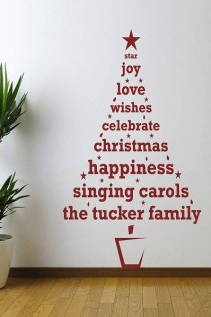 8. The Colourful Christmas Tree
Much like ideas #1 and #2, but this time with added sparkle. Instead of choosing a cable that will blend into your wall colour, pick one that will stand out - a bright green wire with white or warm white bulbs creates a picture-picture two-dimensional Christmas tree. A string of battery lights wrapped around a bright red star at the top of the tree adds a festive finishing touch.
9. The Wordy Christmas Tree
This one's a bit different. Instead of creating an actual tree-shaped wall decal, use coloured paper or card to stencil out a short festive sentence, then arrange the letters in the shape of a Christmas spruce. Tack them to the wall using spray-on adhesive or Blu-Tak and wait for your guests to comment. Whether you choose a family-orientated sentiment or a line from your favourite Christmas carol, this space-saving Christmas tree idea is sure to make an impression.
10. The Cheater's Christmas Tree
"It's a real tree, honest." From afar (or after a few glasses of mulled wine), your guests won't be able to tell that this beautifully decorated Christmas tree is actually a poster, on which you've printed a photo of said beautifully decorated Christmas tree. The perfect space-saving solution for the festive season.If you are set on a physical tree with space for the presents underneath, then have a look at our artificial Christmas trees instead.
If you are set on a physical tree with space for the presents underneath, then have a look at our artificial Christmas trees instead.