Wedding marquees are becoming an increasingly popular alternative to indoor weddings. Why? Don't know. Maybe it's global warming, or maybe it's all the really cool tent options and wedding lights that are available these days. Either way, the sun has to set at some point and when it does, you don't want to be left wandering around your marquee of choice in the dark desperately trying to find your way to the Porta Loo.
With that in mind, we've put together an invaluable list of the ten most important tips, ideas and things to consider when you're deciding on wedding marquee lighting for your marquee. And this isn't just for weddings, either – you're going to want to light up all kind of tents as the weather gets warmer and tents get cooler, we're sure of it. Here's how to do it: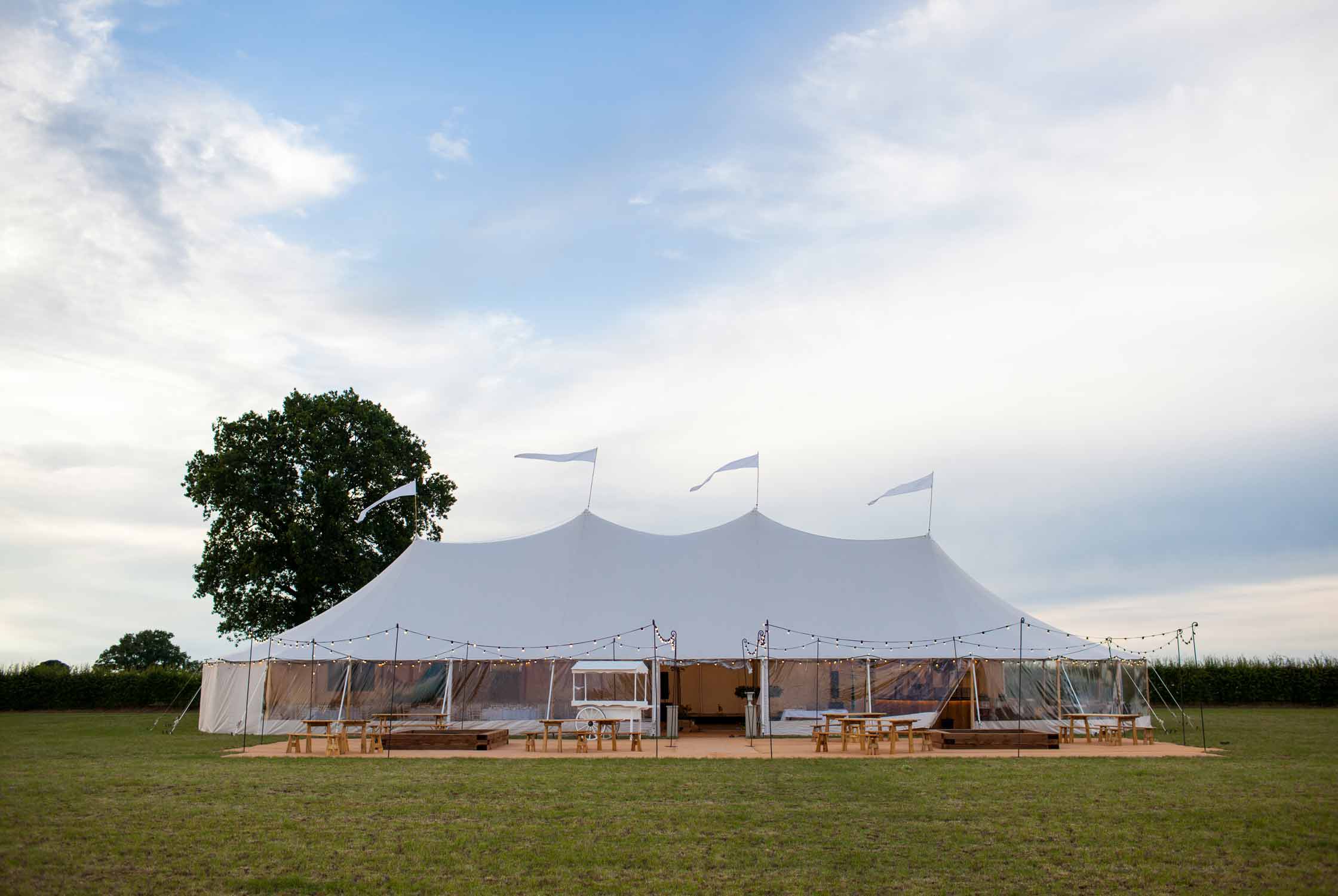 1 – White or clear cable is the best option for wedding lights in marquees. The cable will blend in with the tent fabric far better than black or green cable will, making your wedding marquee look like something out of a fairytale rather than something that's been rigged up at the side of a construction site for the builders to go eat their sandwiches in. We imagine cable colour isn't of utmost importance in that scenario. Could be wrong though.
2 – Choose your bulb colour! Warm white is easily the most popular colour choice for wedding marquees because it gives a really warm, traditional glow without being overwhelmingly bright, but for themed events you might want to consider coloured lights. Warm white with a few colour accents can look brilliant against plain tent fabrics and is easily achievable with connectable lights.
3 – Measure your marquee. If you can do this physically prior to your event, great. Use lengths of string in place of lights to measure beams and pillars, and if you're dressing topiaries or plants outside the marquee then use our general rule of thumb for dressing trees – for every 3ft of tree, you'll want 10m of fairy lights. If you can't scope our your tent before the day, try and estimate so you've got a decent starting point. You can always come back and add extra strings of lights later if you need to.
4 – On that note, order your wedding lights in plenty of time. You're going to have enough things to be worrying about on the day, so get your lighting figured out as early as possible and that's one less thing to fret about. Allow time for delivery, changes of mind, colour swaps, adding extra lights, etc.
5 – Please use LEDs! Traditional filament bulbs (the sort that get hot) are a really bad idea for marquee lighting for a number of reasons. At best, they might mark the walls of your marquee and mean you lose out on your deposit if you've hired the tent for the day. At worst, they could burn it to the ground, which would not be good. LED bulbs are always cool to the touch so really safe for use around fabrics, and they're a lot cheaper to run than filament bulbs. Win/win.
6 – Be realistic about the amount of light you're going to get from x number of bulbs. One string of fairy lights is, unfortunately, not going to light a whole wedding tent (unless you're having a super intimate wedding and it's a really small tent). However, throw a few more strings in there and you'll soon have enough light to wine and dine by. If you're still not sure, you might want to consider some wedding table decorations to compliment the lights you've used on the marquee itself. This will make sure everyone can see what they're eating, and battery powered candles or fairy lights make novel wedding favours that your guests can take away with them at the end of the night.
7 – That said, don't overdo it. Sometimes, less is more with LEDs and you want to make sure you're not spoiling the romantic ambience by having too many lights in one place. You can always start off subtle then add extra lights if you need a bit more sparkle. Take a look at our marquee wedding light ideas for a little inspiration.
8 – Know your plug. Unless you've got a giant hamster running a generator wheel behind your wedding marquee, you're going to have to work out how to get your juice from a power source to the lights. Consider fitting some extension cables into your circuit to bring power to your tent – you can even use extension cables between strings of connectable lights if you need an unlit section in your display, which brings us to our 7th point…
9 – Consider connectable lights. These are a wondrous invention that will save you a lot of money and a lot of tangled cables. Traditional long strings of fairy lights are tricky to manufacture and consequently really expensive to buy, so we don't really dabble in that area anymore. Connectable lights are the future – you just buy as many strings as you need (usually supplied in lengths of 10m or less) and then 'daisy chain' them all together, end to end. This means you can dress your space exactly to your specifications and only have to buy as many metres as you need – no wasted wedding lights, no wasted money. Best of all, you can usually run the whole lot off one single plug socket. For more info, visit our connectable lights buying guide.
10 – Have a budget in mind. You'd have to work a fair bit of magic to light up a whole marquee using just £20 worth of lights, but at the same time, don't feel like you have to go for the really heavy duty, premium ranges either. If you're only going to be using the lights for a one-off event, you don't need to spend a fortune. Low voltage, PVC cable LED fairy lights are relatively inexpensive and are perfect for lighting marquees. The really heavy duty, rubber cable ranges are more for permanent outdoor use – great for marquees as well, but if you're looking to keep spending down, go for a low voltage option (but make sure they're IP44 rated too, which means they're suitable for outdoor use, just in case it rains and the marquee gets flooded. We really hope this doesn't happen though.)
Now we've got all that sorted, it's time to shop for some wedding decorations »