Illuminate your own personal sanctuary, create a teen dream or even a sleepy haven for little ones using bedroom fairy lights. Our bedroom fairy light ideas will certainly help you add a touch of sparkle all year round.
Whether you're in a cosy attic space or a master bedroom with high ceilings, forget bedside lamps and introduce some glow. A swag of fairy lights adds decorative detail and they come in many forms, including childrens lights for the little ones. Festoon lights are a design feature by day, elegant lighting at night. Hang them vertically on walls or drape from ceilings, their perspex bulbs are super lightweight. Choose warm white lights for soft tones and cosy evenings are ahead. From minimal white to opulent dark palettes, simply contrast your theme using light or dark cables on your lights.
For extra twinkle, team fairy lights with mirrors or glass to reflect light all around. Bunch your favourite lights together and hang over mirrors for an all around glow. Micro lights are ideal, they'll bend into shape and sit pretty around the frame. For any style of room, inject a fresh feel in seconds, it couldn't be easier. Choose dainty flower fairy lights for added detail, from roses to sunflowers or autumn leaves, they're chic even before lit.
University & Dorm Bedroom Light Ideas
Let the dorm decor commence! We'll show you how to make your halls room sparkle, for less than you think. Twinkly lights & polaroids were meant to be together, so create a DIY fairy light wall to display your favourite memories. Swagging lights from ceiling to floor using wall tacks or picture nails means you'll have this up in no time. Peg your cards & photos and you've got the perfect movie night hideaway. Choosing LED fairy lights ensures the bulbs stay cool, so they can be left on all day and night. Some university halls prevent the use of fairy lights that plug in - boo! However fear not, you can still have cosy low level lighting by opting for battery powered lights instead. Perfectly portable and with a handy timer (on selected lines) you'll be made up!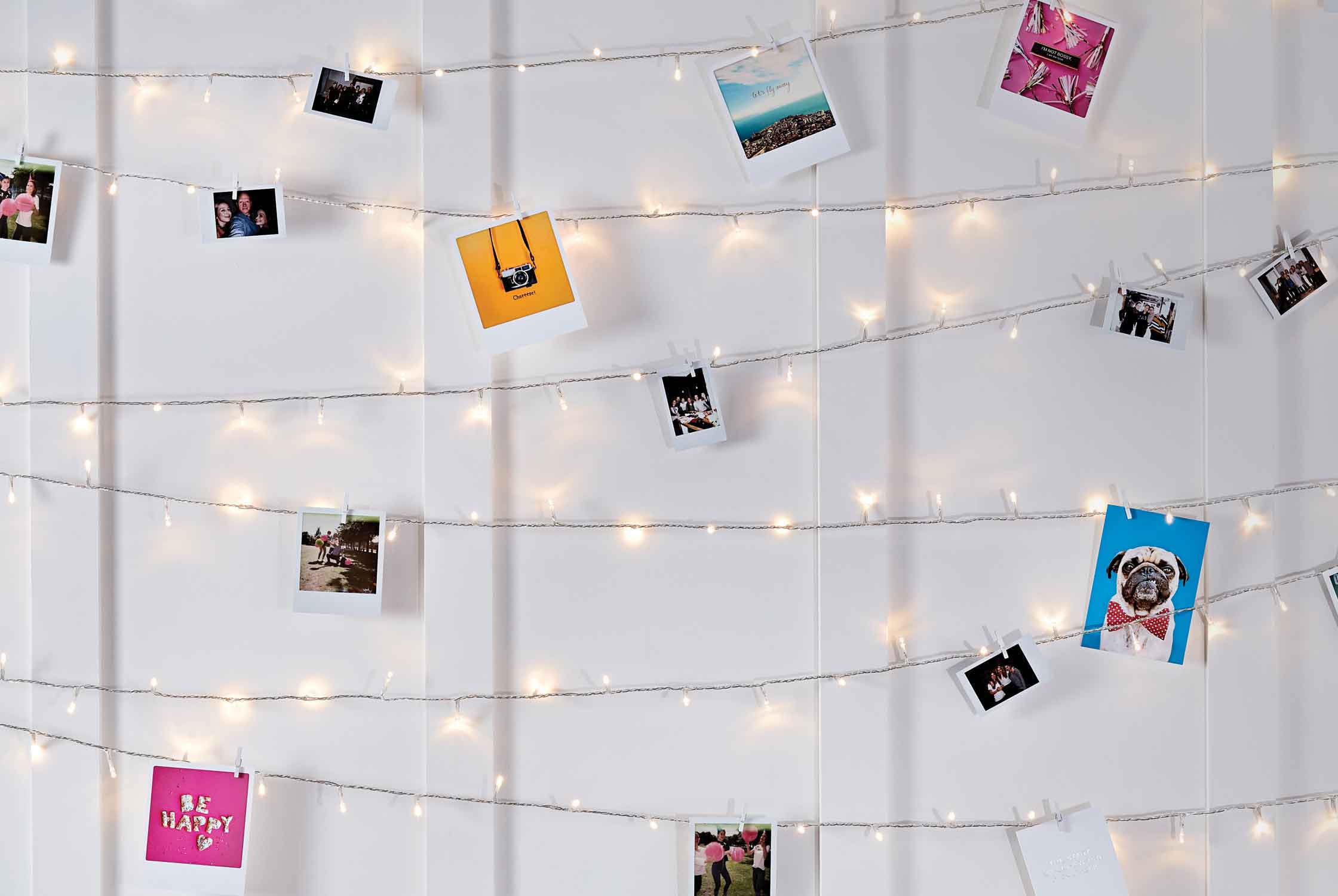 Children's Bedroom Light Ideas
5,4,3,2,1... get ready for a fun filled storytime with starry ceilings and a splash of colour! Teaming simple lights with striking decor gives a simply dreamy Instagram-esque feel. For a unisex theme we'd always stick to a monochrome palette and using a hint of warmth from some lightweight party festoon lights. Fun shapes such as clouds can bring out the playful nature of any room. Opt for bendy micro lights and you can wrap any shape with sparkly lights. For aspiring Astronauts, star lights are a must, they'll be gazing night after night! Use lightweight festoons for their fabulous big bulbs that'll drape from ceiling to floor or surround the bed with a fairy light canopy.  Choose LED bulbs as they're always cool to touch and super safe when used with fabrics.
Every creative corner needs a splash of colour. From galactic lamps to strings of bold & fun shapes, with our children's lights it's so easy to give the little ones room even more personality.