Looking for a Christmas tradition for your family? A Christmas Eve Box is the perfect way to start making memories! Christmas Eve boxes come from the German tradition of celebrating Christmas the night before, but for us, it's just an excuse to start Christmas a little earlier with a box of treats on Christmas Eve.
Fill with your family favourites for a cosy evening in, with fresh pyjamas ready to wake up on Christmas morning, a little treat for the night before and a film for the whole family to enjoy together.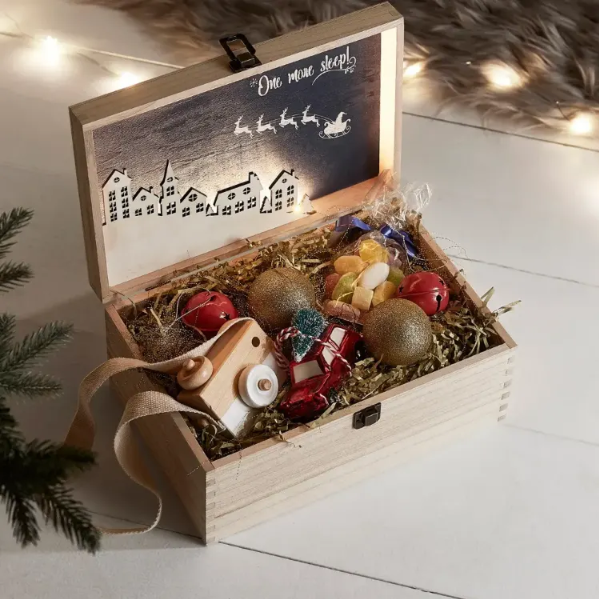 Their first Christmas is such a magical time from meeting Santa to seeing Christmas lights go up for the first time, it really is about creating memories! The magic in our Christmas Eve box comes from the cosy glow that lights up the winter scene that sits within the box.
Once the box arrives, the best part is deciding on Christmas bits to fill it with. We've pulled together 6 of our favourite Christmas Eve box fillers. Whether you start when they're little or are introducing a Christmas Eve box for the first year, we've pulled together our favourite pieces to make it extra special.
Here's a handy video showing how to style your Christmas Eve Box.
Christmas Eve Box Gift Guide...
A Christmas Story
Whether it's their favourite bedtime story or 'The Night Before Christmas', it's sure to settle little ones for a good night's sleep ahead of a day of festivities. If they're a little older, opt for a family favourite Christmas film.
Hot chocolate
We love to add mini packets of hot chocolate with marshmallows, even adding in a personalised Christmas mug. It's the perfect excuse to get the whole family together for a bedtime treat.
Pyjamas
Christmas Eve is all about getting cosy and new pyjamas do this perfectly, this also means everyone wakes up with fresh pyjamas bright and early ready for Christmas morning. If you'd like to add some smaller gifts, slippers and blankets work just as well.
Reindeer Food
Going to sleep on Christmas Eve and leaving out a carrot and a mince pie makes it feel just like Christmas, a growing tradition is to sprinkle a little bit of Reindeer food outside your home. This is simply porridge oats mixed with a little bit of sparkle, it's so simple yet makes for a lovely activity on Christmas Eve! If you have a light up reindeer on your front lawn the glitter will reflect perfectly outside.
A letter for Father Christmas
If you have really little ones, it's the perfect opportunity to write a thank you letter to leave out for Father Christmas. Why not add in some crayons & coloured card to make it really personal with a fun Christmas Eve activity.
Pamper treats
Whether it's a face-mask or a bath bomb for a cosy bubble bath, these are perfect for taking a break from all the Christmas Chaos no matter your age!
Whether it's your first Christmas as a family or you're simply starting a new tradition, our Christmas Eve box is our must-have for this year.