Nothing says Christmas like a rich, emerald fir tree decked with gold ribbons, festive crimson baubles and twinkling Christmas tree lights. If you're looking to create a December scene worthy of the front of a luxury Christmas card, look no further, as we've compiled this essential list of tips and decorating ideas for dressing your home in a traditional Christmas style.
1. Choose the perfect Christmas tree
Although a real spruce is arguably more traditional, we believe that the quickest and most effective route to finding the perfectly symmetrical shape that this theme calls for is by opting for an artificial Christmas tree. Not only will it make the decorating process much speedier (and require less hacking at surplus branches with a bread knife); the uniform formation of the branches will also make it easy for you to place your hanging Christmas decorations in a picture-perfect arrangement. We offer a range of artificial Christmas trees at Lights4fun - for a traditional Christmas decorating theme, we love a Douglas Fir style tree.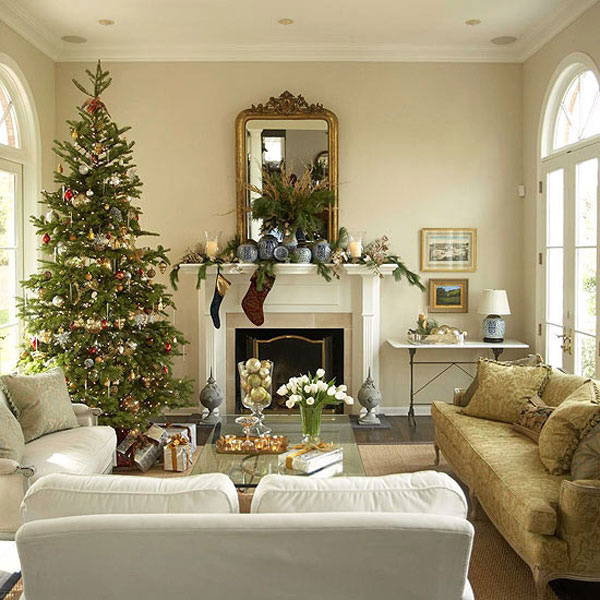 Beautifully wrapped Christmas gifts.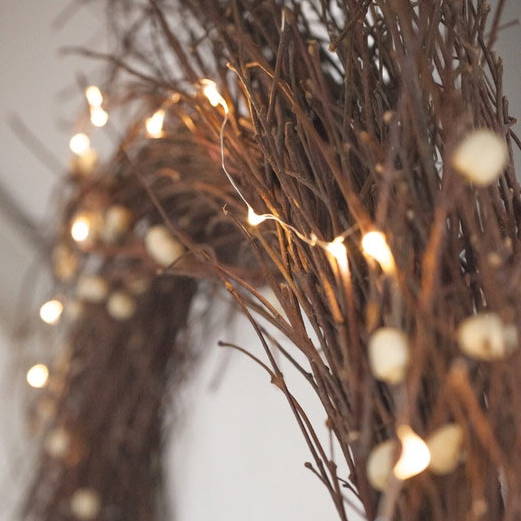 Traditional-style Christmas wreath lights.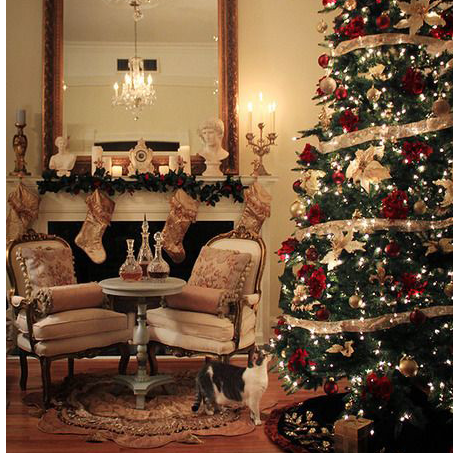 Red and gold together create a luxurious festive feel.
2. Go big with your baubles
A traditionally decorated festive scene looks best when you really go all out. Deck the halls with bough after bough of holly and don't hold back on the Christmas baubles - more is more with this traditional decorating theme and a sparsely-dressed tree will stand out like a sore thumb. When it comes to the lights, we have a general rule of thumb for calculating how many lights you need for your tree but don't be afraid to add a few extra strings for a real luxury feel.
Traditional Red and Gold Christmas Theme
3. Use red, gold and green
Although it may be tempting to pick up that fuchsia pink Christmas bauble at the garden centre, a traditionally decorated home is all about the classic combination of red and gold, with dashes of green foliage in the form of trees, garlands and Christmas wreaths. Choose dark crimson bows for the Christmas tree and pair with large, matte-finish gold baubles, then dress the mantelpiece or sideboard with traditional-style finishing touches like red knitted stockings, golden candlesticks and glowing ivory candles.
If red, gold and green together isn't your style, try stripping it back and just opting for one accent colour. We love the look below, pairing rich golds with more neutral creams and whites for a simple traditional Christmas decorating theme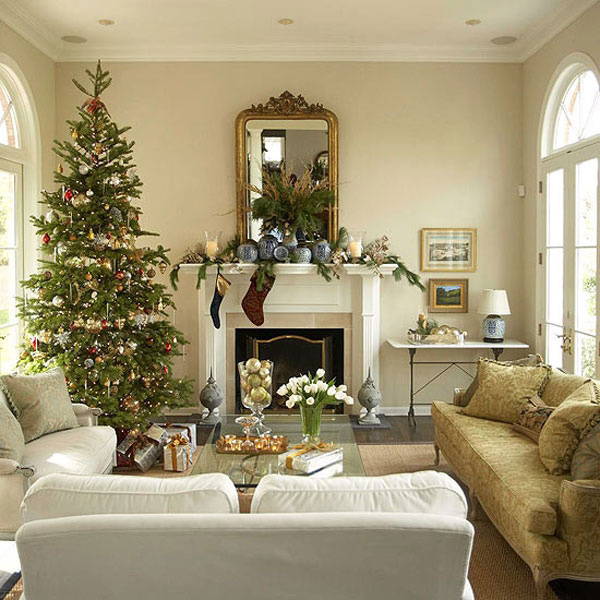 Traditional gold Christmas theme,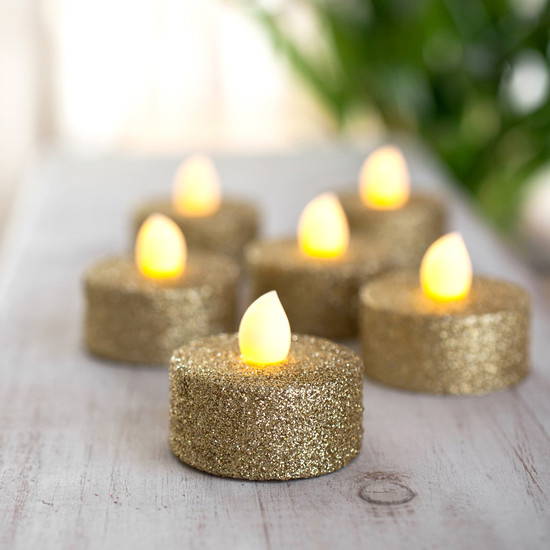 Gold glitter Christmas tea lights.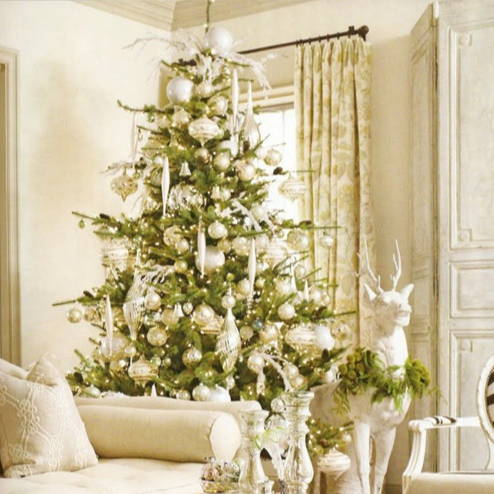 Gold accents paired with cream.
4. Opt for warm white Christmas Lights
Once upon a time, were made exclusively with glass filament bulbs - the slim, pointy 'rice bulbs' that give off that nostalgic golden glow and, unfortunately, lead to an alarming number of house fires year after year. To bring this look safely into the 21st century, we always advise our customers to choose warm white LED's. All the safety of modern, cool-to-the-touch lighting, but with a colour designed to perfectly imitate that of its predecessor, the filament bulb. Our warm white Christmas tree lights are available on a dark green cable, allowing the wiring to blend seamlessly into the foliage and leaving you with a beautifully lit, traditional-style Christmas tree.
Decorating for a Family Christmas at Home
5. Don't forget the presents!
An integral part of any traditional Christmas scene is the little mound of perfectly wrapped gifts under the immaculately decorated tree. Buy this year's wrapping paper with your decorating theme in mind - a metallic purple present is going to clash a bit with your festive colour scheme, so stick to reds and golds, and finish with luxurious silk ribbons, red velvet bows and a few sprigs of holly. You can even mimic the warm glow of your Christmas tree by adding a little string of warm white to each gift - the effect is magical and is sure to be a talking point on Christmas morning.
6. Add some childhood nostalgia
A traditional Christmas is all about years gone by, so have a dig through the boxes in the attic and see if you can't unearth some nostalgia from your own childhood Christmases. A vintage teddy bear sat amongst the pile of gifts, an Nutcracker figurine on the mantelpiece, or the gold star from the top of your old family Christmas tree will all make unique, sentimental additions to your traditional Christmas theme.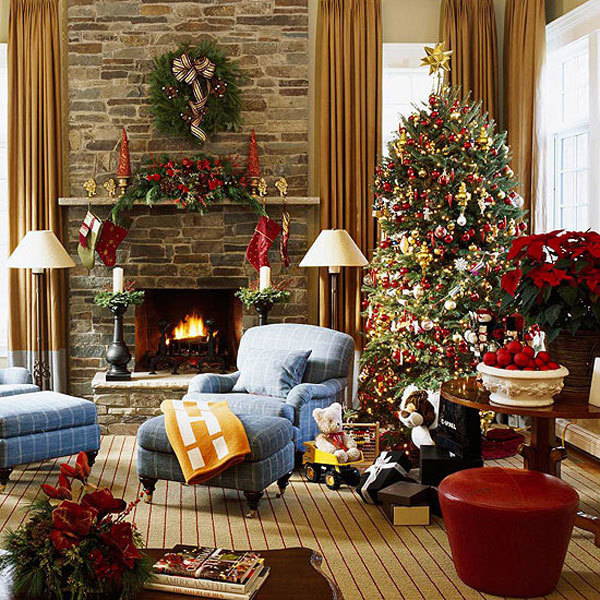 Traditional family Christmas scene.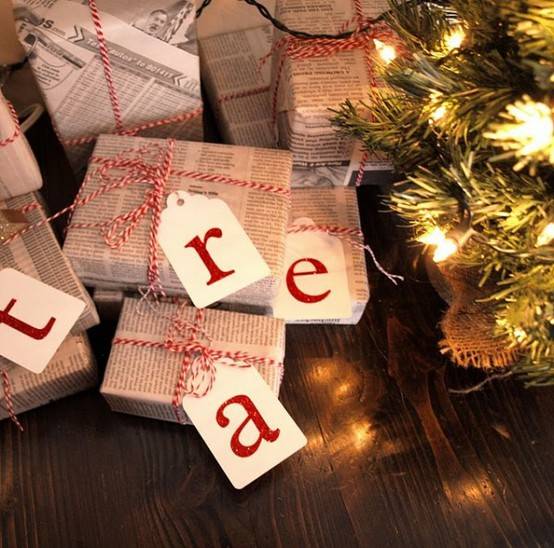 Don't forget the presents!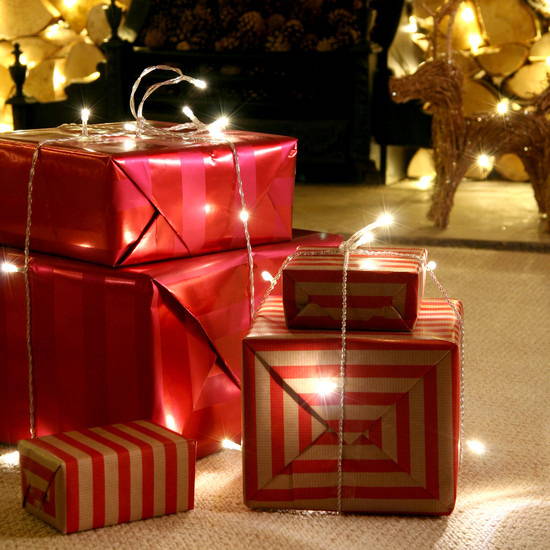 Wrap gifts with battery powered fairy lights.