Having guests over for Christmas dinner this year? Make the feast extra special with our inspiring table decorating ideas.Whether you're planning on setting the table for a fully fledged traditional family feast or a minimal spread for two, we've plenty of Christmas table lights and decorations. Create a festive spread that's no less than impressive for you guests!
Traditional Red & Gold Christmas Table Decoration Ideas
There's nothing like a good ol' traditional table for your feast, complete with red and gold Christmas table decorations and a sparkling centrepiece of flowers or candles (and the turkey of course!). Take a peek at some of these beautiful ideas and Christmas-y decorations we've collated: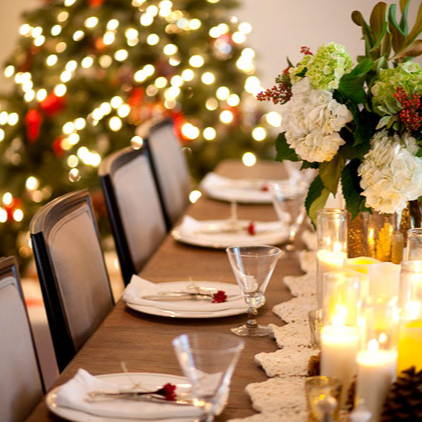 Beautiful traditional Christmas table setting using lights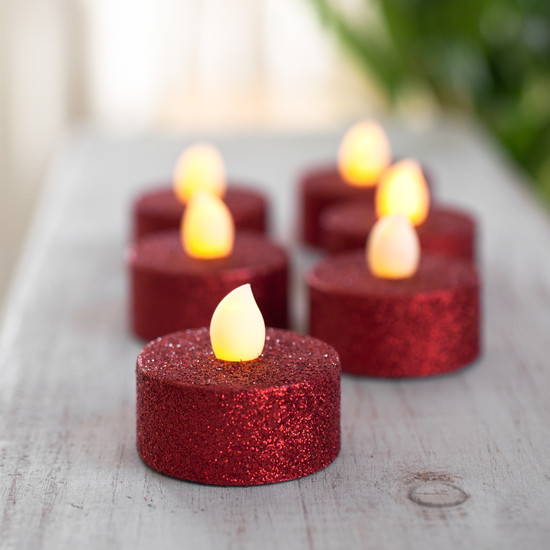 These give your mantel an extra touch of sparkle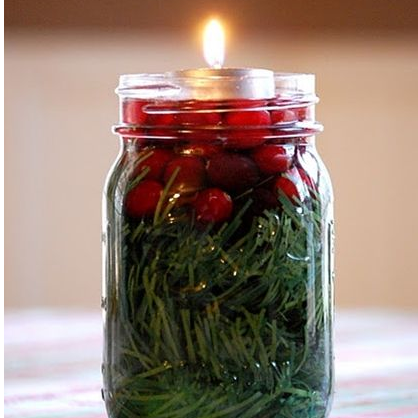 Traditional window decoration using a mason jar and candle
Begin creating your traditional table setting by laying down a festive table runner, before carefully placing your dishes and cutlery. Why not add some gorgeous snowflake napkin rings to your setting, paired beautifully with some Christmassy red napkins?
There are plenty of ways you can create a centrepiece, but for a really cosy & festive feel, place some candles in the centre of the table for a gorgeous soft warm glow. Opt for Christmas candles as opposed to real candles with a flame; this way you can enjoy the realistic flicker, without the worry of placing them near materials or curious little hands at the dinner table.
The same goes for our super safe glitter tea lights. These cute candles will stay cool to the touch and will look fabulous dotted around your Christmas table, for an extra touch of sparkle.
Accompany the candles with some festive flowers or place them inside a Christmas wreath. If you're feeling extra creative, why not rustle up your own festive mason jar lights?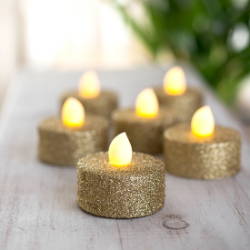 Gold glitter tea lights for your Christmas table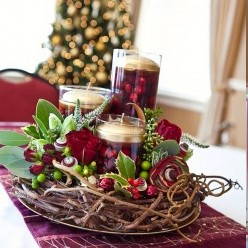 Use candles to brighten up your setting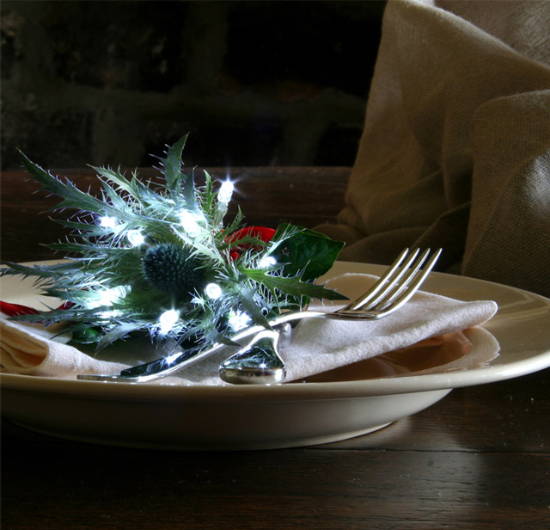 Gorgeous Plate Decorations
Colourful Christmas Party Table Decoration Ideas
If you want to steer away from the traditional approach this year, why not go wild with colour at the dinner table to get everyone in the party spirit? Brighten up the table with some multicoloured lights, such as our best-selling multicoloured star lights. Drape them across the table between your crockery or pop them inside a glass bowl or jar for a truly colourful centrepiece.
If you're in the baking spirit, rustle up some Christmas cakes using some festive Christmas toppers and cake kits for an added dash of colour at the dinner table. Or, use these awesome cake stand to host the finale of the feast; the scrumptious Christmas cake!Don't forget the bottle of bubbly and plenty of party poppers to create the ultimate Christmas party setting for your guests.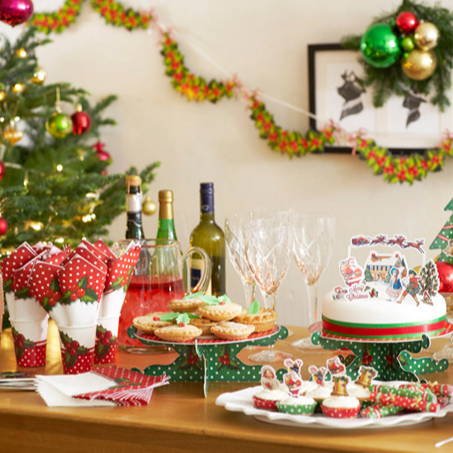 Use bright paper decorations for a bold festive feel.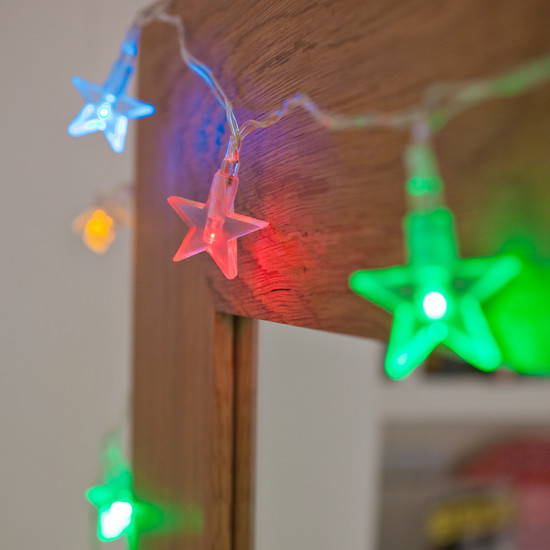 Use colourful star lights around the table for a subtle glow.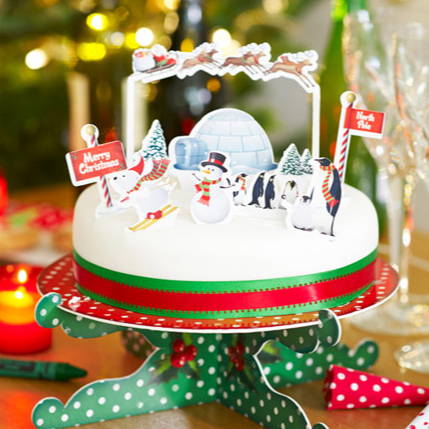 Super cute and colourful cake toppers and cake stand.
Sparkly, Silver & Metallic Christmas Table Decoration Ideas
We absolutely adore the metallic theme at Christmas, especially since it looks super sparkly and sophisticated. This theme looks extra gorgeous on a white table, complete with well-dressed white chairs.
Add a touch of twinkle with some gorgeous LED tea lights dotted around the table or place them in some tall candle holders that will act as your centrepiece, as seen in the beautiful setting below.
Finish off your silver Christmas theme with some fresh white flowers and some beautiful metallic table accessories or keep it minimalist with some simple LED taper candles and silver crockery.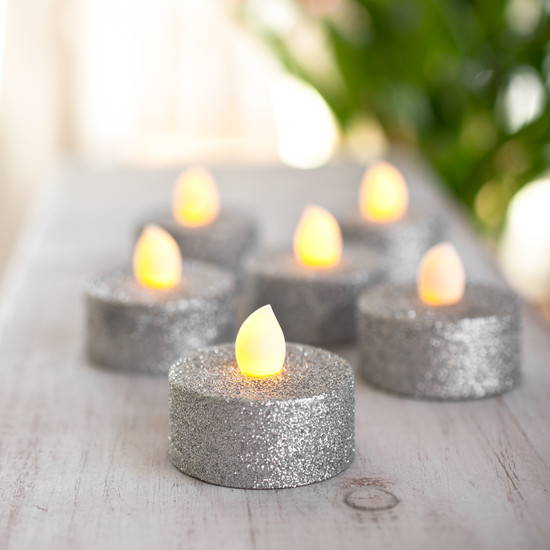 Cute glitter lights for a sparkly setting,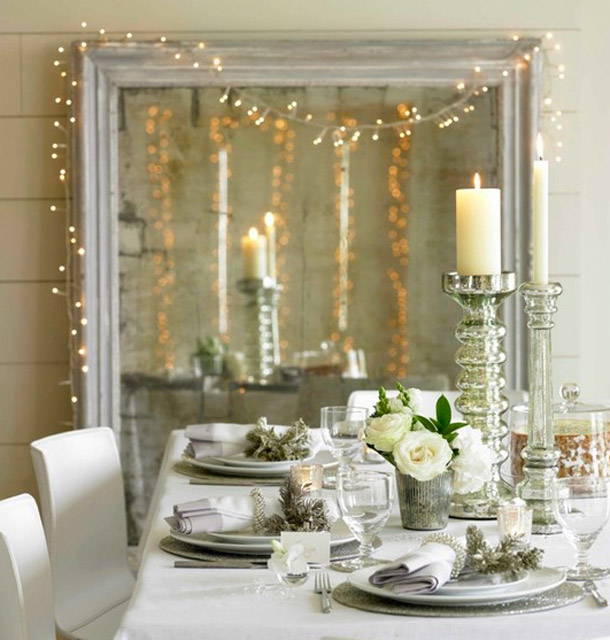 These metallic candles give a soft warm glow at the dinner table,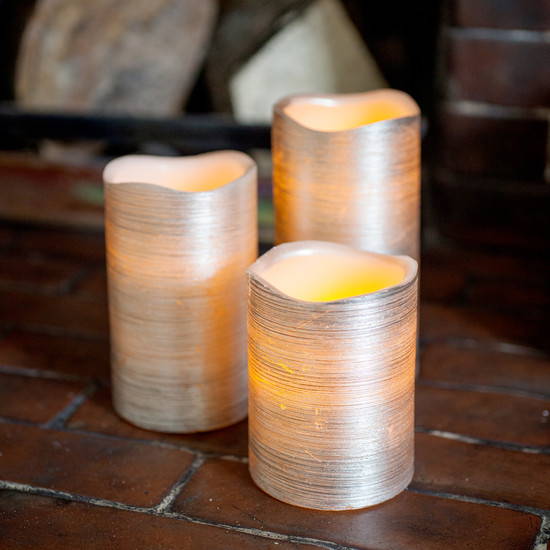 Stunning metallic Christmas table with fairy lights and candles.