With Christmas just around the corner, it's time to start thinking about decorating the dining room, and most importantly, the table! The perfect dinner calls for the ultimate table decor, with a statement piece to tie it all together.
Here is how to create your very own DIY foliage chandelier…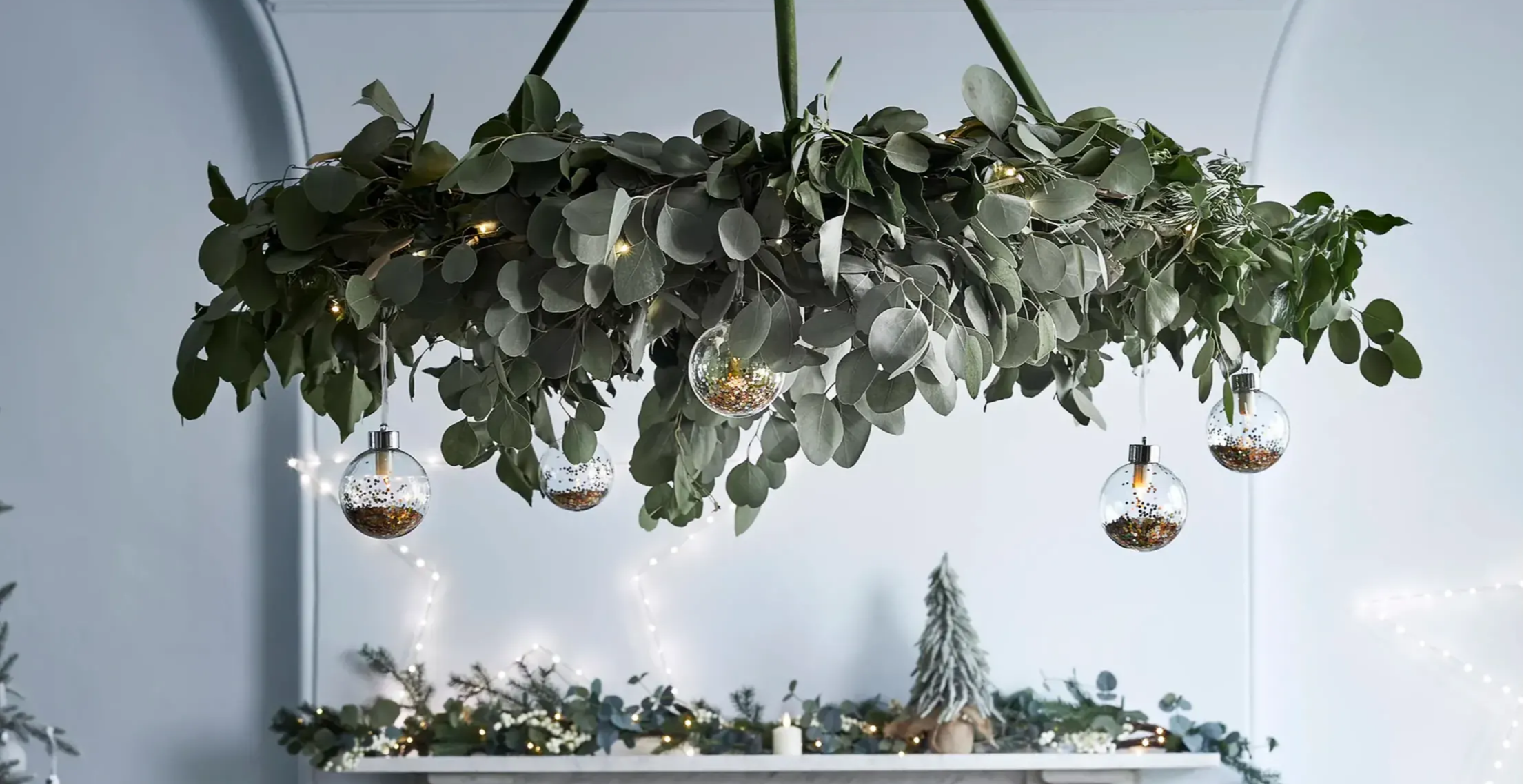 Hula Hoop
Selection of Festive Foliage
Dark Green Wire Ties
Christmas Baubles
Create a handmade chandelier that requires minimal effort by gathering a selection of your favourite foliage and a hula hoop. Start with dense foliage such as pine and ivy to create a full effect around the hula hoop, to secure the foliage twist dark green wire ties around each sprig, fastening them to the hoop.
Once the base is complete, get creative with delicate foliage such as eucalyptus that'll hang below the chandelier.
---
Step Two: Add Some Sparkle
For the perfect sparkle and to ensure the foliage is completely secure, wrap your chandelier in micro lights.
Choose green cable lights to perfectly hide within the greenery, make use of the handy 6 hour timer so that your chandelier illuminates automatically each evening. Make sure to tease the foliage from under the micro lights once you've wrapped the frame, this will make your chandelier look fuller and give it more shape.
---
Step Three: Finishing Touches

Finish the piece by hooking baubles to the frame using wire, ensure the baubles are hung at varying heights for added style. Finally, hang the chandelier above your dining table using statement velvet ribbon, you can hang the ribbon from either a hook in the ceiling or for a less permanent fixture, make use of a table hanger.
---
It's essential to balance your decor by complementing your statement piece with the perfect accessories.
Candles are the staple to any table setting, dot a selection of TruGlow® pillar candles interspersed with tea lights and votives along the centre of the table. You can also pair with mini candle wreaths for a touch of faux foliage that'll bring the ultimate festive look to your decor. For a personalised touch, create your own illuminated placeholders by tying handwritten name cards to baubles casually placed on plates.
This year, home has never been more important. Spreading festive cheer throughout our spaces will make Christmas day one to remember.