Oh, we do love hotels! Your time to celebrate, eat, party and get hardly any sleep, all under one roof, and let's face it, no one ever makes the 9am breakfast! Hotels often need that extra helping hand of inspiration when it comes to making it rock on your wedding day. We've put together our wedding lighting ideas showing you how to personalise your hotel venue including how to dress pillars and feature focal points.
Make Your Entrance Magical
It's going to be used a lot. Incorporating fairy lights into your thinking is an unquestionable way to ensure maximum 'wow' for your money, and here are the quick wins for the perfect illuminated entrance. In every wedding planner's box of tricks, organza is by far the best value way to cover large areas, hide those bits you don't want to see and give you that softened marquee feeling inside your hotel. Available in more variants of ivory than all the wedding gowns in the world, you're never short of the perfect tone to match your theme and colour palette. Hang, drape and intertwine lights within your organza and you'll have a beautifully dappled effect that'll make that entrance rock! Our top tip for teaming lights with fabric; always ensure you use LED bulbs, they never overheat and will pass all health and safety worries from wedding organisers. Also, anything new doesn't require a PAT test; meaning you can plug and play, making life much easier on your big day. Keep your entrance lighting simple and go naked with curtain lights. They do pretty much exactly as they sound, hang like their fabric counterparts and can be the easiest entrance lighting look to replicate. Ensure your curtain light is on a clear cable (blends easier with surroundings) and made to be lightweight so it doesn't appear too heavy. Leave to hang vertical or swag for some dynamic. Either way, you can re-arrange in seconds to create your perfect look.
Wonderful Wedding Lights!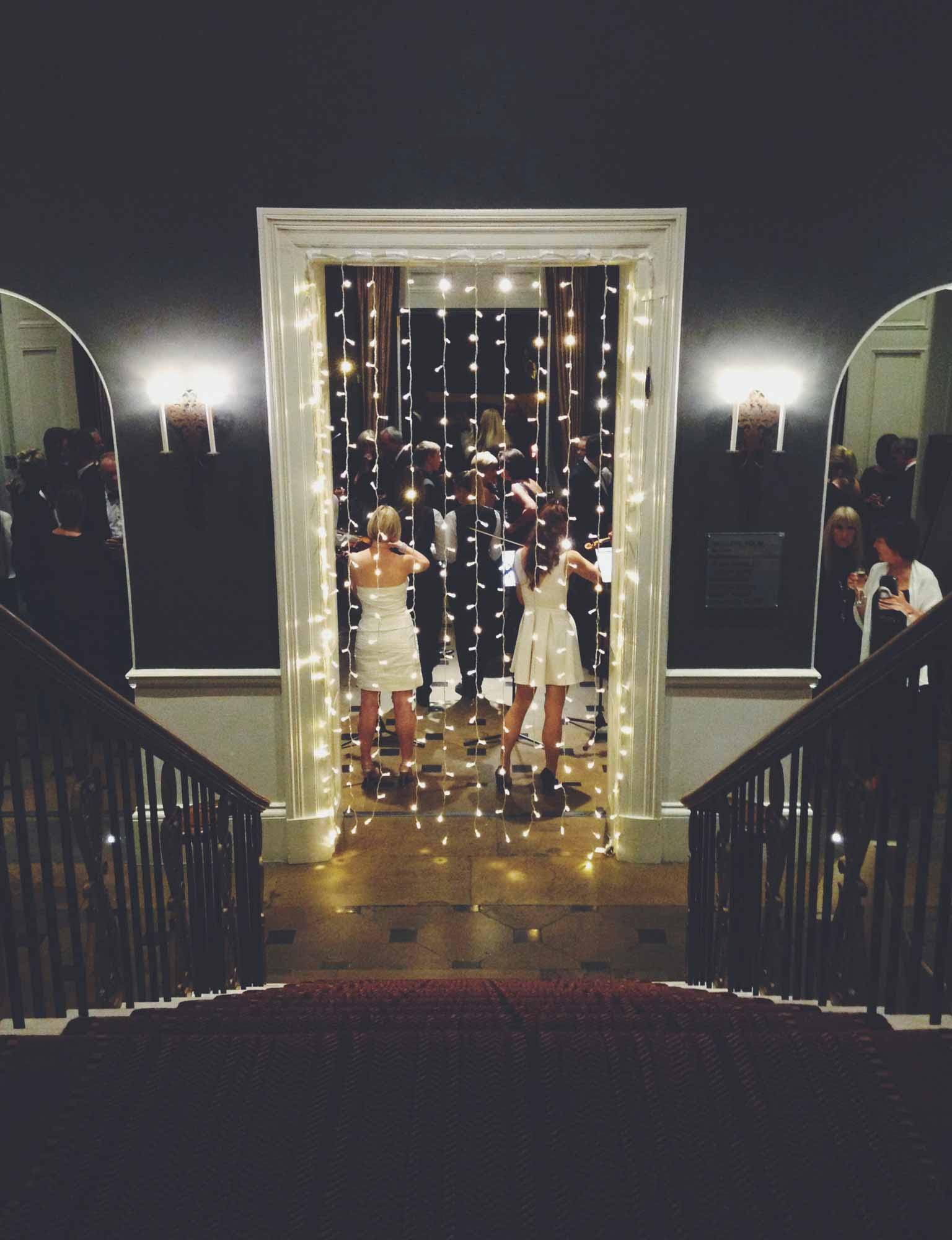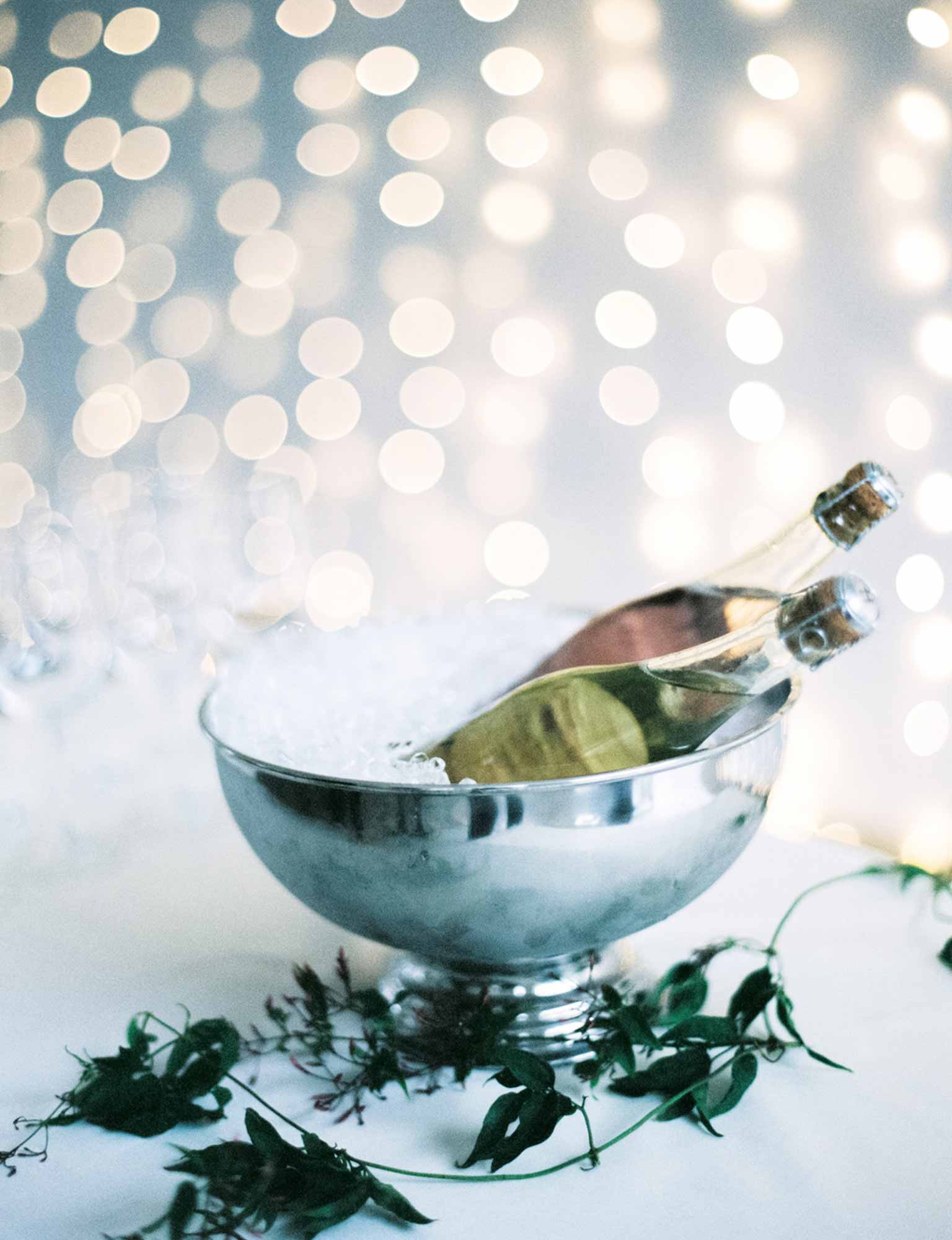 Warm white curtain lights.
Beautiful backdrop - photo via Peaches & Mint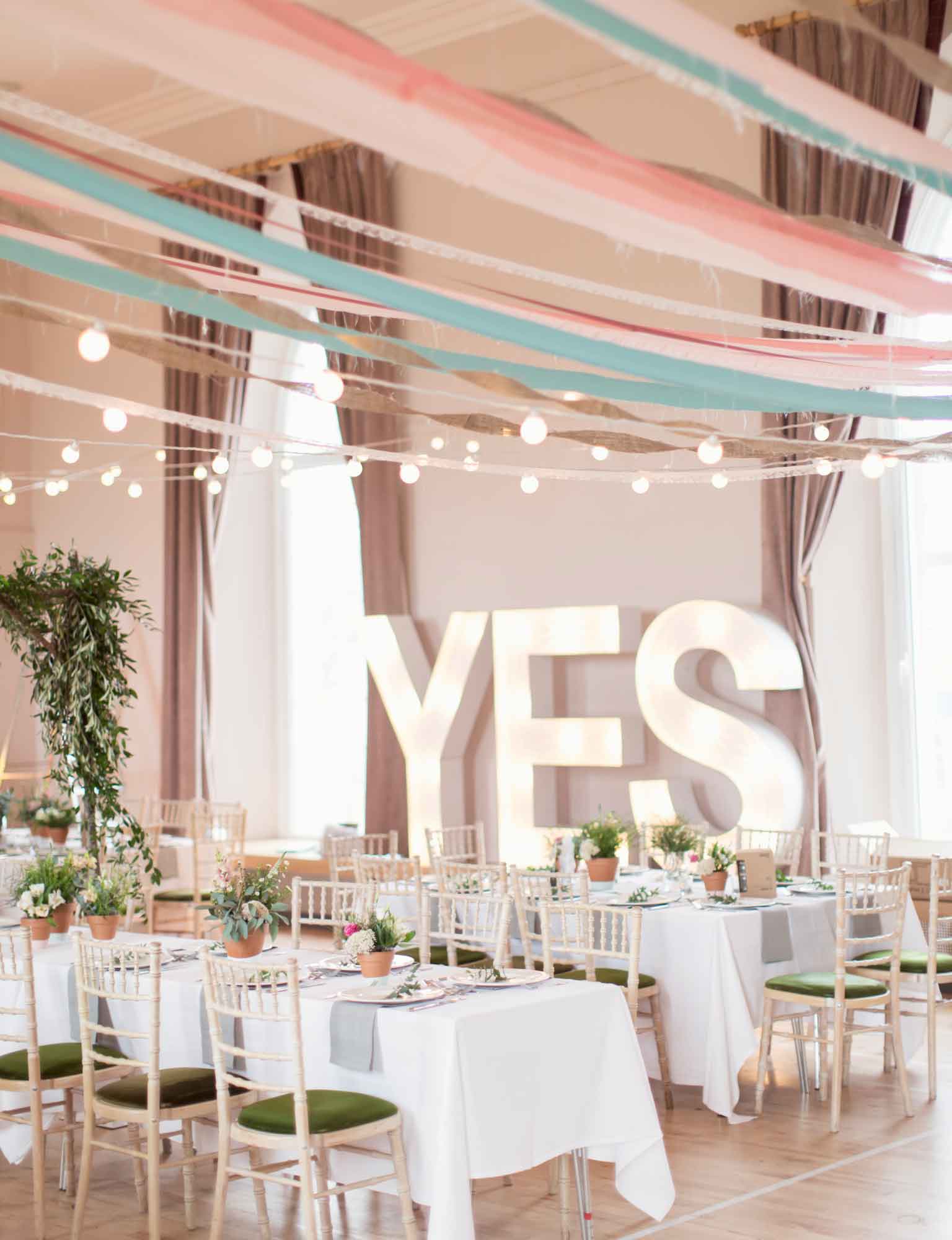 Entrance table and sparkle backdrop - photo via Peaches & Mint.
Pair LEDs with fabrics - photo via Three Sisters Bake.
If your hotel venue has exposed pillars or columns then get them lit up. Choose either curtain lights or fairy light strings to spiral to the floor. Illuminated pillars are bold. They're designed to make a statement and compliment your wedding table decorations.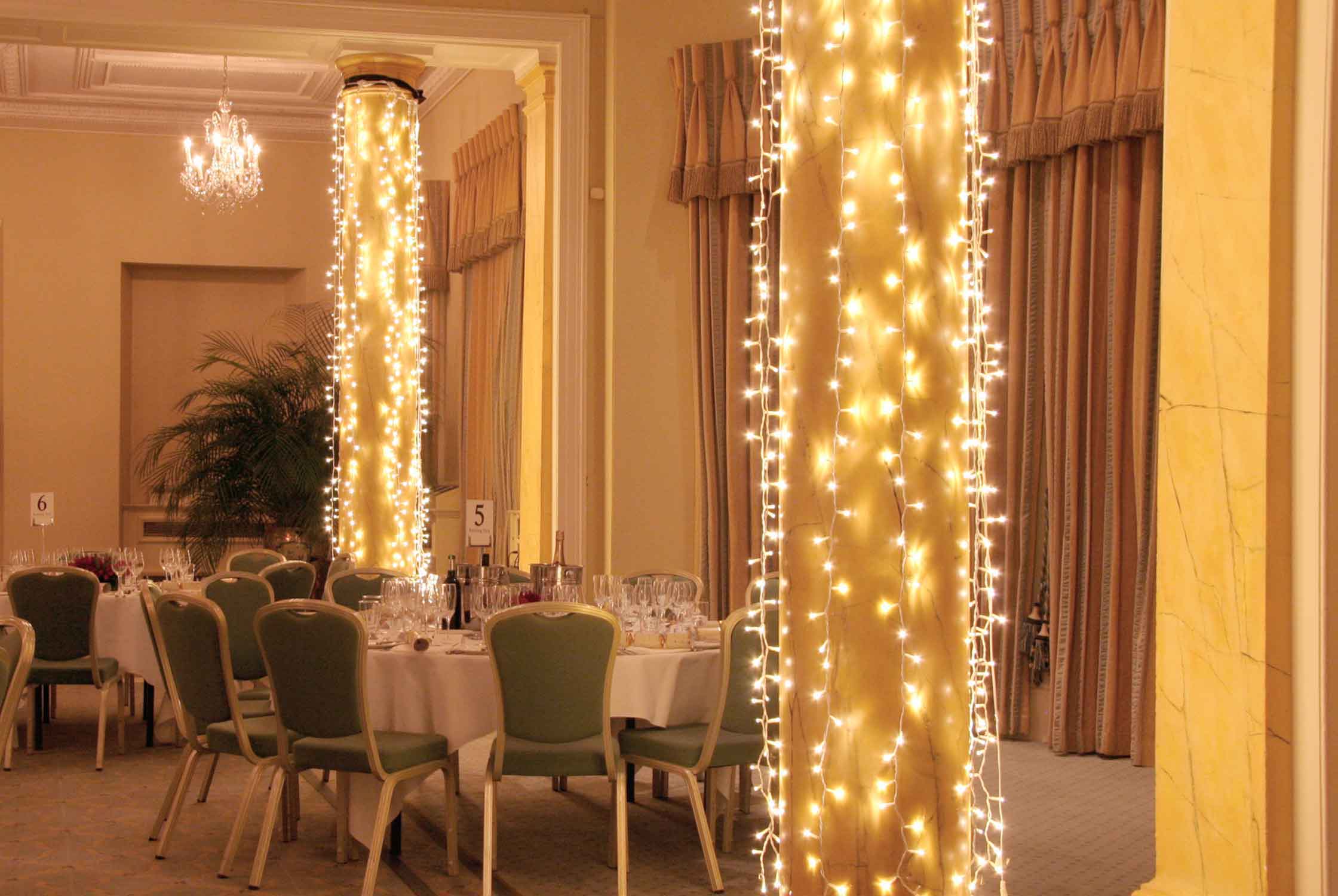 Rudding Park Hotel, Harrogate.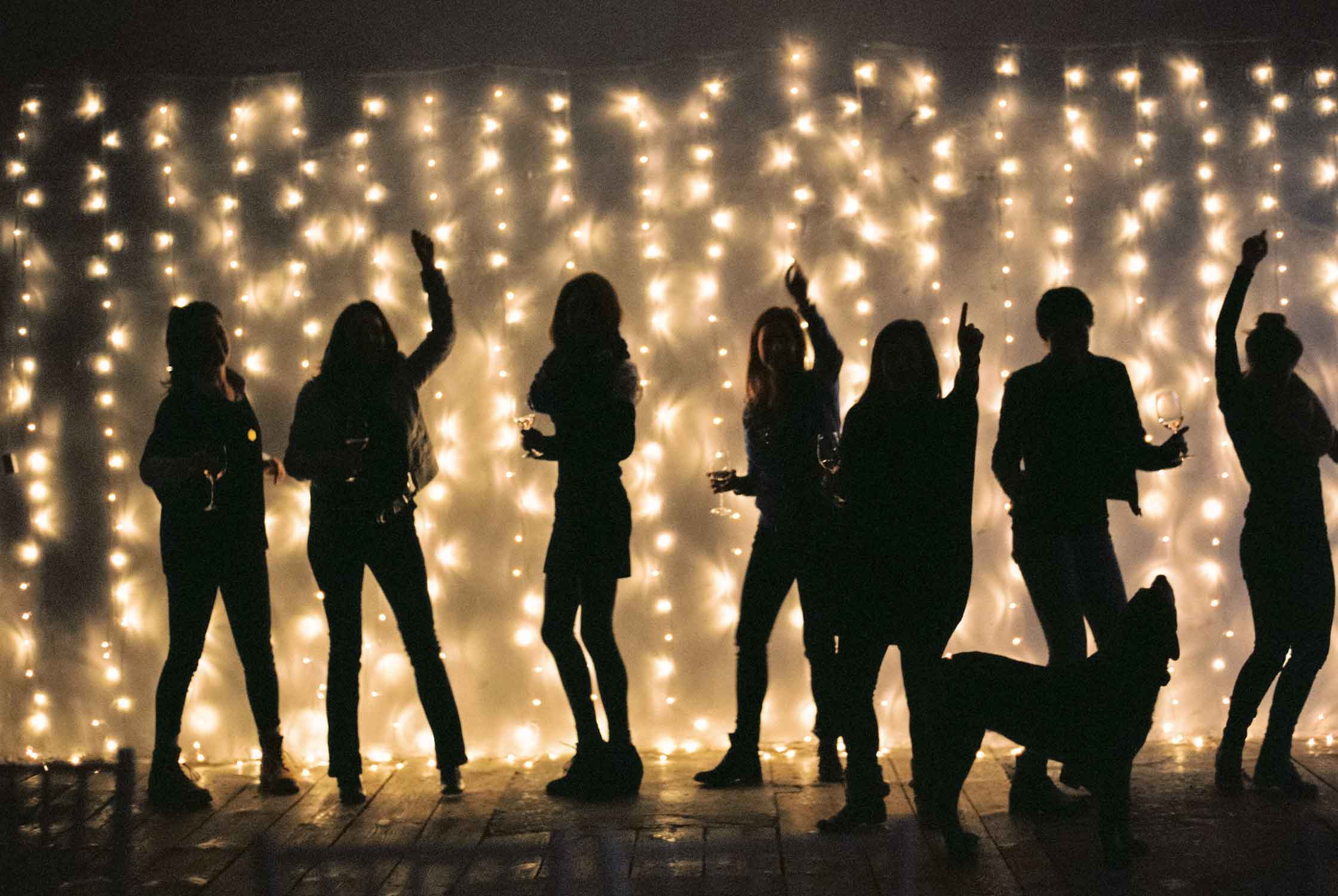 Fill your walls with lights - photo via Peaches & Mint.
Poms Poms & Paper Lanterns
Once you've introduced a gorgeous glow to your hotel, it's time to add those last little bits-and-bobs that complete the look. We're in awe of these pretty paper balls, they're inexpensive, super quick to assemble and lightweight so oh so easy to hang. Paper decorations look great just about anywhere; fill open ceilings, frame your aisle or drape from fairy lights these are a versatile decoration option. With a multitude of colours, shapes and sizes to choose from they can fit in with any dream you dare to imagine. You can go bold and bright or pastel soft and understated.
Fairy lights & lanterns are a matchmade in heaven - photo via Holly Bobbins Photography.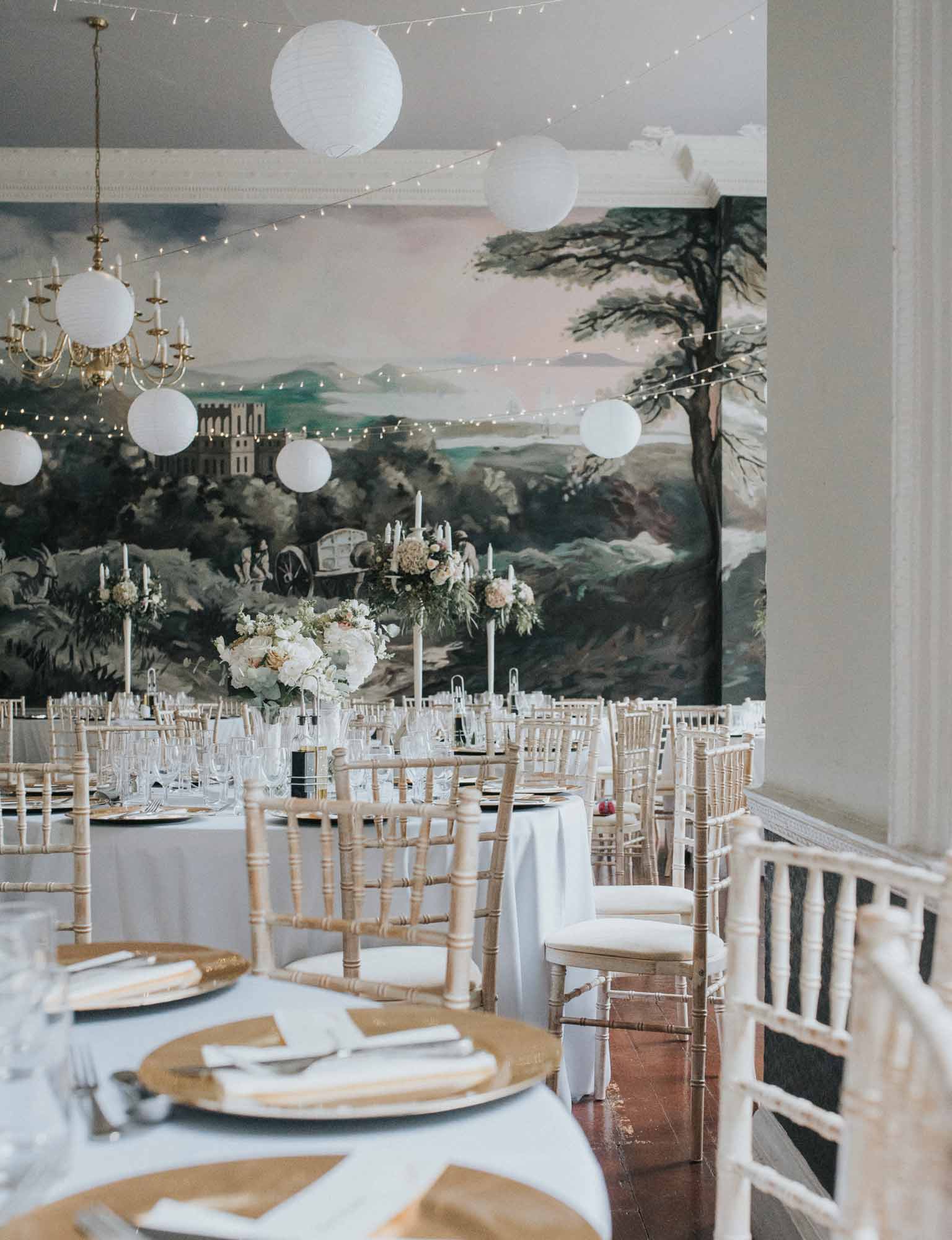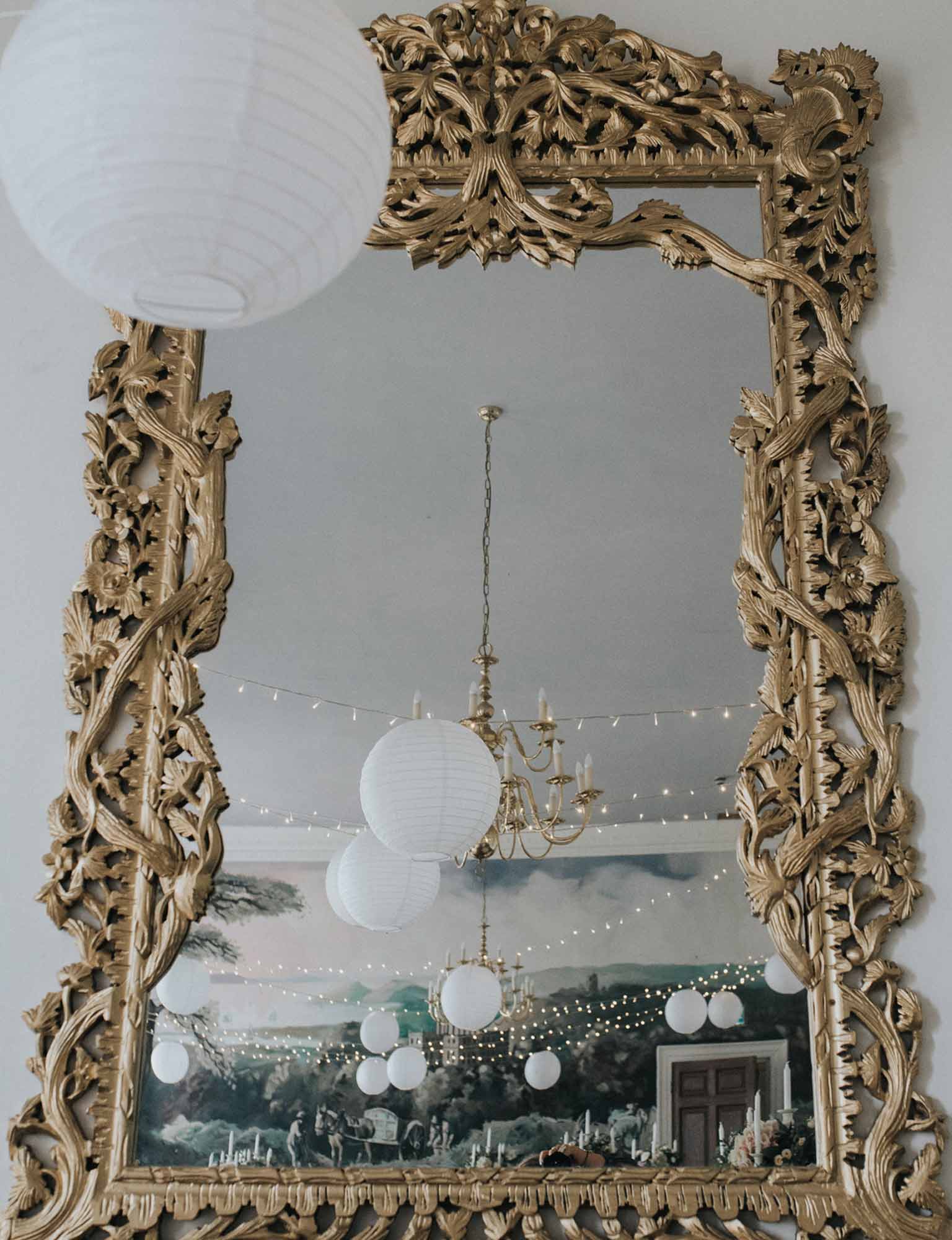 Photo via Holly Bobbins Photography.
Photo via Holly Bobbins Photography.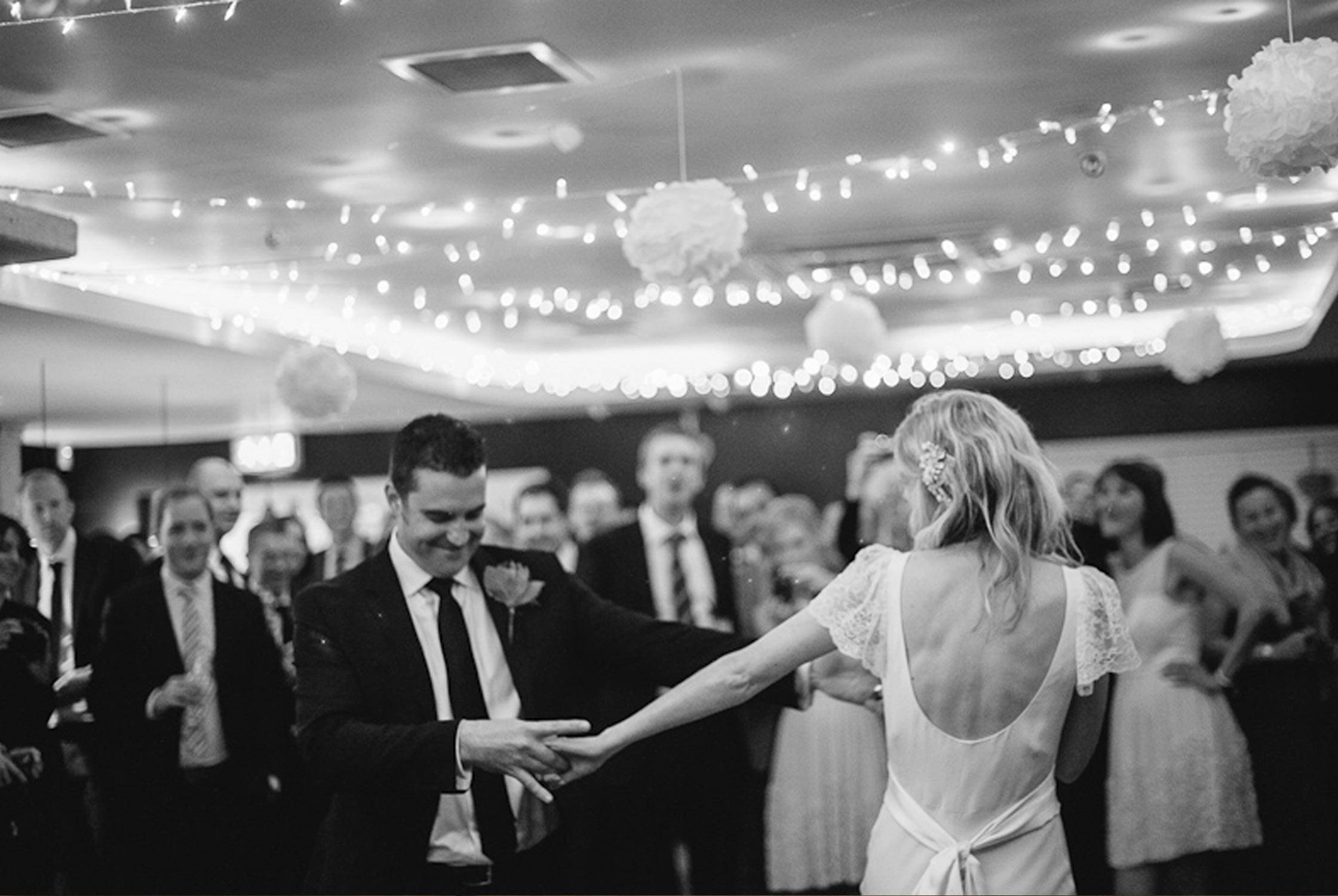 First dance - photo via Nabeel Khan Photography.