There are few things more romantic than a rustic barn wedding in the summertime. Open beams, exposed stone and festoon lights are a match made in heaven, so naturally we all fell in love with these photos from a wedding at Monks' Barn in Berkshire, with lighting installed by Oakwood Events. Using connectable party lights on white cable, the country barn was dressed to perfection and finished off with par can uplighters and vintage wine bottle table numbers, transforming the barn into an idyllic rustic wedding venue. Along with their aesthetic appeal, the beauty of connectable lights is that the whole system can usually be run off one plug – minimising the number of trailing cables and meaning that only one power socket is required, which is handy when lighting outdoor venues like the barn.
LED fairy lights and festoons are a particularly good choice for dressing listed or historical venues like Monks' Barn as, unlike traditional filament bulb fairy lights, the LEDs will always remain cool to the touch and as such pose no fire risk. Used as they were at Monks' Barn, they create a warm, romantic ambiance whilst not detracting from the dramatic beams of the barn's open loft, setting the scene for a perfect country wedding.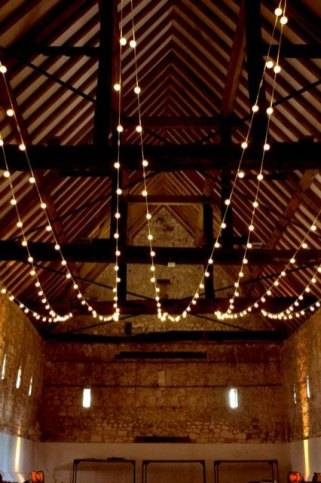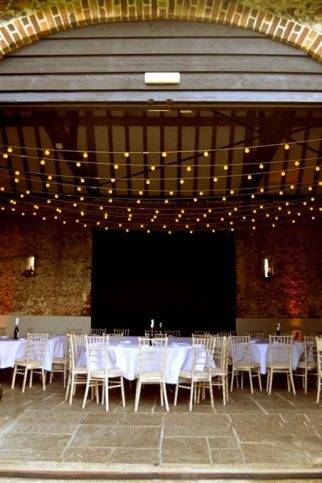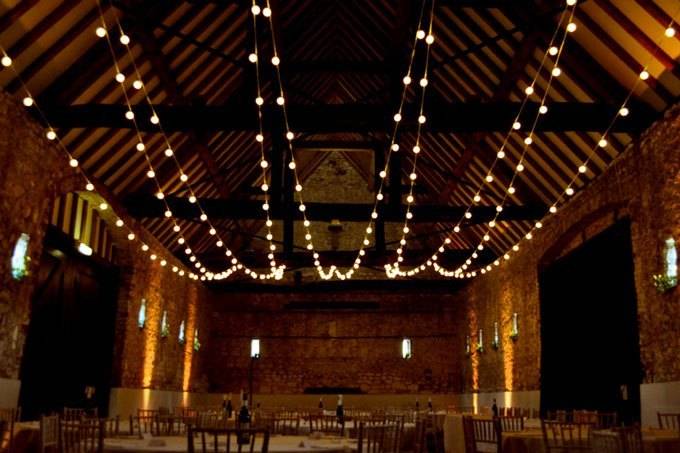 Photos used with the kind permission of Oakwood Events.
Oakwood Events provide tailored event design for weddings, corporate events and celebrations in Buckinghamshire, Berkshire, Surrey and the surrounding areas. To connect with Oakwood Events, visit their website or join them on Facebook.
To browse our full range of festoon and fairy lights, visit our wedding lights section.