We like things that are beautiful, and we also like things that are practical, and when we find a product that perfectly encompasses the two we're as happy as can be. Solar decking lights are a great example of design meets function, with the added benefit of being super energy efficient and green to run. Powered entirely by the sun, they involve absolutely no running costs and zero upkeep on your part – except maybe the occasional wipe down with a damp cloth to keep them looking sparkling clean.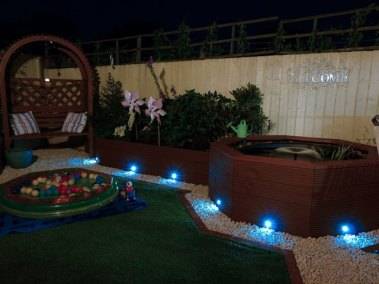 Connectable Solar Spot Lights
When restyling a garden, the greenery and flowerbeds are generally the first areas to be addressed. A string or two of solar fairy lights for the tree branches, a net light or two for the hedges, and some spot lights to illuminate the flowerbeds or pot plants. But don't forget about your lovely deck! Many people shy away from decking lighting for two reasons:
1) You might think you need intricate outdoor wiring circuits, exterior plug sockets, four weeks of hard labour and a degree in electronics. Not true! With solar decking lights, you need none of the above. The whole circuit is neatly linked, light-to-light, by one cable and powered from one compact solar panel. The whole thing is IP44 rated, meaning it's designed for permanent outdoor use, whatever the weather, and it's super simple to set up.
2) You might be afraid of drilling great big holes into your beautiful deck. Whilst this is a legitimate concern, we promise it'll be worth it. Our solar spot lights require a hole of only 2.6cm diameter – tiny! The lights themselves are just 4cm in diameter on the surface, but because each spot light contains two super-bright LEDs, they still throw out a fantastic amount of light.
Some of our lovely customers have been kind enough to send up some snaps this summer of our solar lights installed in their gardens, and they've shown us that decking lights aren't actually just for decks. Trevor Jackson creatively used his solar decking lights to illuminate the wooden staircase outside his house, whilst Guy Moores spaced them around the base of his planter and water feature. Barbara in Scotland lit up her balcony with a set of our white spot lights, whilst Jeff and Fiona stuck to the deck but put a futuristic twist on things by using bright blue LEDs.