Bring the festivities outdoors with our Christmas figures to inject life into the spaces surrounding your home! By simply adding a few friendly characters down your garden path or either side of your doorway it'll create a warm welcome home for you and your guests.  
We all love to see town centres transformed overnight with lights. Take that feel-good-feeling home with you by producing your own illuminated Christmas displays in the garden. Picking out Christmas decorations has always been an exciting element to this festive season and the possibilities are almost boundless due to the bigger and better spacing the outdoors offers.
Set the tone with A warm welcome
Transforming your garden is easy to achieve when you chose figures that feature an interesting texture, have a bold character or strong colour scheme. To make it simpler to decide where to place your Christmas figures, think of it as an opportunity to produce a life-sized snow globe. Depending on the size of your chosen figures you may have the versatility of setting them up indoors too; play around with a few different placements. For example our trio of penguins are perfect to decorate your lawn or the length of your hallway indoors.
  For smaller sized figures, place near to your house under the windowsill or beside a tree. This will help to provide extra protection against any harsh winds. If you have limited spacing outside you can spotlight two of your favourite figures either side of the front door entrance. The twinkling display will help highlight the way for visiting guests during the darker winter nights. Handy Hint: the Santa and Snowman's compact size and triangular shaped base makes them a great to place on a table top or slot into the corner of a bookshelf.
Wherever you decide they'll be sure to effortlessly spread some Christmas cheer!
Nothing shouts out Christmas quite like a majestic light up reindeer. A family favourite and Santa's too! These larger sized figures can take pride of place nearly anywhere in the garden as they're designed to look good from all angles. Best when secured into your lawn with metal pegs similar to the ones used to put up a tent. Check out our light up reindeer blog post for more inspiration; like our family favourite stag & doe and baby bundle. These realistically posed and proportioned deer make the ultimate Christmas decorations.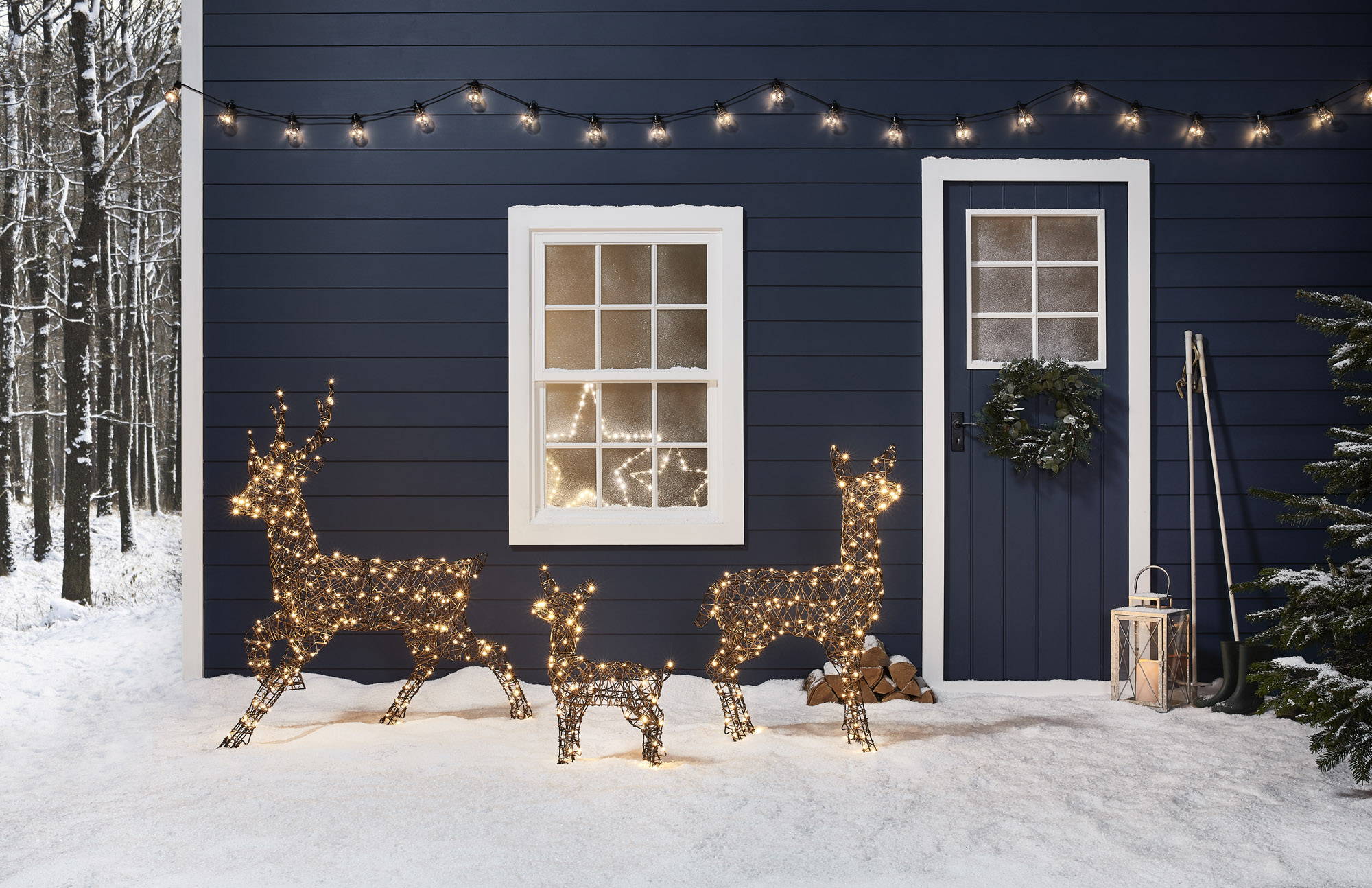 To keep ahead of the forever changing colour trends, ideally you want to choose outdoor decorations that either feature traditional colours such as rich red and green combos or go for the classic white, glistening silvers and icy blues to create a winter wonderland. Both themes are timeless and when buying quality products, manufactured to last in all weathers, it means the Christmas figures are happy outside all season long.
Since we're not guaranteed a white Christmas due to our unpredictable British weather. Take it into your own hands by adding a trail of icicle lights to frame your house roofing or dress up your windows. The extra twinkle will help bring together your display and overall atmosphere. They are available in blue, warm white & white LED lights, this means they can fit seamlessly into any colour scheme and lights on your figures.