It's beginning to look a lot like Christmas! As Christmas draws closer, the party season is soon to swing into action. Style it out this year by putting up a few special illuminated Christmas decorations. Wondering where to start or want some inspiration? We've got you covered to help you add a festive sparkle this year.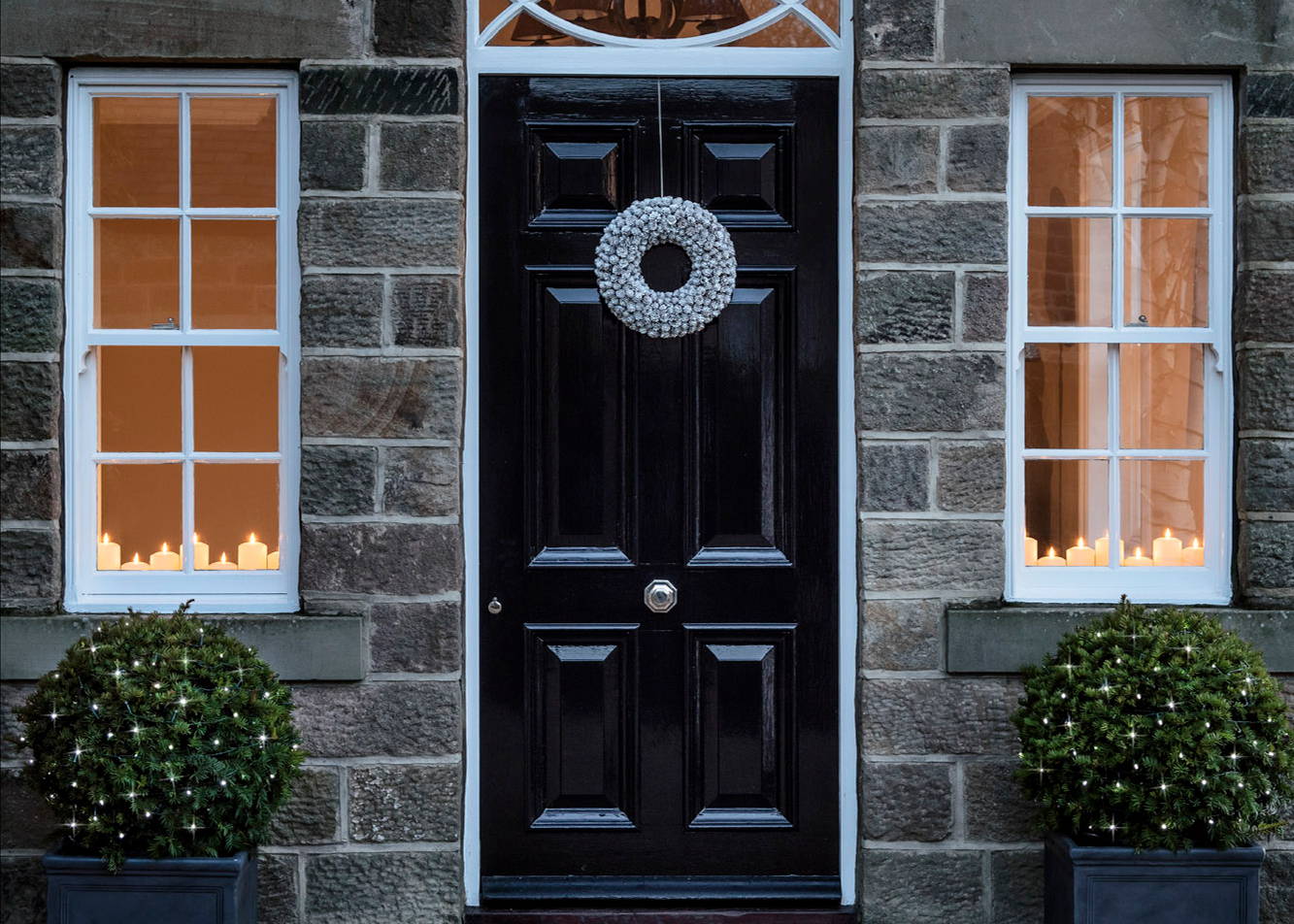 The party starts at the front door
Make your home look inviting from the get go by placing one or two decorative lights outside the front door. It's the first thing your guests will encounter so make it count! You can keep it simple by setting down a lantern with a flickering candle inside or by adding a gleaming Christmas figure. You may opt for a more traditional style by hanging a twinkling wreath on the door instead. Placing one or two Illuminated Christmas decorations is an effortless way to make a good first impression.
Designing a two-way display
Another way to create a warm welcome is through Christmas window lights and decorations. Keep in mind both the indoor perspective and the view from outdoors when picking out the decorations. It's easier if you choose items that look good from all sides. This could be a mini Christmas tree, a cluster of LED pillar candles or a garland of winter foliage. If your decoration has a backboard, then get creative! Place your attention on dressing up the glass window behind it. This could be with fake snow spray, window stickers and attaching fairy lights with suction cup hooks. This creates depth by splitting up the focus into a foreground and background.
Handy tip: If you have a smaller window, fold the garland up on itself to make it appear more lush and full.
Take a moment to step back and identifying the empty spaces in the room that might be perfect for some temporary party decorations. Bare walls and mantles can be quickly transformed. Remember to keep in mind your existing furniture.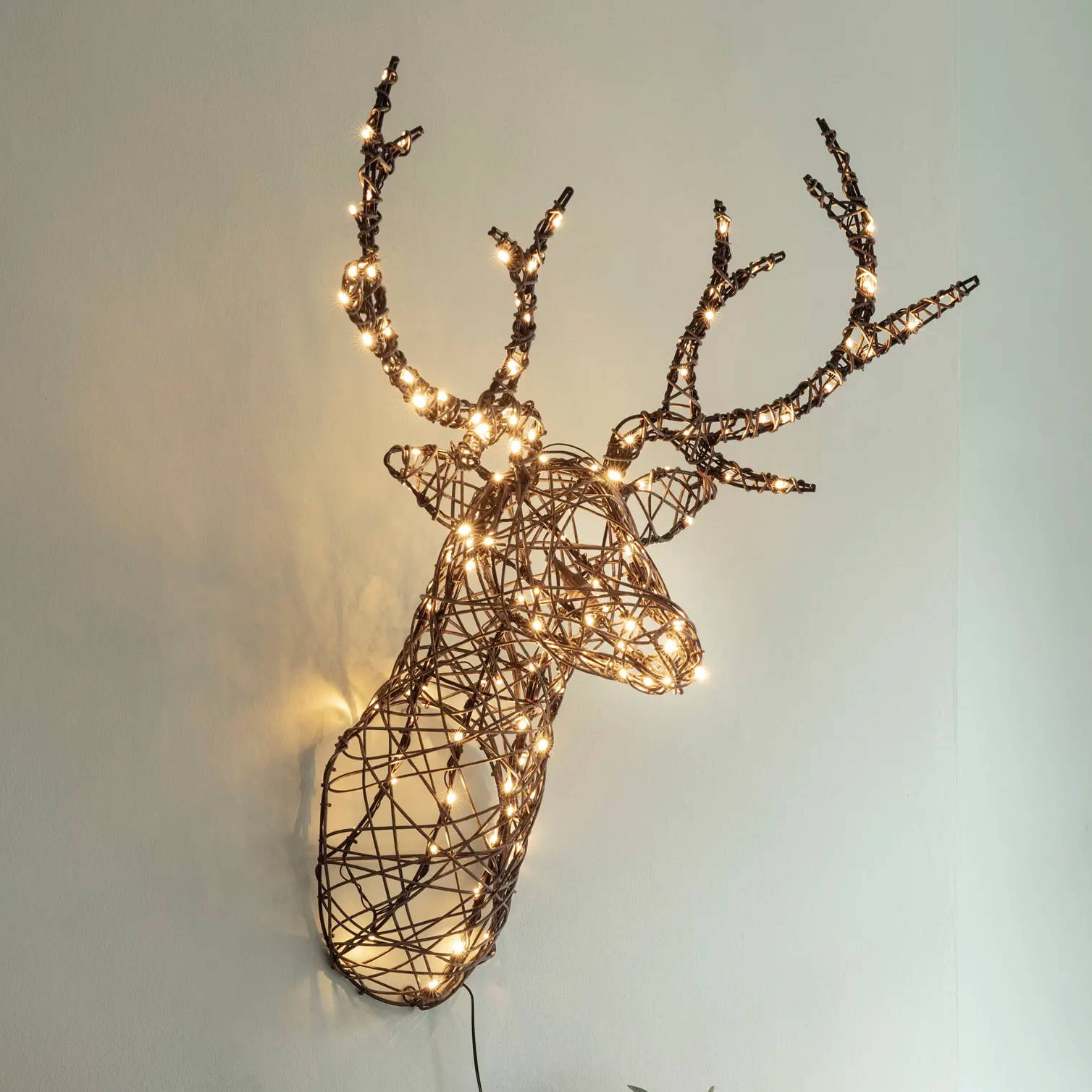 To keep with a shabby chic theme hanging up a light up stag head would be ideal. It's a statement piece that fits in with the decor and will command your guests attention.
A customisable DIY option, is to make a light up Christmas card hanger. To start, pin up a set of fairy lights across the wall like a bunting or use a LED curtain light to hang the cards vertically. Using paperclips or small pegs attach your favourite Christmas cards onto the wire cable in between the bulb spaces. Alternatively, peg up childhood photos of your guests to make a fun conversation starter as they enter the room.
Last but definitely not least
"Dinners ready!" The table setting is your final chance to wow your guests with a breathtaking display. Which can be deceivingly easy to create. Three key elements: colour, texture and lighting to help build mood and atmosphere! It's best to pick Christmas table decorations that have a coordinated colour scheme and match your crockery. Dress up the table runner by experimenting with fairy lights, a few LED candles, tinsel or a small wreath. Also, name tags can be looped onto a fancy bauble, tied by ribbon to to a candy cane or cracker.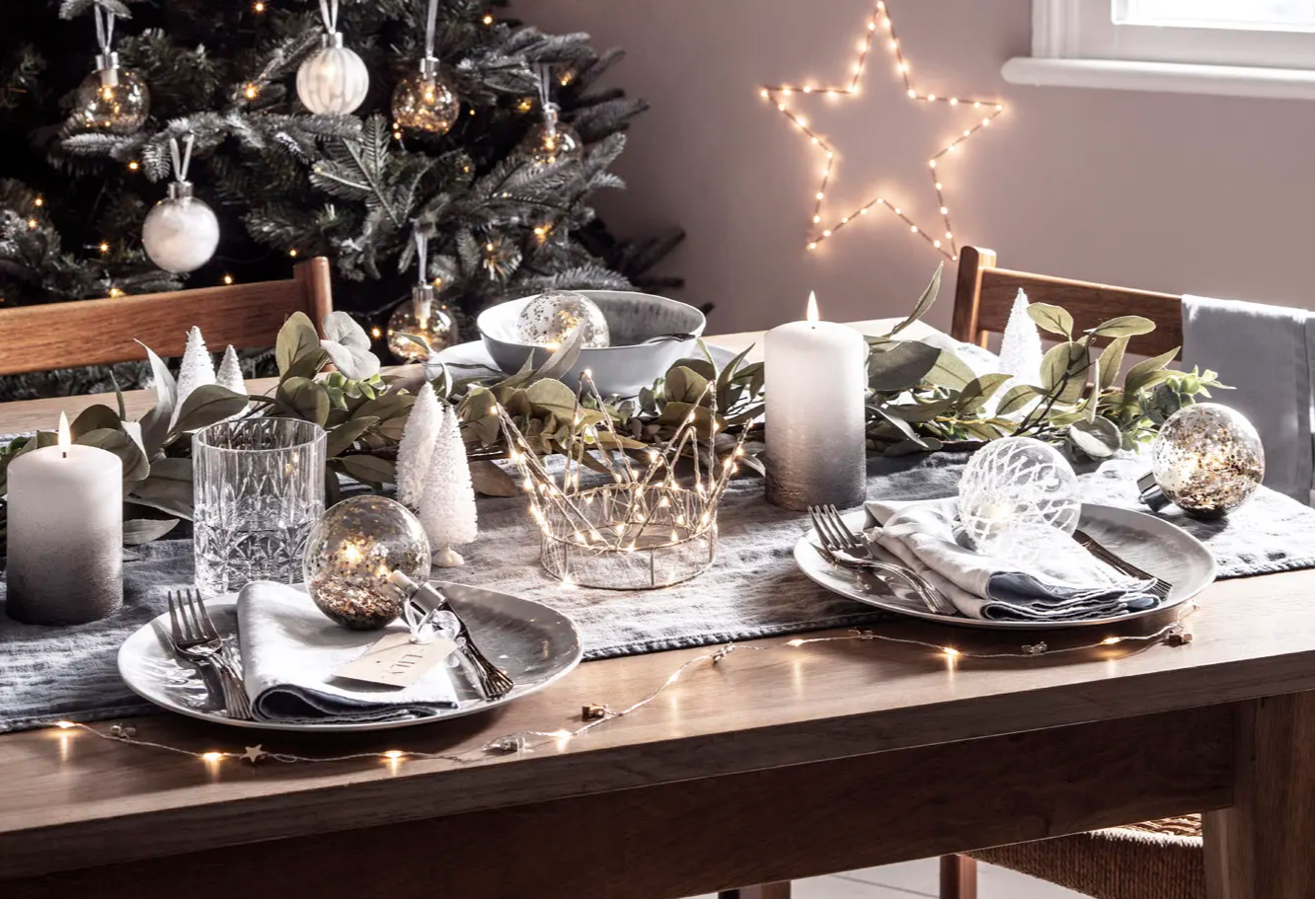 Sticking to bold Christmas colours like red and green combos are so iconic for this season it'll make for a heartwarming display. Blend in a few LED candles to the table centre to make it super cosy and feature some classic imagery like robins or snowmen printed on the napkins and cracker packaging.
To create a luxe glitzy Christmas use metallics, it will match with the reflective surfaces of your cutlery and drinking glasses. For an extra glam look add a string of twinkling fairy lights on the table or wrap them around the wine bottle.
If your going for a minimal stripped back approach, it can give a lovely Scandi vibe, its a great way to showcase natural textures too. Add snippets of mistletoe, trail leafy garlands down the table centre and a few well placed pinecones helps to bring the whole look together.
Enjoy the merry run up to Christmas!