Most uni bedroom lighting comes in the form of harsh overhead fluorescents – good for making sure you stay awake during those pre-deadline all-nighters, but not so great for when you want to close the textbooks and relax. Fairy lights are a great source of chilled out, low level lighting and will instantly transform your university bedroom from a high pressure think-tank to a zen space where you and your corridor mates can hang out and forget about studying for an evening.
Some halls restrict the use of plug-in fairy lights, but that doesn't mean you can't decorate your dorm. Opt for battery powered fairy lights instead, but remember to turn them off before nights out, or else you could find yourself changing the batteries quite a lot. Another tip: never ever use filament bulbs in your dorm room! They can be a considerable fire risk if left near flammable materials like bedding or pound shop fancy dress costumes (of which you'll amass a fair collection during your time at university). Instead, stick to LED fairy lights, which are always cool to the touch and don't pose the fire hazards associated with traditional filament bulbs. When it comes to picking a bulb colour, there are so many shades to choose from. There's a hue for every campus, college and sports team, so match your lights to your university colours for some real school spirit.
Shop all bedroom fairy lights from Lights4fun now.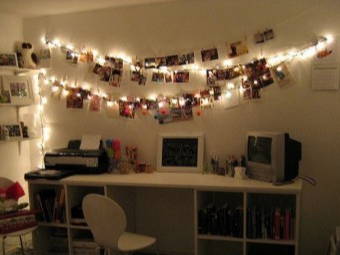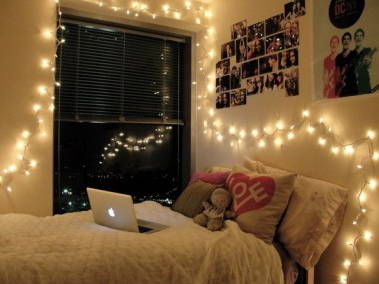 Always check with your halls rep or porter before using any kind of adhesive or tape on painted walls – you don't want to get stuck with a fine at the end of term for not playing by the rules. If tacking your lights up around your room isn't an option, get creative with your shelving and desktop and trail some fairy lights between books and binders, or twine around bedposts.
Candles are also something that 99.9% of halls won't allow, with good reason, but LED candles look (and smell) as good as the real thing and are 100% safe. Choose a vanilla perfumed set of battery candles and cluster them on your windowsill for a homely, cosy ambiance.
Make your uni room a home away from home by creating a photo wall using all your favourite snaps from school, summer holidays and Freshers Week. Use an online service to reel off your Instagram creations for a cool retro feel, then illuminate your photos by hanging a string of fairy lights along the wall above your collage, or use the lights themselves as part of the display itself. We have a great step-by-step tutorial on how to create a DIY fairy light photo wall too.
Fairy lights also make perfect finishing touches to noticeboards, calendars and organisers. Add a fairy light border around your termly wall chart and make checking your timetable a little more magical.